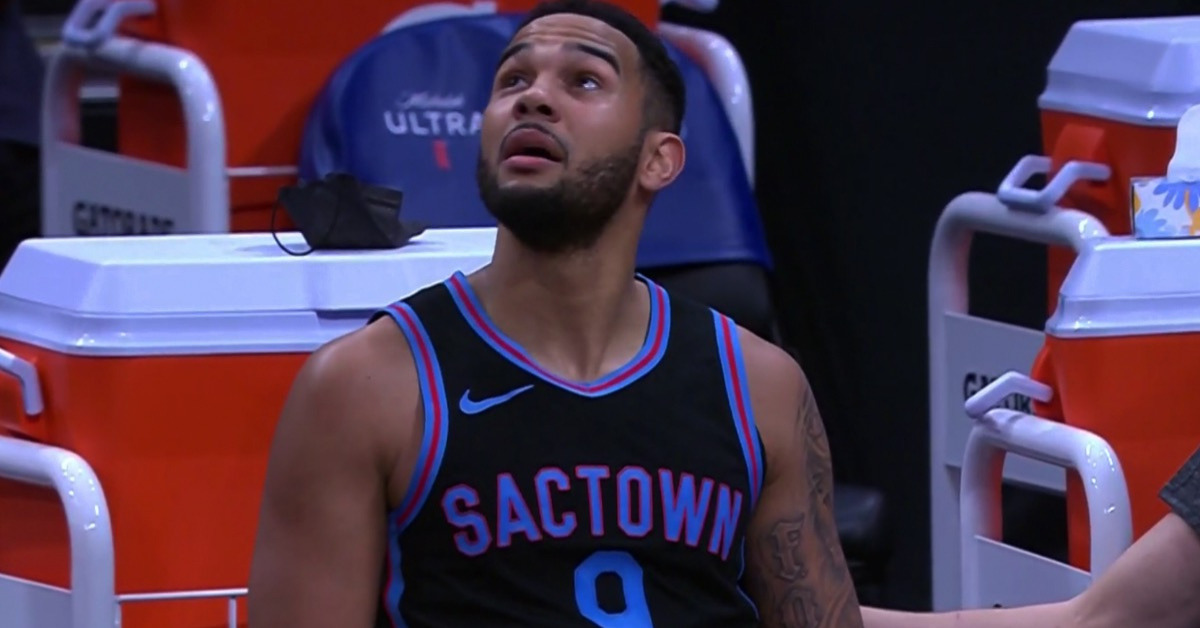 When the Sacramento Kings inked Cory Joseph to a three-year, $37 million contract a couple of summers ago, most folks were pretty understanding of what Vlade Divac was trying to accomplish with the acquisition. Joseph brought a championship pedigree to a team with no such experience, and his accomplishments on the defensive end of the floor were well known. As a team that had prioritized scoring for the last decade-plus, it was an encouraging sign to snag such a highly rated perimeter stopper. Unfortunately, while Joseph's veteran presence has remained throughout his time in Sacramento, his defensive impact has fallen off of a cliff in 2020, while his offensive limitations have never been more prevalent.
Last year, the Kings were slightly worse on offense with Joseph, as they scored 1.5 fewer points per 100 possessions with him on the court, an understandable decrease considering his lack of shooting. Conversely, Sacramento was much better with him on the floor when it came to stopping opponents. He posted the best defensive point differential of any player who was with the team for the entire season, as the Kings allowed 5 fewer points per 100 possessions when he was in the game. Overall, Sacramento's net rating increased by 3.5 points with Cory on the court, the second-best mark among the same group of players.
Perhaps even more notable than the team's performance was the impact that Joseph had on De'Aaron Fox when they shared the floor in 2019. Fox's individual defensive rating plummeted from 117.1 on his own to 103 when Joseph joined him in the backcourt. In total, De'Aaron's net rating jumped from -6.4 without Cory to +4.9 with him, a jaw-droppping increase of +11.3. No matter the frustrations with Joseph's lack of offensive firepower last year, his impact on the court was clear, especially with Sacramento's young, developing players. Unfortunately, the same cannot be said for the 2020 campaign.
With Joseph on the court this season, Sacramento's offensive rating has decreased by 3.6 points on average, a significant difference from year to year. For an inexplicable reason, Joseph's offensive aggression has actually increased, and there are many times in which he's flat-out selfish with the ball. Overall, he's taking 1.3 additional field goal attempts per-36 minutes, and when Cory drives into the paint, he's passing the ball just 42% of the time, compared to 53% in 2019. Transition opportunities have also shown Joseph's penchant for calling his own number and subsequently failing, as he's scoring 0.76 points per possession in the open court, ranking in the 5th percentile league-wide, a far cry from his 1.09 points per possession last season, which placed him in the 45th percentile.
While Joseph's offensive deterioration has been one of the most frustrating things to watch in an incredibly frustrating season, his defensive slippage has developed into an even larger concern. Unlike in 2019, in which the Kings were significantly betterdefensively with Joseph on the hardwood, they're now far worse with him in the game. Sacramento is currently allowing 3.8 more points per 100 possessions with Joseph in the lineup, the second-worst mark on the team to only Marvin Bagley. Joseph is killing the Kings on offense, and he's somehow been even less effective on the defensive end of the floor.
Cory's magical partnership with De'Aaron Fox has also crashed and burned and been subsequently nuked by foreign powers this year. In the 252 minutes in which Fox and Joseph have shared the court, De'Aaron has posted a net rating of -24.7. No, that's not a typo. In his time without Joseph, Fox has recorded a net rating of -0.4. To put all of that into perspective, the Fox-Joseph pairing has posted a net rating differential of -35.6 from 2019 to 2020.
At first glance, it's easy to assign some of the blame for Joseph's lack of impact on Sacramento's horrific bench production, as the reserve unit is clearly worse in 2020, but his individual performance has suffered right alongside his teammates'. Last season, Joseph's opponents saw their individual field goal percentage decrease slightly when defended by him, dropping from 45.4% to 44.8%, slightly better than an average NBA guard. This year, Joseph's opponents are shooting 51.7% from the floor, an increase of 5.7% from their average, the eighth-worst mark of any guard in the league. For comparison's sake, Buddy Hield, one of the worst reputation defenders in the league, sits third-worst at 8.3%.
The three-point line has also not been kind to the Kings or to Cory this year. As a team, Sacramento ranks 30th in three-pointers surrendered, 26th in three-point attempts allowed, and 29th in opponent three-point percentage differential, and Cory Joseph has been the Kings most disappointing performer in that scenario. Of the 200 NBA players who have defended at least 75 three-pointers, Joseph ranks 189th in opponent field goal percentage differential. On the year, he's allowing opposing players to increase their average three-point percentage by an astounding 8.8%, from a league-average 36.4% to prime Steph Curry at 45.2%. Once again, thtat's a massive divergence from 2019, in which he reduced his opponents' average three-point percentage by 2.8%, the third-best mark of any Kings player.
From different interviews and press conferences, it's clear that Joseph has helped this team in a myriad of ways off of the court, especially by taking young players like Tyrese Haliburton under his wing, but for far too long, veteran leadership has been a justification for playing time in Sacramento. We witnessed it with Iman Sumpert. We witnessed it with Zach Randolph. And now we're witnessing it with Cory Joseph. With Kyle Guy and DaQuan Jeffries waiting in the wings in a developmental season, and with this team headed nowhere fast, it's past time for Luke Walton to reassess Cory Joseph's role on the court and make him a permanent veteran presence on the bench.