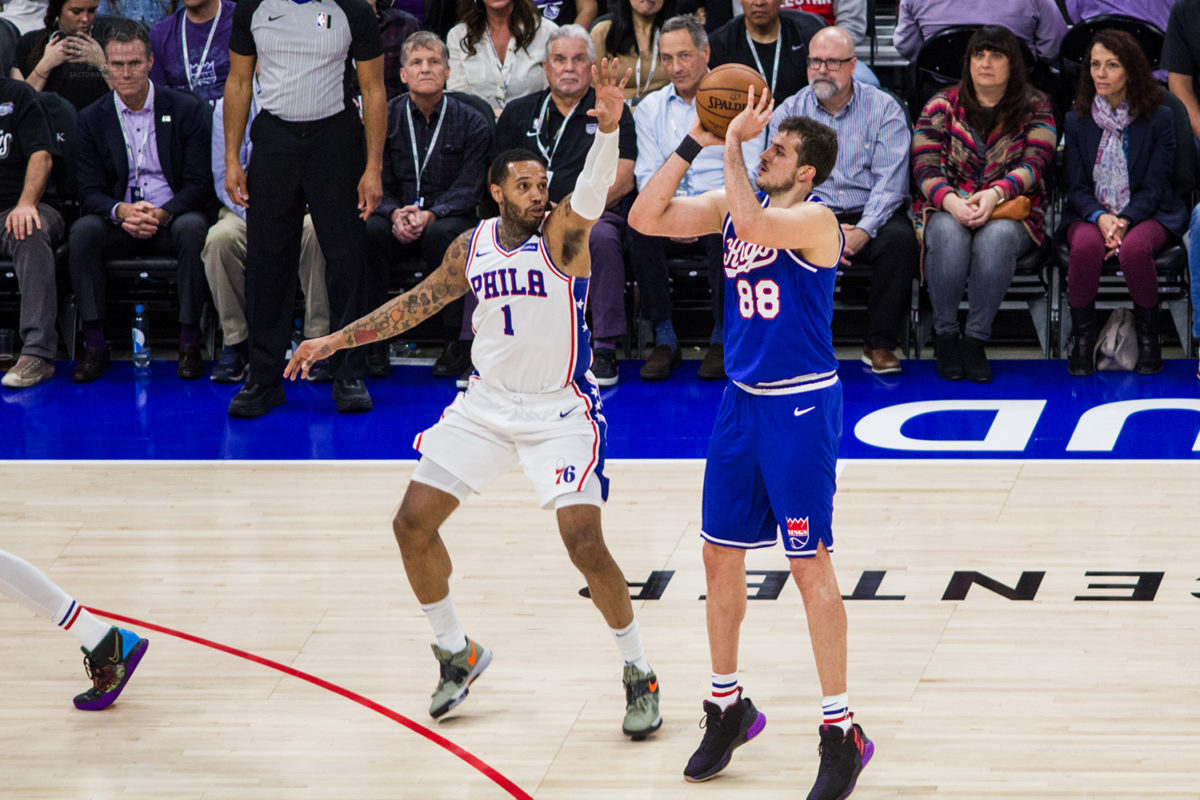 ESPN recently ran a ranking of the top 74 players of All-Time. Zero Sacramento-era Kings made the list. So I decided to make a list that contains only Sacramento Kings!
We've done this exercise once before, back in 2011 on some other website. We've had a lot of new faces since then, although the team itself hasn't gotten a whole lot better.
To make these rankings as objective as possible and to try to avoid recency bias, I tried to give every Kings player a simple mathematical score, which we will call their "KANGZ (Kinda Accurate Net GainZ) score" because as fivethirtyeight.com has taught me, everything has to have some sort of acronym. The higher their KANGZ score, the higher their ranking. The KANGZ score factored in a players tenure, role, team success, individual success and intangibles. The highest possible KANGZ score is a 25 with 5 possible points available in each category. In the case of a tie, I went with my obviously infallible judgement.
Without further ado, let's take a look at Nos. 50 through 41.
50. Harold Pressley
KANGZ score: 11.1
299 GP, 9.0 PPG, .424 FG%, .358 3P%, 4.3 RPG, 2.1 APG, 0.8 STL, 0.5 BLK
What better way to start off a list of all-time Sacramento Kings than with a man who never played for any other team? Pressley was taken with the 17th pick in the 1986 NBA Draft and spent four seasons in the NBA, all with the Kings. Harold would then go on to enjoy a successful career in Europe before again joining the Kings, this time as Director of Player Development in 2007. While Harold no longer works for the Kings he has remained local and even has a foundation called "Treat'em Like a King" to assist underprivileged children and their families.
49. Carl Landry
KANGZ score: 11.2
169 GP, 10.1 PPG, .508 FG%, 4.5 RPG, 0.6 APG, 0.4 STL, 0.3 BLK
Landry spent two very different stints with the Kings. When the Kings first acquired him from Houston, he was one of the top 6th men in the league and he seemingly thrived in a bigger role, averaging 18 points a game in the final 28 games of the season. Unfortunately for Landry, the Kings then drafted DeMarcus Cousins, another player who operated best around the rim. Landry was later traded to New Orleans for Marcus Thornton. He came back to Sacramento after a stint with the Warriors but injuries slowed him down and he wasn't the same player. Landry last played professionally in Japan with the Hiroshima Dragonflies.
48. Shareef Abdur-Rahim
KANGZ score: 11.4
158 GP, 10.7 PPG, .496 FG%, 4.8 RPG, 1.7 APG, 0.6 STL, 0.5 BLK
When the Kings first signed Shareef Abdur-Rahim, it was considered a coup for a team in need of a quality big man after trading Chris Webber. Abdur-Rahim was also one of the better free agents available. Unfortunately for Shareef, injuries ended his career short. He had a couple memorable moments on the court for the Kings, perhaps most incredibly was playing with a broken jaw that was wired shut. As good as Shareef's basketball career was, his post-basketball career looks even better. After spending a short time in the Sacramento Kings front office, Shareef is now the President of the NBA G-League.
47. Marcus Thornton
KANGZ score: 11.5
196 GP, 14.4 PPG, .429 FG%, .353 3P%, 3.2 RPG, 1.7 APG, 1.1 STL, 0.1 BLK
10th All-Time in 3 Pointers Made (358)
The Bayou Bomber came to Sacramento and quickly made a splash. After averaging just 7.8 points a game off the bench in New Orleans, Thornton dropped 21.3 points a game for the Kings in the 27 games after he was traded. Many fans thought the Kings had finally gotten the backcourt partner Tyreke Evans needed. While Thornton's follow-up season was still pretty good, his efficiency quickly fell off and he was traded to Brooklyn in 2014. Thornton last played in the NBA for the Wizards in 2017.
46. Kenny Smith
KANGZ score: 11.5
188 GP, 15.6 PPG, .466 FG%, .354 3P%, 2.6 RPG, 7.2 APG, 1.3 STL, 0.1 BLK
Kenny Smith is a well known television personality now, but he started his basketball career by playing for the Kings after being drafted 6th overall (one pick ahead of hometown star Kevin Johnson). While Smith was no slouch in Sacramento, making the All-Rookie 1st team and participating in the dunk contest, he made his name known after the Kings traded him to Houston, where he helped the Rockets win back-to-back championships.
45. Rodney McCray
KANGZ score: 11.2
150 GP, 14.7 PPG, .495 FG%, .250 3P%, 7.9 RPG, 4.5 AST, 0.8 STL, 0.7 BLK
Like Kenny Smith, McCray made his name in Houston, although that was before he came to Sacramento. McCray made two All-Defensive teams with the Rockets before being traded to the Kings for a player further ahead on this list, Otis Thorpe. McCray had the best individual statistical season of his career with the Kings in 1989-90, but the Kings themselves stunk, winning just 23 games. McCray's two seasons with the Kings were ultimately two of the worst seasons in franchise history, even though McCray himself was one of the team's better players.
44. Danny Ainge
KANGZ score: 11.6
103 GP, 18.5 PPG, .442 FG%, .378 3P%, 4.1 RPG, 6.2 APG, 1.5 STL, 0.2 BLK
It wouldn't surprise me if many newer Kings fans didn't know that Bill Russell once ran the Sacramento Kings franchise as both general manager and head coach. That's probably why Russell looked to Boston in search of his next franchise player when he traded Joe Kleine and Ed Pinckney for Danny Ainge (what a steal of a trade!). Despite how good Ainge was individually, the Kings weren't able to successfully build around him. As Sacramento's luck would have it, they ended up with the #1 pick in one of the worst years to have it, and picked Pervis Ellison, who ended up being one of the biggest busts in history. The Kings ended up having to blow it all up again after having Ainge for just one full season, and they sent him to Portland for Byron Irvin and draft picks. Ainge is now the General Manager of the Boston Celtics.
43. Otis Thorpe
KANGZ score: 12
266 GP, 15.9 PPG, .529 FG%, 8.4 RPG, 2.3 AST, 0.6 STL, 0.6 BLK
5th All-Time in FG% (.529)
Thorpe also had two very different stints with the Kings. Thorpe was the last player the Kings drafted in Kansas City and spent his first year there before moving to Sacramento in 1985. In his first year in Sacramento, Thorpe was primarily a bench player and the Kings made the playoffs. He really blossomed in his 3rd season though, averaging 18.9 points and 10.0 rebounds a game. He followed that up with a 20.8 points, 10.2 rebounds and 3.2 assist encore in 1987. Thorpe had the look of a future star, so naturally the Kings traded him to Houston for Rodney McCray. Despite Thorpe's individual success, the Kings still were pretty miserable. Thorpe's second stint with the Kings was fairly brief and perhaps the most notable part of it was that he was included in the trade that sent Mitch Richmond to Washington for Chris Webber. Thorpe arguably has the strongest case to be higher on this list of anyone here, but the lack of team success while he was here hurt his KANGZ score.
42. Nemanja Bjelica
KANGZ score: 12.5
141 GP, 10.6 PPG, .477 FG%, .413 3P%, 6.1 RPG, 2.3 APG, 0.8 STL, 0.6 BLK
4th All-Time in 3 Point Percentage (.413)
We've finally reached the first active King on this list. Nemanja doesn't have the numbers that some of the others players here do, but he arguably has a number that's even more important; When he's on the court, the Kings win. Nemanja boasts the highest win percentage of all Sacramento Kings players that haven't made the playoffs (and that's a lot of them) at .468. Playing near .500 basketball in Sacramento has been hard to come by, and the Kings have been at that level whenever Nemanja plays. If Nemanja sticks around past this contract, he could see this ranking shoot up some more.
41. Lawrence Funderburke
KANGZ score: 13
316 GP, 6.4 PPG, .506 FG%, 3.6 RPG, 0.6 APG, 0.3 STL, 0.3 BLK
Who doesn't love Lawrence Funderburke? Like Pressley, Funderburke basically spent his entire NBA career with the Sacramento Kings, aside from two random games with the Chicago Bulls in 2004. Funderburke never played much, and he rarely started (just 7 games), but whenever he was on the court he gave his all. There'd be large stretches where Fundy Dundy never saw the court but there was never a complaint. The Kings were winning, and Funderburke was happy to help in any way he could whether it was garbage time minutes in a blowout or getting thrown in against Shaquille O'Neal in the Western Conference Finals. Funderburke now works as a Certified Financial Planner in his hometown of Columbus, Ohio.
Tomorrow: 40-31