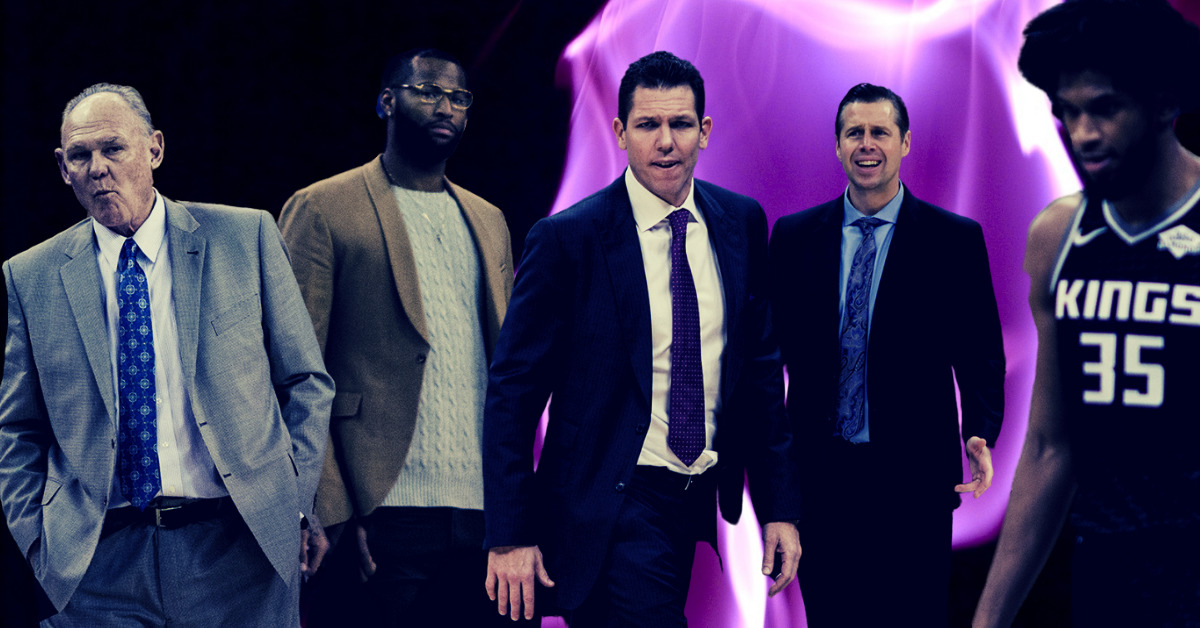 On Jan. 12, following an impressive win over the Indiana Pacers, I posed the question of whether the type of 48-minute effort the Kings came out with would continue in subsequent games.
I knew the answer. You knew the answer. It was fun to hope though, right?
The same issues continued:
Lack of Consistent Effort
Lack of Defense
Mental Breakdowns
The Kings are 0-4 since the Pacers win.
Everyone has always known what is going to happen not only this season, but what is seemingly a perpetual loop of lapses that get talked about, but never fixed. It's an endless tale of "learning" no matter how many veterans are on the roster and how many times everyone attempts to hide behind the idea that the team "is young" and needs to learn how to play winning basketball.
Let's take a walk down memory lane:
DeMarcus Cousins in 2012: "I wish people understood how much I hate losing. Honestly, the losing really gets to me."
DeMarcus Cousins in 2014: €œWe can't be a team that tries to come out every night and outscore people. That's not us, we defend and our defense transitions over to our offense.€
Jason Thompson in 2014: "You don't want to try and outscore them because there are going to be nights where you don't shoot the ball well."
Rajon Rondo in 2016: "We can control what we control and that's our own destiny, so we have to find a way, we have to continue, well not continue, we have to start to play with a sense of urgency.€
George Karl in 2016: "There's no question when we get whatever, the black hole, or the emotional breakdown, or the physical breakdown, we give in a little bit, probably too much right now.€
Dave Joerger in 2016: €œIf we're going to play winning basketball, we feel like we've got to do a better job defensively and we want to set that tone with this crew.€
Omri Casspi in 2016: €œWe can score with the best of them, but we can't really get stops.€
Dave Joerger in 2019: €œWe relaxed and were very casual, didn't run back on defense, turned the basketball over a ton and took a lot of jump shots because we thought it was going to be easy, and I told them two minutes into the fourth quarter €" this team is going to run it back at you because we've made so much carelessness with the basketball, and we fouled kind of silly fouls, and so they were in the penalty shooting the rest of the game with 10 minutes to go in the fourth quarter. So, what they did is just pin their ears back and just kind of got to the lane over, and over and over. It's a good experience for us, I don't like to have to take a loss to learn that, but I think we'll be better for having gone through this."
Buddy Hield in 2019: €œThey just out-toughed us, out-played us, they're the guys that were most confident, they were talking, they were having fun, they took the fun away from us in the fourth quarter.€
Marvin Bagley in 2019: €œWe blew it. I hate losing, especially like that, that's pretty much all I've got to say.€
Luke Walton in 2019: €œWe need to be aware of the fact that the third quarter has been our worst quarter, but it feels like it's starting to take on a little bit more now. Like we're too worried about it.€
Now, let's look at some comments from after the Kings loss to the Los Angeles Clippers Wednesday night after the collapse in the third quarter:
Marvin Bagley: €œWe made the same mistakes as last game against this team. Kind of similar situations where it was a great first half, we came out second half and just went downhill. We've got to learn from that.€ €œI hate losing. We've got to figure something out, man because it's not cool to just come out here and just give teams the OK to think they can come in and just it's going to be an easy night against us, it's going to be a game they can easily check off as a W. We've got to put that to an end ASAP.€
Glenn Robinson: €œJust staying together when things do get rough. If teams come out and pressure us, not panicking, knowing and seeing our next options, having a backdoor available, continuing to play the game when teams do pressure us.€
De'Aaron Fox: €œAs individuals, we have to come together and say we aren't going get straight line drives, or I've got your back if you do get beat, that's pretty much it. Defensively it's about communication and just having everybody's back.€ €œJust being able to be consistent defensively is something we really need right now.€
Glenn Robinson: €œThe first half, you could see where our chemistry is, you could see when we do play the right way and move the ball I think it's believing in that for 48 minutes, believing in that the whole game, and believing in each other.€
From 2012 to 2019 (and well before 2012), you saw talk of too much losing, relying on scoring instead of defense, a lack of urgency, breakdowns, not being able to get stops, the other team out-toughing them and poor third quarters.
This season, we have seen plenty of losing, relying on scoring instead of defense, a lack of urgency, breakdowns, not being able to get stops, the other team out-toughing them and poor third quarters.
Walton's first season was supposed to teach the Kings how to play better defense and execute in the half court. The Orlando Bubble was supposed to teach them how they need to be disciplined on defense.
More lessons learned Wednesday night as the Kings dropped their 9th game in the last 11.
€œThe Clippers definitely picked up their physicality there in that third quarter, but that's what I'm talking about €" learning from our mistakes. Learning from our losses. We understand we're not that team, but if we're going to make the same mistakes two nights later then that's wasted opportunities for us to grow,€ Walton said. €œUnfortunately, these lessons are frustrating and they're painful, but we have to learn them. For us right now, where we are as a team, it's like that level of intensity and then as soon as there is a little bit of a drop off, it's an 8-0 run, it's a 10-0 run and it can't be those big of peaks and valleys, it's got to be steady.€
Robinson shared what Walton told the team after the game.
€œLuke said it after the game, but that's a championship-caliber type of team [Clippers]. They know a lot of their goals. One of our goals is to make the playoffs, one of our goals is to play hard every night and that's what that team does,€ he said.
The Kings are still learning how to play hard every night.
The newcomer, Tyrese Haliburton, summed it up well: €œIt's kind of the same old stuff so hopefully we can come together and fix that because after a while if you don't it's just going to continue to be the same result.€
Hopefully Tyrese, hopefully.