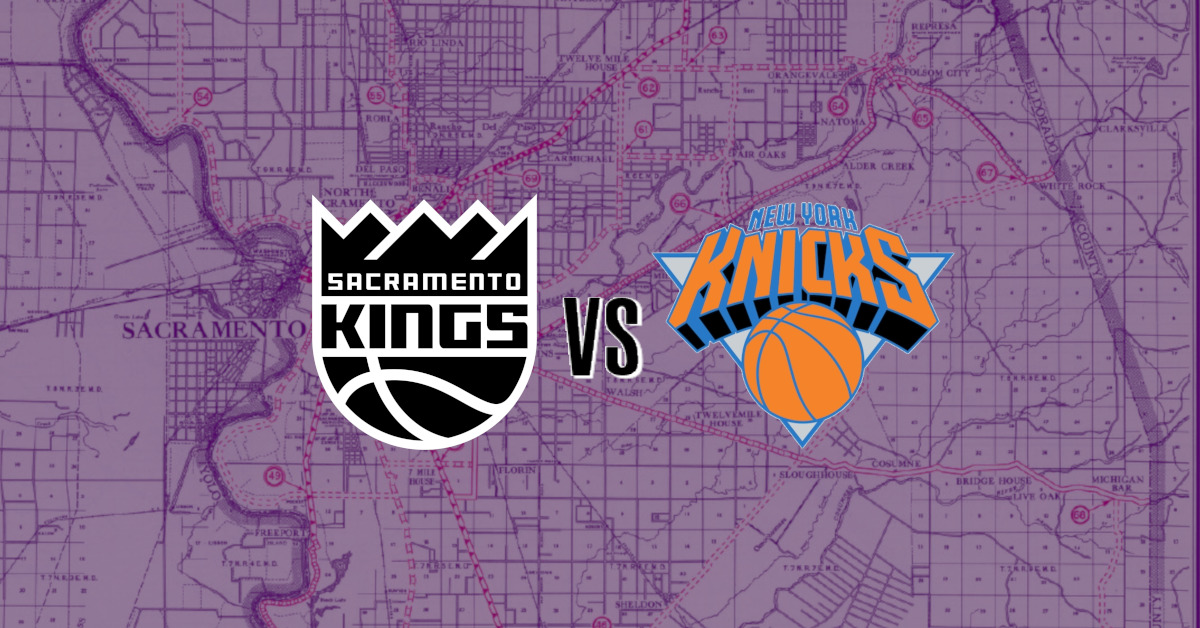 Oh, look, another evening of Sacramento Kings basketball in which another team that was attempting to toe the line of refresh and rebuild has found themselves in a better position after a coaching change! The Knicks are in town and flashing their top of the league defense and bottom of the league offense, all in the hopes of giving the impression that they've finally turned things around... again... for like the eighteenth time this millennium. Currently sitting at the 6th best record in the East at 8-8, the Knicks strut into Sacramento winners of three straight games and ready to go on an extended streak! If Knicks fans aren't crying "trap game"... it's, well, it's because they're either dead or were always closeted Nets fans too afraid to speak up until now, but you get the point. Can this big craphole of a team turned back into The Big Apple's team? Can Thibs go more than a season without destroying the physical well-being of every single player he touches? When will the Academy go back to 1989 and give Spike Lee a Best Original Screenplay Oscar for Do the Right Thing? Let's talk Kings basketball.... or Oscar snubs... I'm really not too committed to anything at this point.
When: Friday, January 22nd, 7:00 PM PST
Where: Golden 1 Center, Sacramento, CA
TV: NBCSCA - Mark Jones on the call.
Radio: KHTK Sports 1140 AM
For Your Consideration
Thibodeaun't Look Now: Hey look, a team where I can throw some numbers out at you! Yes, as I alluded to up above the fold, the Knicks are a decent team this season, bouyed by the heroics of Julius Randle, RJ Barrett and a cast of questionable fits, the Knicks have seemingly bought into the Thibs torture and are currently sporting one of the best defenses in the league. While their defensive rating is 4th in the league, they're #1 in opponents points allowed - giving up 102.8 per game, or in terms of the Kings, 20.2 points per game less than Sacramento. Yeah, woof. So what are they doing? How have they gone from 18th in the league just a season ago straight to the top of the heap? Well, for one, they're guarding the hell out of the three point line. This season, league opponents have shot just 30.7% from beyond the arc, and to expand a bit, just 43% from the field as a whole. Those are both the best in the league. It isn't like they're running teams off the line though, they give up the 26th most three pointers at over 37 per game. They're also rebounding a ton of those missed shots, #5 in the league in total rebounds and 9th in the league in defensive rebounding. They're 11th in blocks and 23rd in steals, so while they aren't afraid to get after it, they're not taking risks either.
This is going to bleed over into the offensive side of things now, but the Knicks also run at the slowest pace in the league. They're limiting the amount of possessions their opponents get and contesting every single thing they throw up when they get the chance. Speaking of throwing things up, for as good as the Knicks defense has been early in the season, they're offense is just stringing things along as best they can. Not to take anything away from individuals like Julius Randle, who comes in sporting a career high 22.4 points to go along with 11.4 rebounds and 6.3 assists, or RJ Barrett who has broken out for 17.8 points, 7.3 rebounds and 3.5 assists, the team is just a scattershot offensive unit. They're last in the league in scoring at 101.8 points per game, they're last in the league in three point attempts, 21st in percentage at 34.9% a game and while they're top six in two point shots attempted they also are the fourth worst two point shooting team in the league at 49.1%. So not only can they flat out not shoot the ball, they're fairly allergic to passing it to finding scoring opportunities for teammates as well, seeing as how they're 29th in assists as well.
The Knicks are currently on a three game win streak and an impressive three games at that. Beating Boston by 30, Orlando by 7 then Golden State by 15 is nothing to snuff at. But the big question for the Knicks remains: is this sustainable? Can you depend on Julius Randle to lead you to a lower end playoff spot in the East? Can a surprise rookie like Immanuel Quickly continue to play at an All-Rookie level? Can this island of lost toys really get the Knicks to their first playoff series in six years? Can Thibs pull back on the reigns when it comes down the stretch to keep the legs of his starters fresh? With the Knicks, I just don't know. Then on the other hand, I start thinking of every Knicks fan I know just happy to have their team be the slightest bit relevant again. Nothing in this universe is sustainable - not even the damned universe. I'm glad New York has something to celebrate, even if it is temporary and inevitably headed towards a state of zero thermodynamic free energy.
The Kings debut their new city jerseys tonight. There. That explains the title of the preview. Happy watching!
Prediction
The immovable object collides with the unstoppable farce and the chaos that's created rattles Sacramento to its core. The Kings give it all they've got on the offensive end but are held to a season low in point. The Knicks have completely wide open lanes to the hoop but wear themselves out in the process of playing a Thibs style defense. Neither team totally unable to scores after half-time.
Kings: 65, Knicks: 61