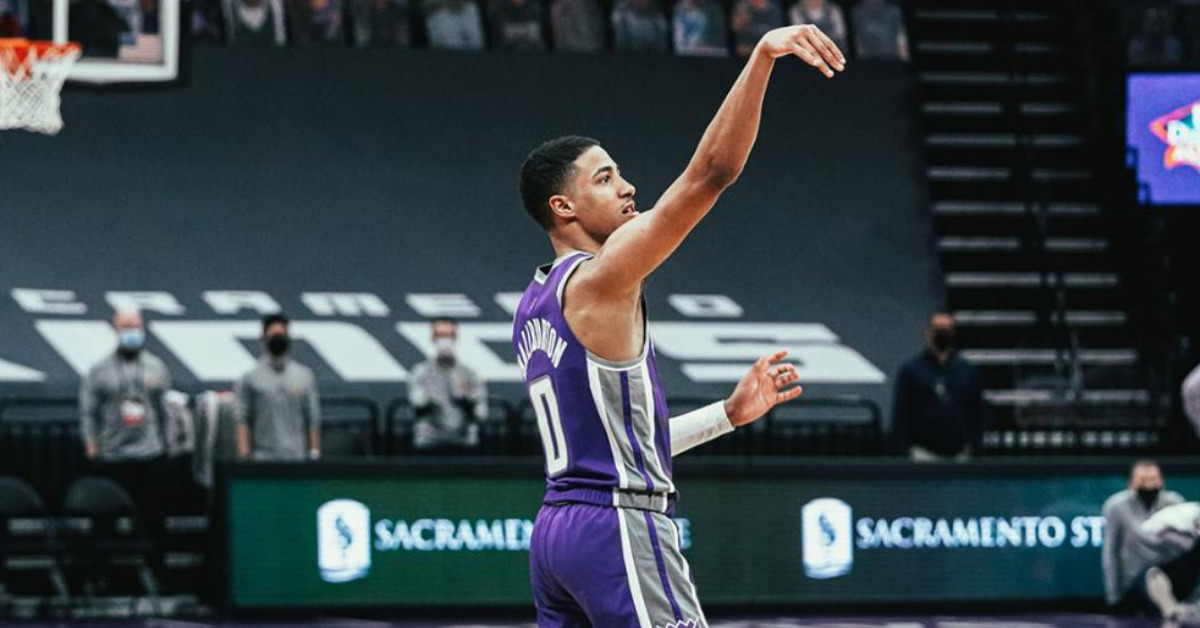 When the Sacramento Kings snagged Tyrese Haliburton with the 12th pick in the 2020 NBA Draft, many analysts considered their selection the steal of the night, and as the league's Rookie of the Year race heats up, Haliburton has continued to prove his immense value as a late lottery pick. Currently, he trails only LaMelo Ball in Rookie of the Year odds, while the NBA's Rookie Ladder places him third behind both Ball and James Wiseman. No matter where one looks, from national publications to the local media, Tyrese is the most recognized rookie the Kings have employed in quite a long time.
Haliburton's production on a per-minute and per-night basis has been incredibly impressive, especially when considering the fact that he comes off of the bench for the Kings. He's top-4 in his class in minutes, points, assists, and steals, and his turnover rate is also incredibly low, not just for a rookie, but for an NBA ball-handler in general. The former Iowa State star is averaging just 1.8 turnovers per-36 minutes, compared to 4.1 for Killian Hayes and 3.8 for LaMelo Ball, the other top passers in his class.
Of course, box score numbers can sometimes be deceptive, especially if a player is shooting at high volume and low efficiency, but that's not been the case with Haliburton. Despite his unorthodox form causing concern with some draft scouts, Tyrese ranks in the 95th percentile in effective field goal percentage among all guards, not just rookies. That percentage has been buoyed by his otherworldly accuracy from deep, as he's knocking down 49.5% of his three-point shots, which not only leads all first-year players, but actually ranks fourth in the entire NBA among players attempting at least 4.5 long-balls per game. The kid doesn't miss many shots, from anywhere on the court.
In addition to his shooting accuracy, Haliburton's court vision has also been elite. Although LaMelo Ball averages one more assist per game, Tyrese bests Ball, and most other guards, in passing efficiency. Currently, he places in the 81st percentile in assist-to-turnover ratio (3.67 to Ball's 2.87), and Hali is also recording the league's best usage-to-assist ratio at 1.51. The transition game has also been Haliburton's to command, as he places in the 91st percentile, compared to Ball's 0.8th percentile (yes, that's a real thing), while also putting up a strong showing in the half-court, scoring 0.95 points per possession in pick-and-roll and turning the ball over just 7% of the time in that situation. Unlike many NBA rookie guards, Tyrese has been able to make an impact in the fast break and in slowed down situations as well.
Beyond the basics of scoring and passing and efficiency, the cherry on top of Haliburton's phenomenal ice cream sundae of a rookie season has been his comfort level in end-of-game situations. He places second in fourth quarter minutes among all rookies, and leads his entire class in points scored, field goal percentage, field goals made, three-pointers made, three-point percentage, and steals, while also turning the ball over just five times in the final period this season. His resume once again holds up when compared to the rest of the league as well. He ranks in the top-25 in minutes and points scored in the fourth quarter, while his 65% shooting from the floor places third among all players, and his 71% from deep leads the entire NBA. He's not simply the most clutch rookie thus far; he's developing into one of the most reliable fourth quarter players in the league.
The key to Tyrese Haliburton's rookie run hasn't been the quality of his play compared to his fellow first year players, but rather the quality of his play compared to any NBA player. His shooting and passing efficiency are some of the best in the league, while his clutch play has been unreal for a late lottery rookie. If he keeps up this level of contribution, there's no doubt he'll be in the running to take home some hardware at the end of the season.