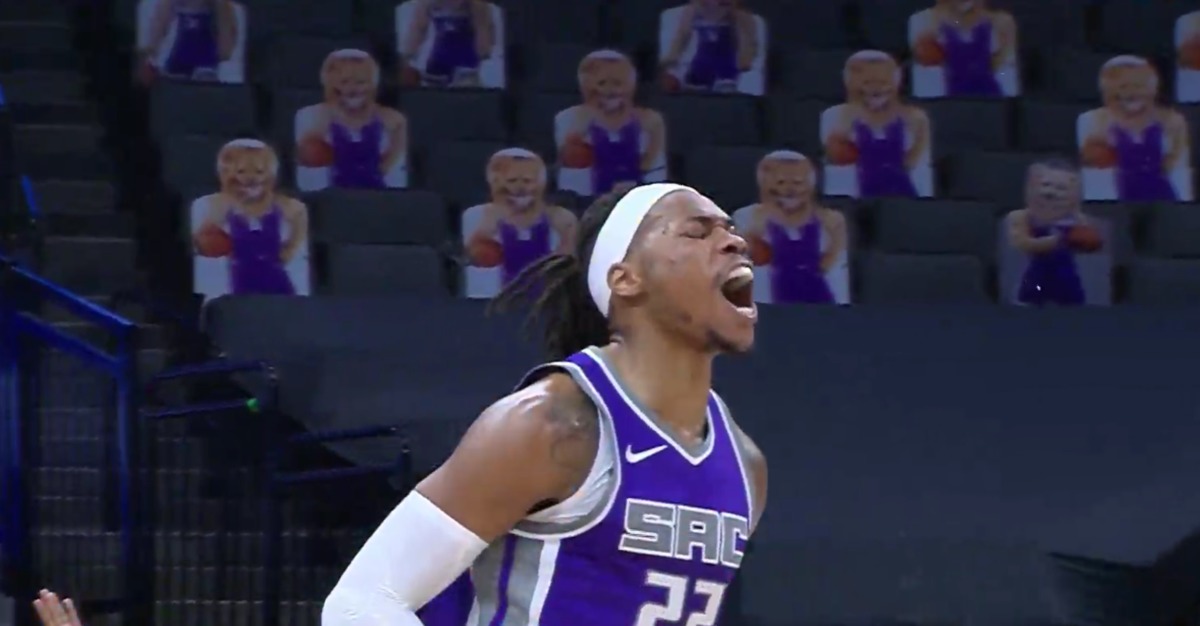 The scouting report is out on the Sacramento Kings €" get physical with them and push them out of their offensive sets and they will bend. The Houston Rockets and Golden State Warriors both did it successfully.
So coming into Monday night's game against the 6-3 Indiana Pacers, which is considered one of the most physical teams in the league, one would expect the Kings to break a little bit.
It happened for about the first minute, until Luke Walton called a timeout with the Kings down 6-0. Richaun Holmes described that moment.
€œThey were trying to make it a point to pressure us, get into us and try to out-physical us, and try to set the tone right there. So I think that first timeout was to get us to settle down. Make sure we go out there and understand the game we were in for and match their physicality and making sure on offense we're getting into them on our cuts, being a little bit more physical, making sure we get open."
From then on out, the Kings were aggressive on both sides of the ball and turned it into a pretty exciting contest accentuated by De'Aaron Fox's monster dunk to seal the win. The Kings won the rebound battle 52-43, took 23 free throws, had 29 assists (did have 19 turnovers though). And they won while getting beat 21-12 in fast break points. It didn't hurt they made their shots also (56 percent from the field and 46 percent from three). They were competitive; Fox leveled up on defense; Holmes was the man with 16 points, 10 rebounds and 6 blocks (side note - when was the last time the Kings had an effort/get-out-of-my-way guy like Holmes who also was a key starter and very skilled?); Harrison Barnes continued his stellar season; Buddy Hield made shots; but most importantly as a team they cut strongly on offense and in general just played with a competitive edge they must keep to compete consistently.
€œWe have to get into people on our cuts to create space, to get open; don't let them push us off our spots,€ said Walton, who labeled the game as the team's best performance so far this season.
Holmes, who is a key part of that general aggression, said last night was what their identity should be.
€œI feel like that's just how we're supposed to play. The last couple of games haven't been us and tonight is how we are supposed to play. This is how we play. This is how we feel we can play every night and this has to be the standard. This has to be the way we play the full 48 and has to become our identity,€ Holmes said.
We have seen games like this a lot over the years. They are fun when they happen and give fans hope, but as always it is a matter of continuously repeating such an effort. It really never happens with any consistency, but we can all hope. And it's true €" if these guys can lay it all out on the floor every night, play up to their potential both individually and as a team and communicate on both sides of the ball then good things will continue to happen.
Walton was asked how to bottle what happened up in this game and make sure there is no slippage or regression.
€œI wish [there wouldn't be slippage], but there is always going to be slippage. The way the schedule is going right now, there's no practice time. We learn on the go, we show film, but there will be slippage. There will not just be slippage for us, there will be slippage for every team,€ he said.
We have continued to hear that the players know what the blueprint is, it's on them to execute it and for the coaching staff to be able to adjust the game plan when things aren't clicking on all cylinders.
We'll see.
Last night's game was sure fun though.