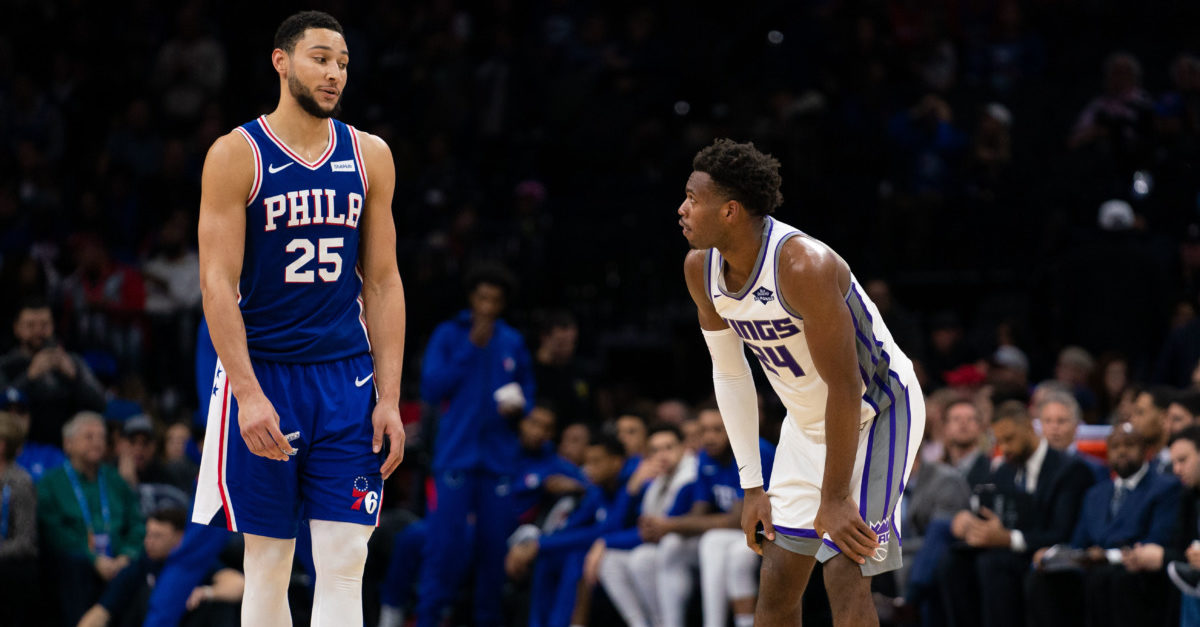 The Athletic's Shams Charania sparked a string of Ben Simmons trade rumors following his Inside Pass column on Tuesday. According to Charania's sources, the 76ers are looking for an "All-Star-caliber player" if they're going to move on from Simmons, and as an asking price, that makes a lot of sense. Despite his obvious warts, Simmons is a three-time All-Star and the 76ers are NBA Finals contenders. They can't afford to take a step-back in the middle of Joel Embiid's prime. But just because the 76ers are asking for an All-Star-caliber player in return doesn't mean they are going to get one.
Independent (via Substack) veteran NBA reporter Marc Stein followed up Charania's Ben Simmons news with a list of teams that have expressed interest in acquiring the Australian guard/forward, and the Kings were on that list.
Our pal Jason Anderson from the Sacramento Bee did a little digging of his own and dropped a column on Wednesday morning detailing what the Kings would need to do to satisfy Philadelphia's demands:
Sacramento would probably be willing to offer a package that includes Buddy Hield, Marvin Bagley III and one or more future first-round draft picks. One league source recently told The Sacramento Bee the Kings would have to send a minimum of three first-round picks to the 76ers in a trade constructed around Hield and Bagley. Another source said the 76ers wouldn't be interested unless Fox or Haliburton were included in the trade, but Hield's elite 3-point shooting and Bagley's unrealized potential could be appealing if a better deal doesn't materialize.
Anderson put to paper what we probably could have speculated: If the Kings aren't trading Fox or Haliburton, and they really shouldn't, the 76ers are going to need a ton of draft compensation to fill the talent gap.
There is still a long way to go before any Ben Simmons trade materializes, but it's encouraging to see the Kings in the mix, and as Anderson notes, the 76ers are aiming high early, as they should. Daryl Morey is doing his job in trying to maximize the return for a former franchise player, but if he doesn't get it, I'm sure he'll continue the dialogue with his former protégé and Sacramento Kings General Manager, Monte McNair.
It's also worth noting that while "three first-round picks" sounds like a high asking price, various pick protections, pick swaps, and other draft compensation tricks can be utilized to make the reality of losing those "three first-round picks" less damaging than it sounds.
If Anderson is right when he says that the Kings "would probably be willing to offer a package that includes Buddy Hield, Marvin Bagley III and one or more future first-round draft picks" than the two sides might not be as far off as it appears. The problem is that draft compensation doesn't do much for the 76ers' title dreams, so a deal in this mold is likely contingent on Philadelphia lining up a second trade where they could use those draft picks to acquire more win-now talent.
If Anderson's second source is more accurate, and the Kings cannot land Ben Simmons without dealing De'Aaron Fox or Tyrese Haliburton, that probably marks the end of Morey and McNair's trade negotiations.