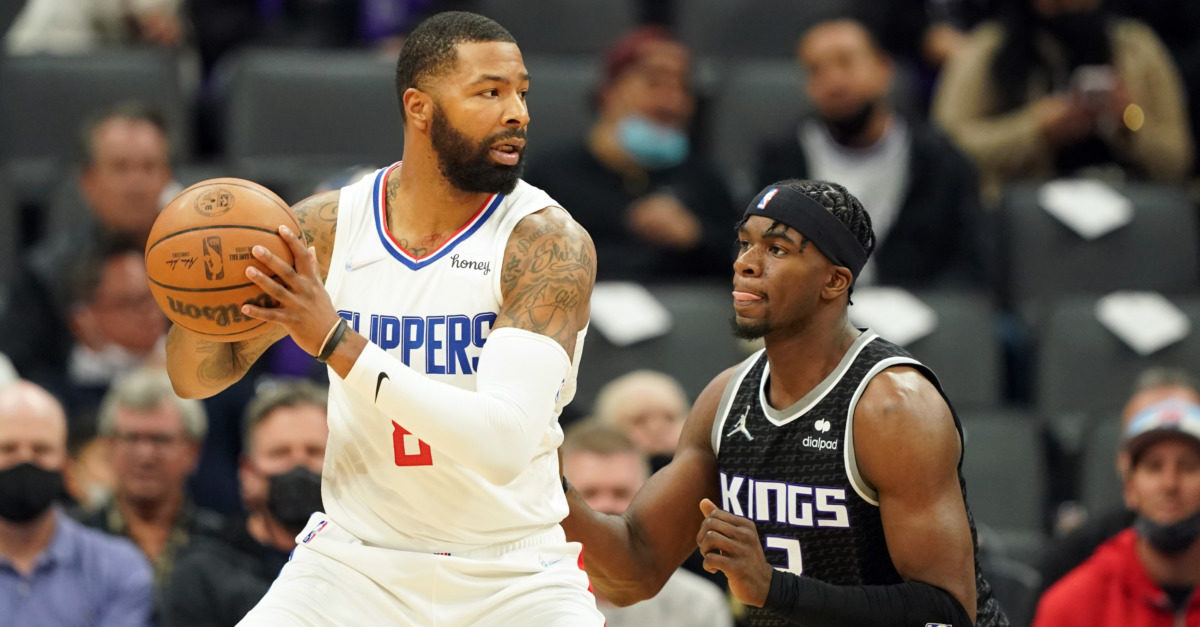 The Sacramento Kings defeated the Los Angeles Clippers for the second time in a row Saturday night. The 104-99 win came on the back of a solid defensive performance and some nice outings by Terence Davis and Marvin Bagley.
The Kings held the Clippers to 38% from the field and from three, won the offensive rebounding battle 11-9, points in the paint 40-32, and held Paul George to 15 points on 5-21 from the field. This was only the third time this season the Kings have held an opponent under 100 points, and the first time since Nov. 7.
Davis scored a game-high 28 points and Bagley, who returned following a non-COVID-related illness, added 12 points and 11 rebounds, including 4 offensive rebounds, off the bench.
This was the Kings fourth win at home after Alvin Gentry discussed how the team needs to start taking better care of home court. They have a 6-6 record on the road.
Following the win, Gentry, Bagley, Tyrese Haliburton and Davis spoke to media.
Defense
Alvin Gentry: "Defensively, obviously, we were really good, we held a team to 99 and so it's just a good win for us, we've got to, and here comes that word again, but we have to try to get to that consistent level where we're doing it every night." "Paul George is one of those guys, and I don't think he gets anywhere close to the respect that he deserves. He is a big-time player in my eyes and a guy that can go get baskets any time he wants to, so I thought we did a good job on him. I thought Foxy did a great job and we also did a good job of helping Foxy in those situations. Davion [Mitchell] guarded him some, Fox guarded him some, we ended up switching out on him some, so it was a total team effort, but Foxy was the primary defender on him a lot of the night and I thought he did a great job."
Tyrese Haliburton: "PG [Paul George] is the head of the snake over there and I thought Fox set the tone early. It's obviously a point guard guarding a 2-3 and where maybe some people don't think that can happen, but I thought Fox was really good tonight on PG, making it tough for him. PG missed some shots, but I thought Fox did a really good job and he kind of set the tone for us defensively and we all just kind of followed his lead. Yeah, I thought it was a great team effort."
"I just felt like guys were engaged, not only on the court, but I thought our bench was really good communicating plays and things like that. I thought we did a really good job, so I think it was a complete team effort and just something that I hope we can keep building upon."
Terence Davis: "Just really taking the challenge. One to guard, one to make a stop, limiting them to one shot, no offensive rebounds and things of that sort. It's really, I would just say, a want to, wanting to guard, and that kind of changes the dynamic of our team because we're able to get stops and run. I would say that's the best advantage we have is our speed."
Terence Davis' Performance
Alvin Gentry: "I think he's getting a little more comfortable and I think with him the whole idea is behind what is a good shot and what is not? When do you shoot it and when do you not shoot it? And I think he did a good job tonight of picking those opportunities and just jumping up and shooting them and shooting them with confidence. Obviously, he made a lot of big shots for us when we really needed them."
Tyrese Haliburton: "It's good to see him make shots and we've all got a lot, a lot of confidence in him so just happy to see him get going."
Terence Davis: "It's been tough as a shooter. I tell this to Buddy [Hield], we talk all the time, but as a shooter, when you're not hitting shots it's very, very frustrating just because that's kind of what they pay you for, to make and hit shots. So, when it's not going in it's just really frustrating. You start to question yourself and things of that sort, but lately, I've been feeling really good. My teammates have been encouraging me to keep shooting."
Marvin Bagley's Night
Alvin Gentry: "He's been pretty consistent since he's been able to get back out on the floor, but I thought that his crash-zone rebounding on the offensive boards, he's done a good job with that. I think he's done a good job defensively of getting down and guarding perimeter players. We had him switched out on [Luke] Kennard a couple of times, I thought he did a great job with that, but the big thing is that he's come up with some big rebounds for us and been able to do some things to help us on the boards."
Terence Davis: "I know it's a tough situation for him being No. 2 pick and it's a tough situation. A lot of guys in his position haven't been through something like that so for him to put that to the side and keep working, keep grinding, come in here double-double tonight, missing the last game from illness, that just shows a lot about him, honestly. He really changed the game for us, rebounding, just being a dog on the defensive and offensive boards so kudos to Marv."
Tyrese Haliburton: "Marv just brings a lot of energy for us off the bench. He can rebound the ball really well and that helps us get out on the break and get running, and he was really good on the offense glass as well, 4 offensive rebounds. I just loved his energy tonight and I think that is something that he's kind of focusing on is just having great energy out there and doing what he does best."
Marvin Bagley: "I'm just playing basketball. I'm comfortable out there just playing the game. Just having fun, just enjoying the game of basketball that's my main thing. Ever since I started playing was the love and the joy and not letting things or people take that joy from me has always been my thing. To kind of be out there again and playing, having fun, and smiling and helping my teammates, cheering my teammates on that's what it's all about for me and everything else will come. That's how I always played the game and that's how I'll continue to play the game."
A Few Takeaways
Bagley complimented Gentry at the end of his media session with this: "We have a great team here. We work very hard every day in practice. Coach Gentry is doing a great job at coaching us the right way and it's been fun playing for him."
It was good to see Fox step up and take on a defensive assignment like he did. The tools have always been there for him.
This was an odd game in that it felt like the two teams switched spots and the Clippers were the Kings. They couldn't execute once the Kings took them out of what they were trying to do. They got somewhat close in the fourth quarter, but continued missing shots and couldn't figure things out. On offense, Gentry used four guards to try to break the Clippers zone defense, an interesting in-game adjustment.
Bagley definitely looks like he is playing more in a team concept as of late. He isn't forcing his offense every time he touches the ball, he's looking for the extra pass, putting effort into defense, and focusing on what this team needs help with: rebounding.
The Kings have 9 more home games this month and only 4 road games so it will be a good opportunity for them to improve their home record.
The Kings will be able to get in some good practice time now since the next game isn't until Wednesday against the Orlando Magic.