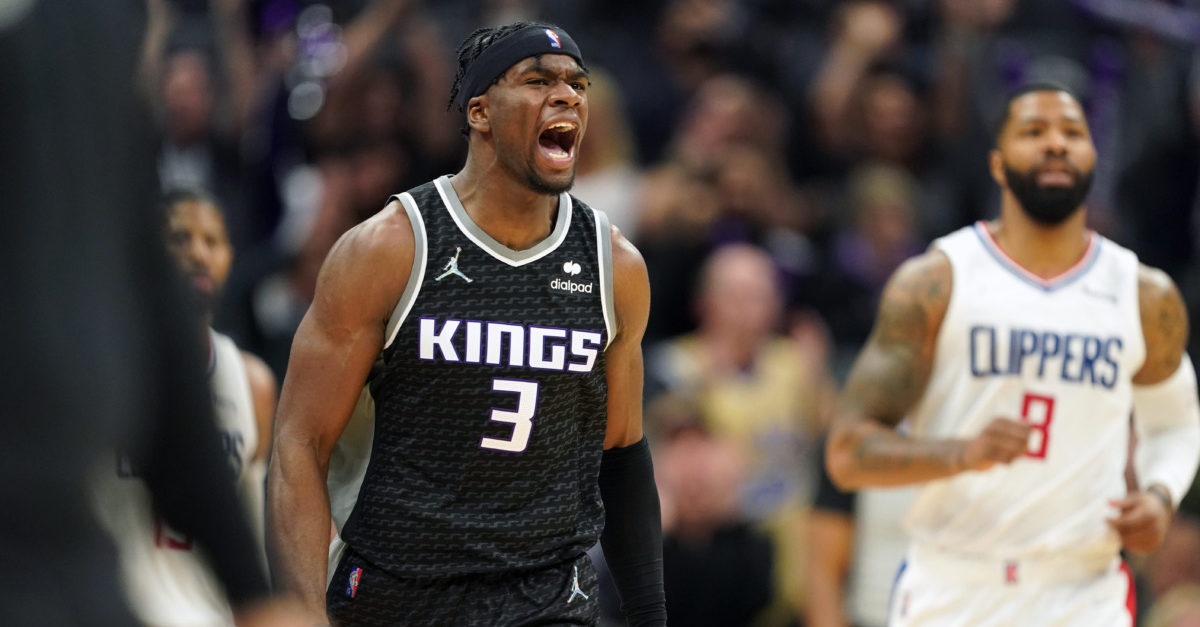 In the pre-game, Jon Wilson and the powers that be over there at NBCSCA casually dropped into one of their segments that the Clippers haven't lost a game in Sacramento since 2013. Well… that was exactly the kind of reverse jinx the Kings needed!
And yet, it didn't quite feel that way to start. The first quarter started with Paul George, who didn't make a single three pointer against the Lakers on Friday night, hitting two of them in the first 90 seconds and dishing to Reggie Jackson for a third in as much time, and a dark, ominous cloud came across the screens of everyone in Sacramento. It honestly felt like one of those "you'll be watching Twitter more than the game by the 4th" omens. Then George decided that he wasn't all that concerned with making any of his subsequent attempts and ended the first half shooting 3-13, finishing the game with just 15 points on 5-21 shooting. The Kings spent most of the night switching everything that involved George - throwing their undersized guards at him whenever they could and it turned out about as expected. His height allowed him to shoot over everyone (save for Defensive Player of the Year candidate Chimezie Metu) he just couldn't connect.
Speaking of Chimezie Metu, the man came to play on the defensive end of the floor, especially in the first half. Sure, he's still less than consistent and yeah, he probably takes to many ill advised shots, but the kid also had 5 blocks in the first half tonight so, we ain't complaining tonight.
I could run down a bit of the first half I guess... let me check my notes here: Tyrese scored seven of the first eleven Kings points, Richaun didn't score in the first half.... hmmm. I guess I could say that the Clippers went big in the second quarter and the refs got whistle happy and the game absolutely crawled to a stop for 8 minutes or so. Then Tyrese hit a few threes, Fox walked his way into the paint at will and Chimezie Metu swatted away everything that came his way and suddenly the Kings were on a 10-0 run and ended the half up 5 points after coming out of the first quarter tied.
The third quarter was all Terence Davis, all the time. We'll talk about that a little further in the recap.
The Kings took a 6 point lead into the 4th quarter and after some back and forth had a nice little run to push the lead to 13 with 7 minutes left in the game. You could tell the Clippers were playing on tired legs and Fox, Mitchell, Hield, Bagley and Thompson all held more than their own against a team on it's second night of a back-to-back. After the Clippers cut it to 8, Gentry tossed the starters back in but by then, the heat was on. A Morris Sr. three ball cut it to 5, a little more back and forth, then a Clippers bucket cut it to 3 with 3:00 to play. On the subsequent possession, Terence Davis hit his sixth three in eleven attempts. The Kings then went to their slightly whacky 4 guard lineup to close the game with De'Aaron Fox, Davion Mitchell, Terence Davis, Tyrese Haliburton and Richaun Holmes attempting to hold down the last two minutes of the game. After an incredibly long ref review of foul, a Clippers' turnover and Fox splitting a pair of free throws,Marcus Morris Sr. hit a three to put LA down 3 with 10.4 seconds of the game. The free throw game was played and the Kings came away victorious for the second time this season against the Clippers.
Random, Less than Stellar, Facts:
Richaun didn't have a field goal attempt in the first half and in fact, didn't score a single point until 1:19 left in the game when he split a pair of free throws. He ended his night with 1 point, 6 rebounds, 3 assists.
Much like Holmes, Buddy Hield didn't score in the first half and didn't score till the last 30 seconds of the third quarter. He ended up with 10 points, 3 rebounds, 2 assists, 2 steals and a block on 1-5 shooting in just under 20 minutes.
Quick Stats
Outcome: Kings win, as predicted.
Sacramento Kings: 104 points, 59 rebounds, 41.9% FG, 35.3% 3P, 80% FT, 15 turnovers, 19 assists, 8 steals, 8 blocks
Los Angeles Clippers: 99 points, 60 rebounds 38.2 % FG, 38.2% 3P, 66.7% FT, 17 turnovers, 23 assists, 7 steals, 3 blocks
The Good, The Bad, & The Ugly
THE GOOD
B-E Aggressive: Both Tyrese Haliburton and De'Aaron Fox went into tonight looking to be aggressive. Tyrese scored seven of the first eleven Kings points, De'Aaron had double digit scoring in the first quarter, but even better, it was how he got his points that mattered. He had some fantastic moves in the paint and generally could get to the cup when he wanted, especially in the first half. Tyrese ended with a 18-6-5 line to go with 2 steals and a block on 50% shooting from the field. He also had 5 turnovers, but shhh. Aggression! Fox ended up with 17-8-5 with 2 steals. He ended up shooting only 36% from the field but that first quarter was the Fox we all know and love. It's a start!
THE BETTER
In His Bag: Marvin Bagley III is busting his ass when given minutes. He missed the last few games with an illness, but was back with a vengeance: 12 points, 11 boards in just 19 minutes tonight. Whether or not this time on the court is a boost for his trade value, it's good to see Bagley playing good basketball.
THE BEST
Slumpbuster??: Terence Davis had a decent game going and then the third quarter came around and he decided to go bananas: scoring 12 points in a 5 minute stretch including hitting 3 threes in five or six possessions. Kayte and Kyle decided to call his season long shooting slump over… I'll hold off on doing the same until the number crunchers at this site tell me it's a-ok to do so. Davis ended up scoring 28 points, shooting 9-16 from the field, including 6-11 from deep.
The King of Kings
Greg. Greg is the King of Kings because he has to stay up and read this through to make sure I didn't slip in anything inappropriate. The truest of Kings.
[Editor's note: this probably should have been Terence Davis for reason's already discussed but I'm leaving it as is because it's nice to be praised for staying up late on a Saturday. Also it will make my mom happy.]
Up Next
Wednesday, December 8th vs. Orlando Magic 7pm (PT)