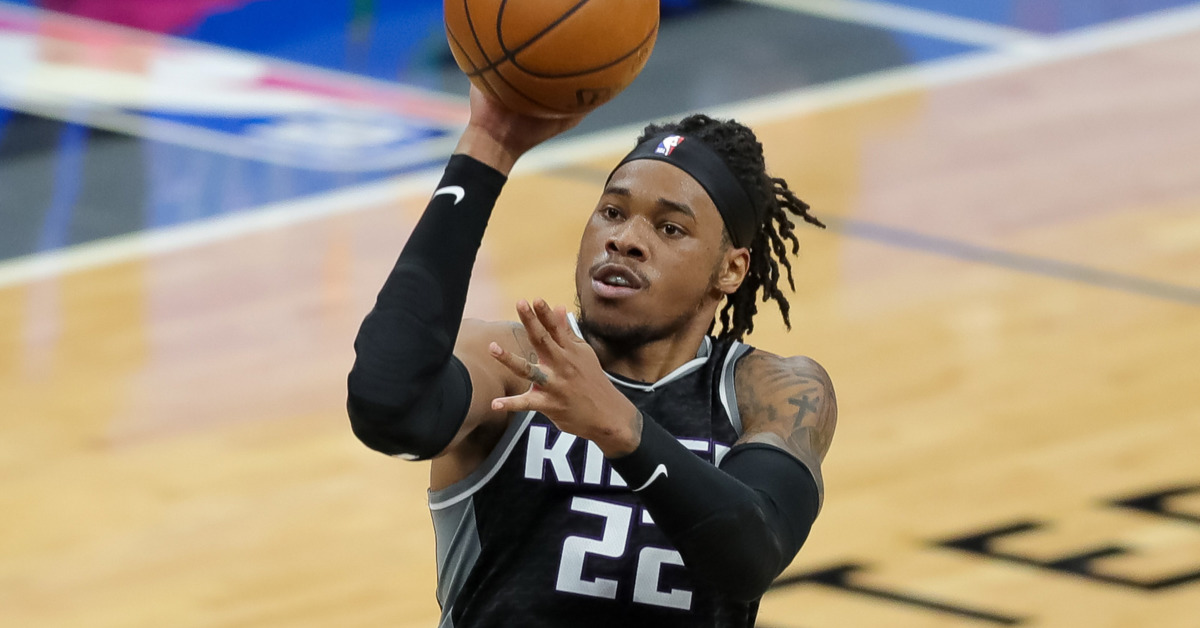 Welcome to our Season Review series. Instead of season grades, we're going to review the season as a whole for each player individually. We continue with Richaun Holmes.
Richaun Holmes is a dude built to thrive in Sacramento. When the highly-paid Dewayne Dedmon failed to bring his basketball skills with him to California in 2019, it was Richaun Holmes and his modest mid-level exception contract that swiped the starting center spot and never looked back. Holmes has become a Sacramento fan favorite with his tenacity and grit, a trait in short supply over the 15 year playoff drought, and he's connected with the fanbase in a way few journeymen players have in the last decade. With his effort and high-basketball instincts on both ends of the court, Holmes is a dude who can withstand even the flames of basketball hell and play unscathed.
Holmes' had a career year this season, finishing with 14.2 points, 8.3 rebounds, 1.7 assists, and 1.6 blocks per game on 63.7% shooting and 79.4% from the line. While Holmes isn't the tallest, strongest, or most physically intimidating big in the NBA€"his listed 6'10 size seems generous on most nights when he stands next to his center matchups€"the 27-year-old has developed plenty of counters for bigger opponents. Some of his best games of the year were against star bigs; 25 points and 10 boards against Rudy Golbert and the Jazz on April 10th, 22 points, 9 boards, and 3 assists vs. Anthony Davis and the Lakers on April 30, and two 20 point outings against Nikola Jokić and the Nuggets. For a team that struggled with both skill and mental consistency, Holmes was a rare, consistent bright spot on both ends.
Holmes continued to dominate as a pick-and-roll big, and over a third of his offense in the 2020-21 season came in the PnR. He averaged a whopping 4.2 attempts per game and shot 64.2% on such attempts, fourth highest among players with more than 2.5 roll-man attempts per game (behind Jarrett Allen, Rudy Gobert, and Bam Adebayo). His chemistry with Tyrese Haliburton on the PnR was a huge boon to the rookie's awesome first season in Sacramento.
The one limiting factor of Holmes' offense since coming to Sacramento has been his spacing impact; while he shot three pointers early in his career with Philadelphia, those attempts vanished in Phoenix and Sacramento. And while most of Holmes' offense this season did come in the paint€"per NBA Stats, he had 479 of his 575 total shot attempts in either the restricted area or in the paint (and made 66% of them)€"the addition of his now-legendary push-shot did help provide some much needed versatility to his offense. In 2019-20, Holmes took a total of 65 shot attempts from 8-16 feet€"in 2020-21, those attempts jumped to 200.
90 seconds of the most automatic signature shot in basketball today: The Richaun Holmes push floater. pic.twitter.com/Bcc6f1QLG2

— Tony Xypteras (@TonyXypteras) February 18, 2021
While almost all of these attempts are at the edge of the paint, Holmes' push shot gives the Kings' many drivers a nearly-automatic option when rim protectors leave Richaun to stop the ball. It's further proof (if any was needed) that Holmes has and will continue to develop as a player€"and he noted in a media session last week that a priority this offseason will be stretching his game out to the three point line.
The Kings were a historically bad defensive team this year, and while every player deserves criticism for that, Holmes was a rare bright spot. Per NBA tracking stats, Holmes' matchups shot 3.4% less than their average overall, and a whopping 10.9% less when close to the basket. Aside from De'Aaron Fox (who held his matchups to an astounding 0.1% below their averages overall), no other King who played serious minutes held opponents to below their overall averages. Holmes' success as a rim protector is well known, but an underrated part of his game continues to be his success at switching onto perimeter players, as best evidenced by his three blocks against Jaylen Brown and Jayson Tatum in the Kings win against Boston in March.
Richaun was one of the best Kings on the season, which is both strong praise for Holmes and faint criticism for the Kings organization. Can a team with Holmes as the third or fourth best player truly be a playoff contender? Probably not, but odds are that plenty of teams will be interested in Holmes when he hits free agency this summer. Unless Holmes is willing to accept the Kings' current max offer of 4 year, $47 million dollars, they will need to clear space to re-sign him. After a year in control, Monte McNair has set up a situation where he will either have to watch another one of his better players leave for nothing, or have to trade other players or assets to gain the space to keep him. But if Holmes has already played his last game in a Kings uniform, it doesn't take away from his excellent season€"he was the lone consistent big man and a rare defensive bright spot on the roster.