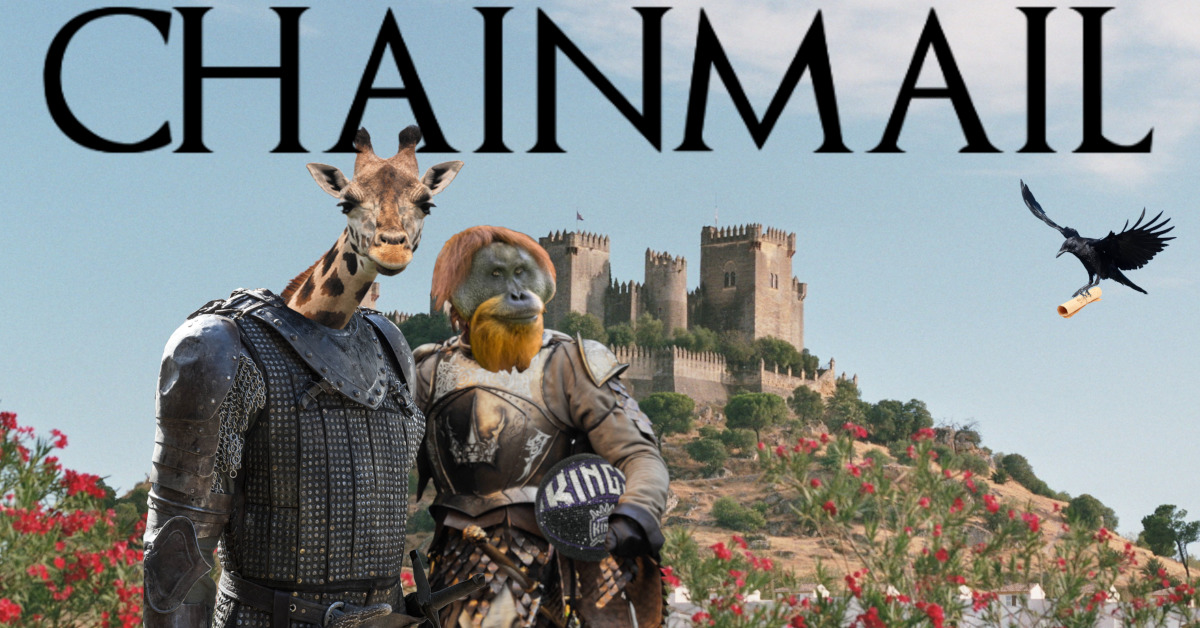 Welcome back to Chainmail! We had some terrific questions this week, some of which were so hotly debated among the TKH crew that alliances have formed and friendships have shattered! Great job! As a special treat this week, we're pleased to welcome the mystery man behind the curtain, the one, the only, Akis! Let's dive right in!
From SierraSpartan:
It is my understanding that Richaun Holmes cannot be signed here for what he would (theoretically) rate out on the open FA market. Is this so? If so, is there anything the Kings could do money-wise to help land him back in Sac?
Tim: Before diving into the details of Holmes' situation, it's important to take a step back and contemplate exactly where these numbers (I've heard 4 years, $80 million thrown out there) are coming from. They're probably originating from Holmes' camp, as they're trying to create the largest market possible for their client, and that's exactly what they should be doing - this is not at all a criticism.
Now that that's settled, it is true that as of right now, the Kings max out on Holmes' offer at about 4 years, $47 million using his early bird rights, which are directly tied to 105% of the league average salary in 2020, which comes out to about $10.5 million in his first season on the new deal. They can't offer a dime more as of this moment.
Of course, Monte McNair can open up cap space, most easily by dumping Marvin Bagley for little to no returning salary, but I don't actually see the Kings taking that path. It would be a tough pill to swallow to trade Bagley for no return, potentially lose Terence Davis to the open market, lose access to the MLE (a spending tool of up to 4 years, $42 million), and have to overpay a solid center who isn't going to lead you to the playoffs by an means. That's just asking for trouble next season. In the end, the Kings have to hope Holmes' market is limited enough that he takes the early bird rights offer, or they'll be forced to watch another quality asset walk for nothing.
Will: Tim did all the numbers and math and whatnot, so I'm going to stay away from that. $10.5 million per isn't going to be enough to retain Holmes and sending out Bagley or others for nothing doesn't seem like something an asset collector like Monte McNair is interested in doing. So what can he do? He can swing the much prophesized big ass trade before Richaun Holmes hits the open market and signs a better deal. Prior to free agency opening up, move two or all three of Buddy/Bagley/Barnes (with future picks) for whatever fringe All-Star is restless or undervalued by their team and cut whatever non-guaranteed contracts come along in that trade to help bolster that honey pot for Holmes. Allow Holmes to see that you're keeping the two most valuable players on the team moving forward, bringing in a much boost in this new mystery player and moving salary specifically so that Richaun can stay on board the playoff train, one of which he'll be a key member of.
Akis: Tim's explained the numbers and I also wanted to add some other context as to why I'm hopeful that re-signing Richaun won't be too difficult (although I do think he will sign for more than the max amount the Kings can give him right now). Big men rarely get huge pay days in free agency anymore unless they're of the All-Star variety, with the ability to be a force on both ends of the court. Last offseason, perhaps the most coveted big man free agent was Christian Wood, who was a restricted free agent. He got a 3 year, $41 million from the Rockets, which was too rich for the Pistons to match. Montrezl Harrell, the reigning 6th Man of the Year, got 2 years and $19 million. Now Harrell probably could have been paid more to play for a non-contender, but it still goes to show that the kind of payday that Holmes' camp is wanting (supposedly in the range of $20 million per year) just isn't in the same realm of what big men have gotten in recent years. Holmes is an incredibly efficient offensive player, and will almost certainly be one of the best available big men on the market this offseason, but it's hard to see any team overpaying too much on a rotational non-star big man nowadays. I'm not saying it couldn't happen, but I'd be a little surprised when there are going to be available options out there that will be significantly cheaper (albeit not as good).
From Adamsite:
We've talked a lot about how the Kings can keep Holmes this summer and have discussed the limitations for the Kings in that regard, but can we also talk about Terrance Davis' contract status? Currently is it even possible for the Kings to keep both of them and still have room in free agency? From my understanding there is a cap to Holmes, but the Kings would have to match any offer Davis may get as he is a RFA.
Tim: There's a very, very, very narrow path to keeping Richaun Holmes with cap space, while still matching an RFA offer for Terence Davis.
First, we're going to assume that the Kings dump Marvin Bagley for zero salary coming back, and that they also don't jump in the lottery. If Bagley is still around or if they jump, these plans are out the window. But let's assume that everything works out in the favor of the Kings, as things always do. Next, Sacramento will also need to waive Justin James and renounce the cap holds for Hassan Whiteside and Moe Harkless. If all of that is accomplished, the Kings can open up about $14.7 million in cap space, probably enough to retain Holmes, and still keep Davis' $2 million cap hold (and RFA rights) on the books.
Of course, in this very tricky situation, the Kings are also in some roster-based trouble. Including the first round pick, they'll only have 10 rostered players, and their only spending tools will be the Room Exception and veteran minimum contracts. That's not exactly a great talent situation for a team heading into the 2021 season with the hopes of making the playoffs.
Will: Again, I don't really see how someone who is building his war chest would dump a player like Bagley for nothing. McNair's path is extremely narrow in regards to bringing both of those guys back. Tim's idea works in theory and I guess someone might be willing to risk first rounders for Marvin? Maybe a couple of conditions attached? I truly think this comes down to a big trade being swung prior to any Free Agency hullabaloo. Move some big salaried guys for one very large salary, cut the contracts you can cut from there and any of James, Whiteside and Harkless if necessary, then bring back Holmes and future asset to be traded later in Davis.
Akis: I'm sure the Kings would like to bring Davis back, but creating space under the cap is going to be tricky enough as it is. If they happen to lose Davis in free agency, I don't think it would be the biggest loss in the world, given that the Kings acquired him for some of their many extra 2nd rounds picks. I'm not too worried about what the Kings do with regards to Davis.
From TyrekeFan18:
We've heard a lot of chatter from guys like Carmichael Dave about Monte wanting to make a big move this summer. Do you think that's possible, and if it is, who should the Kings get after?
Tim: I very much subscribe to Dave's philosophy that Monte is planning to try and make a move this summer. He grew up in Houston's system, and that's exactly how they operated over the last several years, from the Harden trade to the Paul trade to the Westbrook trade to the Wall trade. They were always moving and shaking and trying to pair multiple stars together.
Now, the real question to ask is if the Kings can actually make such a deal. Let's say that Marvin Bagley, Buddy Hield (salary-filler), the 2021 pick, and the 2023 pick (with light protections) are available. What can that get you? It's not near the level of players such as Brandon Ingram or Bradley Beal or maybe even Pascal Siakam, so you're at least looking at the next tier of potential available candidates like a Domantas Sabonis or a Myles Turner (who should cost far less than Sabonis).
Once those options have been somewhat sorted out, the other difficulty is the assets that other teams hold, part of the reason I was so frustrated with Monte McNair at the trade deadline. If we had all of our picks, plus Marvin Bagley, plus RJ Hampton, plus a future first rounder from Denver (I know that we don't know an offer like that was in place, I'm using this as an example of possibilities, use your own assets of what you believe Barnes was worth at that time), we would be in a lot better bidding shape. If you look at the asset cupboards of a team like the Pelicans or the Thunder, we are a poor team bidding in an expensive market for All-Star or near All-Star players.
So yes, I believe Monte's plan is to acquire an All-Star type player either in the offseason or at the deadline. I also believe it's possible for him to do so, but external factors, from the actual availability of these types of players, to the market value of these players, may make such an acquisition extremely difficult.
Will: I'm going to give you one that I think could be available if things flame out for them in the playoffs this year - Jaylen Brown. Now, is the Kings chest of assets enough to get him? Eh, maybe. But with the combination of whispers of Monte talking to Boston, Ainge's seat getting warm and the Celtics under performing, the Celtics might be looking to trade one All-Star level guy for multiple players that are greater than the sum of their parts. Brown comes to a team close to his college home, with a team and ownership that's socially progressive in comparison to many others, that slots him in at the 3 of a run and gun team that allows him the room to score to his hearts content, The Celtics get a shooting guard that doesn't take the ball out of Tatum's hands and/or a small forward/power forward combo who can steady the team at multiple positions and/or you can throw in Bagley somewhere with a couple of draft picks so Ainge feels like he can show the Celtics that he won the trade and bolstered the war chest again. Monte gets his Harden-lite in a big move, Ainge better aligns the team around Tatum for a championship shot next season with some tasty Kings picks for trades down the line.
Akis: Anything's possible in the NBA. Who saw Phoenix swing for the fences to get CP3 last summer? And the cost wasn't even that high really. I think the Kings are very motivated to try to make a big move this summer. Several teams could potentially be looking to blow things up as well and I think you'll see the Kings look to get involved. Will Indiana look to move on from Sabonis and/or Turner? Will Philadelphia look to shake things up if they fail to reach the Finals once again? Will Washington decide that Bradley Beal's loyalty is admirable but in the long term better for both the team and him if they were to get assets for him and rebuild?
The Kings don't have the assets of a team like Oklahoma City or Houston, but they arguably have the highest motivation to make a move. I'm going to be keeping a close eye on these playoffs to see which teams maybe disappoint and feel like a big change is necessary and I'm sure the Kings will be too.
From BestHyperboleEver:
Hypothetically, if Fox, Haliburton, Barnes, Holmes made up 4 of your starting 5, what level of player would the 5th starter need to be for you to confidently predict a playoff spot? Give an example of who that player would be. NOTE: Thanks to the ability to slide Barnes and Holmes up and down the spectrum, the play could theoretically be SF, PF, or C type.
Tim: If I'm essentially guaranteeing a playoff spot, I need an All-Star or near DPOY candidate-type player as my 3, 4, or 5. Let's be honest, that four-man crew isn't particularly good when compared to other NBA starting lineups. Fox is the exception to that statement, but outside of his budding stardom, it's a bunch of solid-if-unspectacular starters. Haliburton will be far greater one day, but he'll be a second year guard and will face some adversity now that scouting reports will undoubtedly be targeting his contributions.
This team probably needs 10 more wins next season to guarantee themselves the 8th seed, and now that they haven't upgraded their coaching situation, they need a major upgrade in the starting lineup to snag a postseason slot.
Will: Yeah, if I'm going to comfortably project a true playoff spot for the Kings, considering injuries and everything else? That fifth guy is going to have to be an All-Star level guy. The West is going to be tougher and deeper next year with guys like Klay Thompson coming back from injury and young, soon-to-be-decent teams like OKC and Minny getting high draft picks. Kings need a #1 guy there. If Haliburton has a sophomore leap like Fox did, that's a different story. Then I'd say an above average starter on the wing. Just to give an example, Miles Bridges at a minimum if we're betting on the Kings making an 8th or high spot next season and even then, I'd be itchy the whole damn season.
Akis: Honestly, I think if the Kings had brought back Bogdan Bogdanovic and inserted him into that starting lineup of yours, this team would have been a playoff or at least play-in team this year. But this was also a strange year. Ideally I'd want another player that's near star level. I think Fox is well on his way to being an All-Star, and Haliburton could get there as well if he makes the leap. I also think the Kings need someone with a bit of fire in the starting group a la Draymond Green or Jimmy Butler, as most of the team right now is a little too laid-back for my taste. We need an ass kicker, someone to get this team going when the going gets tough.
From Gergoryl:
What's the minimum you need from Monte to call this off-season a success?
Tim: I need 42+ wins and playoff (not play-in) appearance next season. Anything short of that, and he probably needs to go.
Will: I need justification for bringing back Luke Walton in the form of overhauling this Kings roster. If he's more of a vet coach, fine. If the Kings have an All-Star in mind and don't want to be acclimating an All-Star from some trade into a new coach's system - fine. I see the supposed justification. But... Get the All-Star. The time for treading water for our new general manager is done and he's got to show me just how fast he can swim.
Akis: To me, Monte is already starting at a deficit with the decision to retain Luke Walton. I think the Kings know that in order to justify that decision they're going to need to have a big year, which isn't going to happen without a big offseason. Adding a star or near-star quality player would be a big step, whether it's through trade or maybe they luck into a top-4 pick. It's not going to be easy, given Sacramento's cap situation and the Richaun Holmes situation (who I'd like the Kings to re-sign) but the one thing this team absolutely can't afford to do is just run it back.
From YoLeo:
If the members of TKH were all involved in a Hunger Games situation, who would win, and why?
Tim: Congrats to YoLeo for asking one of the most hotly debated topics in the private conversations among members of The Kings Herald Staff. After much debate, we believe some sort of alliance will form between myself, Greg, and Will, and Will may bring in Bryant and Tony as support members, although they probably wouldn't stick with us for long.
I'm going to stick with my original prediction, knowing what I know about these men and women. I place top-3, Greg kills me, and TJ jumps out of the jungle floor and slits Greg's throat with a broken wine bottle to win the games.
[Editor's note: I would never agree to an alliance with Tim. -Greg]
Will: Leo, you know its me. Rare is the time that I am as confident as I am right now in saying, I'm that dude. Pick the biome and watch me get weird. I'm too big for the young and little ones. I've been too nice for the kind hearted ones that way to join together to kill me and I spent too much time reading Hatchet and My Side of the Mountain in rural California as a kid to lose to a Bostonian, a couple of Texas transplants, a Lakers fan and a guy who doesn't think cargo shorts are useful. Outside chance that we allow Jerry to play and if that's the case, he does it with ease.
Akis: I'm not sure who'd win but all I know is Tim would probably be killed before we even landed in the arena because we all got sick of him.