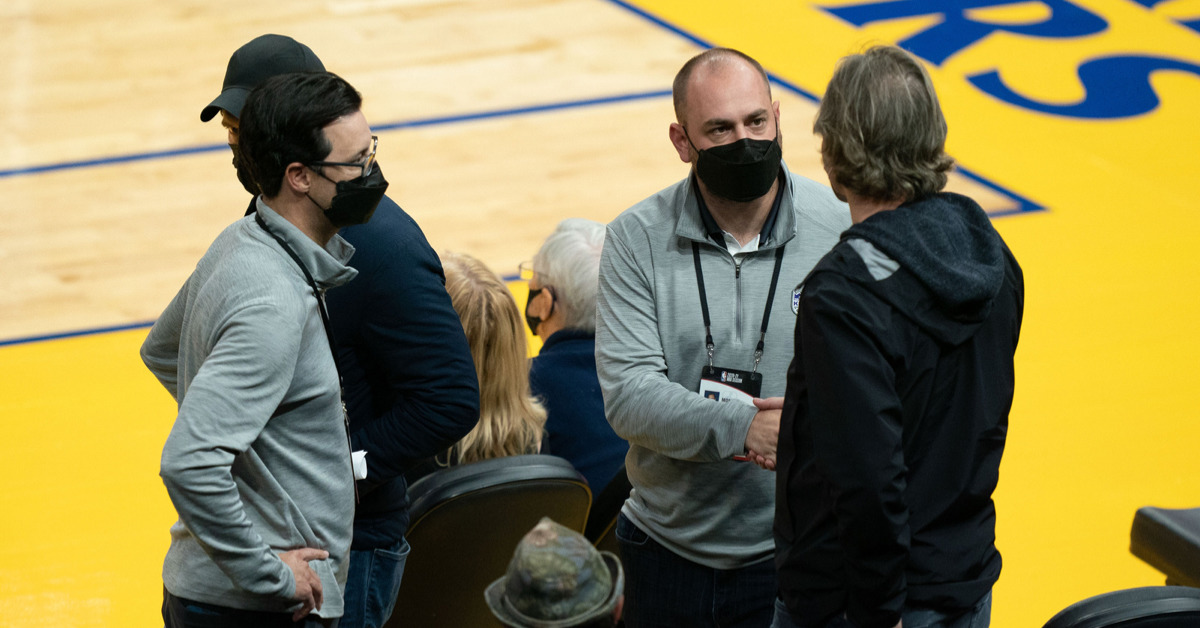 Monte McNair's first season as Sacramento Kings General Manager and head of basketball operations is in the books, and it was another disappointing year for a franchise and fan base that has been subconsciously trained to expect the worst and often gets exactly that.
Full disclosure, I was a fan of the McNair hire. I thought the Kings finally went through the proper process when making a decision of this importance. Vivek Ranadive didn't hire his friend, a former King, or a random retired basketball star that sat courtside with him last. That's progress in my book.
This was a real general manager search that utilized an outside firm to source quality candidates. It was a lengthy process, and while I knew little of McNair before his name starting popping up in the rumor mill, it was the process that made me a fan of the hire. McNair came with a ton of experience in one of the better-run organizations in basketball with the Rockets. He was qualified, he interviewed on multiple occasions, and he beat out several other solid candidates.
Cool. The Kings finally hired a legitimate basketball executive.
McNair's first string of maneuvers were a mixed bag. He hit a home run on what was ultimately his most important decision thus far: drafting Rookie of the Year finalist Tyrese Haliburton with the 12th pick in the 2020 NBA Draft. He hasn't quite found that level of success again since.
He infamously lost Bogdan Bogdanovic, despite all the weirdness surrounding contract and trade negotiations with the Bucks and Hawks, for nothing. I thought it was a mistake at the time, and Bogi has only made that decision look worse with his strong play. We can argue over the details €" was it Milwaukee's fault? Was there some sort of friction and disagreement in direction between McNair, Joe Dumars, and ownership at the time? €" but here are the facts: the Kings had the most leverage and lost Bogdanovic for nothing. The Bucks landed Jrue Holiday and Bobby Portis while retaining Donte DiVincenzo. They made out just fine. The Hawks landed Bogdan Bogdanovic on a very fair contract. They made out fine. The only team that lost here was the Kings.
The 2020-21 season was pretty bumpy for McNair, too. It often felt like the Kings didn't know which direction they wanted to go in. After every 9 game losing streak it seemed as though the tank was on, the vets were out, and Walton was on the brink of losing his job.
But after every up and down, the narrative changed. A few wins later and it appeared like the Kings were really going to push for the play-in tournament, but they didn't make enough significant moves at the trade deadline to ensure that said push would be successful. By the end of the season, you couldn't say they really accomplished anything. The core of the roster was largely unchanged, and they finished with enough meaningless victories to negatively impact draft position and lottery odds.
The Kings finished with the exact same 31-41 record they ended last season with, and as reported earlier this week, rewarded Luke Walton with another season as head coach despite a lack of success on the court.
If you couldn't tell by the tone of this article, I soured on McNair as the season went on, and my disappointment peaked after the Walton news. I was frustrated by the lack of direction. I was frustrated that the Kings were seemingly stuck in the mud with no discernible plan out. The worst place you can be at the end of an NBA season is just outside of the play-in tournament looking in, and that's exactly where the Kings finished. I was frustrated that McNair chose to run it back with the same coach when we've seen what a new voice can do to a failing franchise in Atlanta, New York, and Phoenix.
But despite my frustrations, I feel better about Monte McNair and the Kings today than I did just a couple of days ago. This is going to take a minute, but I'll explain:
I've consumed every Monte McNair press conference since his hiring, and honestly felt like all of them up until a few days ago have been a waste of time. He made Geoff Petrie sound like Vlade Divac. McNair never set any defined expectations or goals. He used the same tired old phrases like 'winning culture' that we've heard a million times in Sacramento before.
For this already-irritated fan base, I didn't think McNair's say-nothing approach was going to work. If your team is successful, sure, say nothing. If you win, I don't care if you ever speak to the media. Bill Belichick can do that. A 15-year playoff drought cannot. A historically bad defense cannot. If you run it back with a questionable head coach after a season like the one we just witnessed, you've got some explaining to do.
Kings fans are desperate for accountability. For years Vivek and whichever dude was running basketball ops at the time would preach how great everything is. We were told the Kings were a Super Team, Just Young. We were told everything was going according to plan when it was so clearly not. We were told this player was doing great things, and that player was awesome, and the culture was great, and all of that tired nonsense. It was basketball cliche after basketball cliche after basketball cliche while the losses pile up.
McNair was running that same play for a year, but something changed.
If you haven't watched Monte McNair's end-of-season press conference or his subsequent interview with KHTK's Carmichael Dave, I highly recommend them both. He sounded like a different general manager than we've heard in Sacramento for a long, long time. He talked about his failures, the Kings' failures, and what they needed to do to get better. He didn't shy away from criticism, and told Kings fans that they should hold him and the organization accountable.
"I'm not asking for the fans to believe in me blindly. We haven't accomplished anything yet. Why should they?

All I see is a fan base that is going to hold us accountable, and ultimately we are going to be judged by the results. I say bring it on..." - Monte McNair, via Carmichael Dave
McNair owned it all. He owned the decision to keep Luke Walton. He made it clear that he has all the finances and freedom to build the coaching staff he wants, and the roster he wants. It was refreshing, and this lowly Kings blogger appreciated someone in this organization finally saying this is on me, and actually believing them this time.
I still don't understand the decision to retain Luke Walton, but I'll tell you this €" I feel much better about it knowing that Walton's success or failure will also be Monte McNair's success or failure. There will be no 'Monte McNair never got to hire his guy' narrative in our future. I won't allow it. McNair has said repeatedly that Walton is here for basketball reasons and that it was his call. Luke Walton is Monte McNair's guy. He will be held accountable for how this plays out, and maybe I'm easy to please, but that knowledge is enough for me. For now.
The Kings have lost a shit ton of games over the last 15 years, but I've found the lack of accountability in the organization equally frustrating. We shouldn't need an evidence board to figure out who hired which coach, who drafted which players, and which minority owner is feeding their narrative to which member of the local media. It's ridiculous. It's not how you run a successful organization.
I'm not naïve here. I know there is always the possibility that McNair doesn't have control, or that Vivek is meddling, or that Joe Dumars has now upgraded to seven phones and is calling all the shots, but reality almost doesn't matter when McNair comes out with strong statements like he did this week.
McNair's words are how the Kings will be held accountable moving forward. When you say nothing, it's cheap cover because if you don't tell us the plan, we don't know when you've failed. McNair laid out the plan. McNair said Luke Walton will lead the Kings to the playoffs. McNair told fans to hold him accountable. I suspect they will.
He is owning the failures, the successes, the hires, the fires, the trades, the draft €" all of it. He may or may not succeed, but it's nice to hear someone come out and say that what has been happening here is actually not OK, and that this season was a disappointment. McNair and Walton may fail. In fact, we're talking about the Kings here, so they probably will fail, but I can take some satisfaction in knowing who to blame this time if they do.