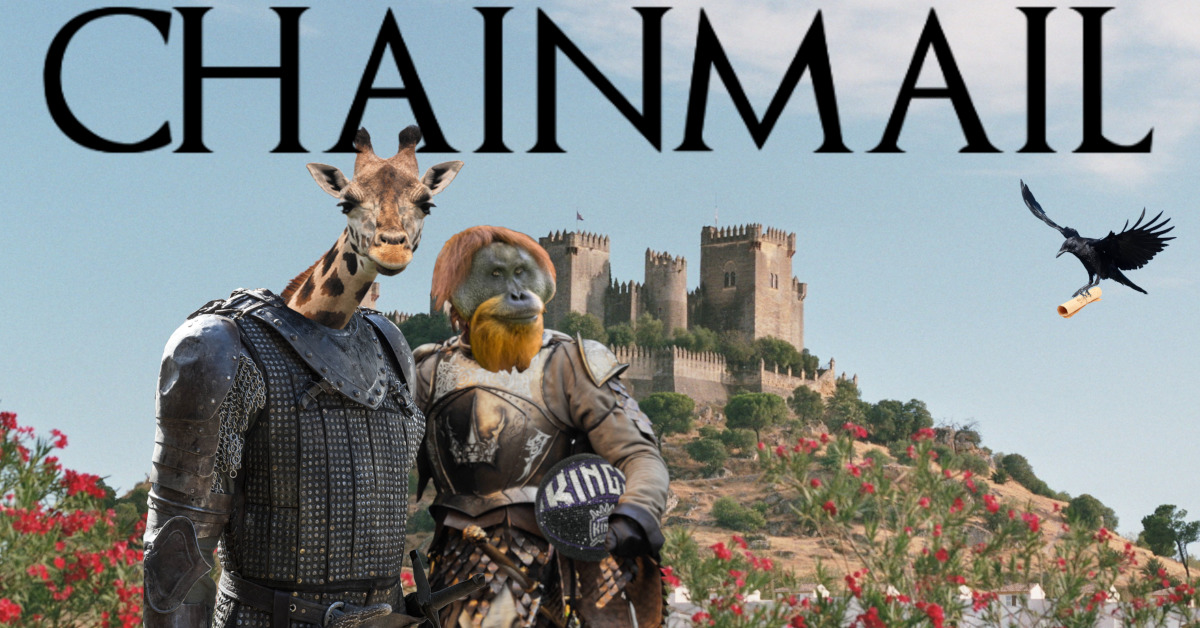 Welcome back to Chainmail! This week, we have Rob (aka section214, aka the pantsless bandit) swapping out for Will. Let's dive right in!
From SMF-PDXConnection:
Do you think any of the players we traded for are with the Kings next season?
Tim: Delon Wright will almost certainly be here. The Kings didn't give away two second round picks, one of which had real value, to not bring Delon back next year. He's locked in at $8.5 million, which is perfectly fine money for a backup point guard, and Sacramento would undoubtedly have to pay quite a bit more if they were competing with other teams in free agency.
The other likely possibility to stay is, unfortunately, Terence Davis. Similar to the Joseph trade, the Kings gave up real, if minor, value for Davis, and his restricted free agent status will probably keep him in Sacramento, especially considering the fact that he's 23-years old, right on De'Aaron Fox's timeline. It would take a significant offer from another team to pry him away from the Kings.
Outsdie of those two, I would be surprised if the other acquired "assets" are back or the 2020-2021 campaign. Moe Harkless has been washed for a couple of years, so maybe he comes back on a vet minimum deal for wing depth, but that doesn't feel likely from his point of view. Chris Silva has a team option for $1.8 million, but the Kings may not want to invest a roser spot and that cash in a young big if they prefer Chimezie Metu. It' entirely possible that the Kings use these next couple of months to choose between Metu and Silva, as neither player has a guaranteed deal next season.
Rob: I think Delon Wright may stick. For a net $6m (factoring Cory Joseph's buyout), he's a solid bench guard. And as horrific as the overall bench play has been this year, NBA-level core rotation bench players are not to be taken for granted.
From 1951:
Has Marvin Bgley started his last game for the Sacramento Kings?
Tim: Yes, undoubtedly. Although it's unfortunate that Monte McNair could get zero value for Bagley at the trade deadline, it's kind of a relief that he organization seemingly has not more obligation to his future with the team. He never really deserved to start, especially once Tyrese Haliburton started to show out, and that debate has no been more than settled.
I'll go one length further, just for fun. I think Marvin Bagley has played his last game for the Sacramento Kings.
Rob: No. If we learned one thing from this past trade deadline, Monte McNair & Co. have their determination of player value, and they seem to be uncompromising when it comes to their assessment. Bagley would be the ultimate sell-low candidate right now, so I don't see it. While I don't think that Bagley's next contract will be in a Kings' uniform, I think his next game will.
From Kayte_Hunter_Fan-club:
So what was the objective going into the trade deadline? It seems to me the trades were in direct conflict from one another. The COJO trade was an obvious move to improve the team down the stretch, but the Bjelica move seemed like a longer term play with a flyer on a young player.
Tim: Monte McNair described his efforts at the trade deadline as "value plays", and they certainly were that. It's clear to me that there is a need in the organization to push for the 10th seed (woohoo?), so McNair made a couple of moves to help with that objective, while he also didn't compromise any significant future assets. The Kings stayed flexible in that a four-game winning streak could see them try to charge up the standings, while a five-game losing streak wouldn't be a huge deal, seeing as how Sacramento didn't surrender any real assets at the deadline (Note: I wrote this before the start of the four-game losing streak, so please be impressed). It was a balancing act, which is what we've seen from McNair for the last six months. At some point soon, the fan base will need to see some real action.
Rob: I think that Bjelica was contributing so little at this point (whether this was due to Nemanja or Walton's rotations is anyone's guess), rolling the dice on Moe Harkless & Chris Silva was a very low risk move. Given the moves that the Kings made (and more importantly, did not make) at the deadline, it appears that they wanted to take a shot at bolstering the bench for this year (really, nowhere to go but up there) while not taking on long-term dollars or giving up future assets.
From TyrekeFan18:
Will the Kings make the play-in tournament and/or the actual playoffs?
Tim: No, I don't think the play-in tournament is going to happen for this team. They're defense is awful, as we all know, and even worse, they can't seem to get motivated to actually play hard on any given night. I'll believe in the teams that don't constantly talk about needing to be more mentally prepared and ready for games. Count me out.
Rob: I don't think so, and I really don't think so. I think that the Kings are at their high water mark and will end the season around ten games under .500, give or take a game or two. I believe that you will need to be within three or four games of .500 to make the play-in in the West. I could be completely wrong, and I hope that I am. I would love to see Fox and Haliburton get even one game of pseudo-playoff experience. And if Fox plays the next month and a half like he has this past month, it could happen.
From Sir_tajj:
My question is, in worst case scenario, if nobody wants Bagley, can the Kings buy him out and use the money to resign Holmes, or would there still be cap impact of his final year? I guess they can stretch it too. Hopefully someone would be willing to take flyer.
Tim: I don't think this is a particularly realistic scenario for a couple of reasons. First of all, Bagley would be foolish to accept a buy-out. He's missed half of his career games and has yet to prove himself as a reliable contributor on both ends of the floor. If he agrees to a buy-out, he's not only giving up guaranteed money right now - he's also subjecting himself to entering unrestricted free agency. If he sticks with the Kings, they may or may not submit the qualifying offer, which he could accept for a one-year, $14 million deal. And even if Sacramento were to decline the QO, he would be in the exact same situation, just a few million dollars richer than if he had accepted a buy-out.
From Monte McNair's perspective, a buy-out also wouldn't do much good. Let's say the Kings get Bagley to give up $3 million in the negotiations. He's still on the hook for $8 million. If the Kings stretch that amount, they're looking at splitting that cash over three years, so a $2.6 million hit next year. On top of that, assuming that the Kings keep Terence Davis, which feels very likely, Sacramento won't have enough cap space to sign Holmes to a deal greater than what they could offer via bird rights.
And even if the Monte could shed enough salary to pay Holmes $15 million per year, the Kings would still be in a bad way. They would sit somewhere around 11 rostered players, including the first round selection, and they would lose access to the standard MLE ($9.7 million) and the bi-annual exception ($3.8 million). Those two spending tools would be replaced with the room exception, allowing the kings to sign a player for two years, approximately $10 million, a huge difference in flexibility.
To put it simply, the Kings either need to shed major salary (Buddy or Barnes) or Richaun Holmes will need to re-sign with early bird rights (4 year, $47 million max) if they want their starting center to stick around.
Rob: My guess is that the Kings could find a team to take him for a at least a protected 2nd round pick, so I don't think they'll have to jump through hoops to create space to re-sign Holmes, unless the market for Holmes winds up being crazy.
From TheBaker:
Is there a scenario here where Buddy is moved to a 6th man role? I understand they have been playing well with the 3-guard lineup, but I still think Buddy would be strongest off the bench.
Tim: Are we talking about this season? If so, I doubt it. The starting lineup has performed admirably with Buddy as the small-ball wing, and moving him to the bench would not only cause possible locker room issues, but it might also decrease his trade value if he takes umbrage with the switch. I can't imagine McNair wants Buddy on this team long-term, which means keeping him happy and in the starting lineup to boost his trade value as much as humanly possible is the best plan right now.
Rob: It's possible, depending on how hell-bent the Kings are on shoving Bagley back into the starting lineup. Because as long as Barnes and Holmes are the front line, there is room on the floor for Haliburton and Hield and Fox to be playing together. And Hield has looked much better playing with Fox, Haliburton, Barnes & Holmes. Bagley is, in my opinion, worse than Holmes at the five and worse than Barnes at the four. Barnes is better at the four than he is the three. Hield and Haliburton combine for a better 2-3 combo than Barnes & Hield. I mean, the starting lineup has been pretty damned good in its present permutation.