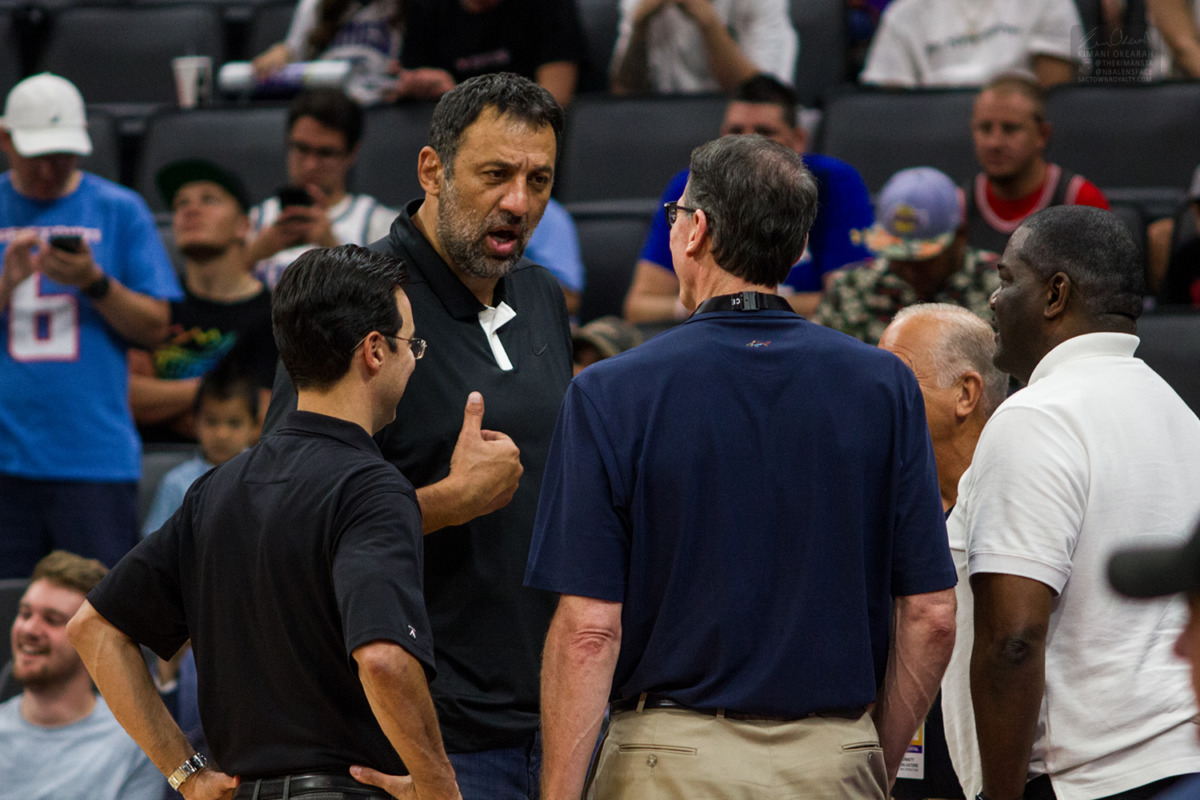 The COVID-19 pandemic has put significant financial stress on most of the population, and Sacramento Kings owner Vivek Ranadive is reportedly no exception. Sam Amick has detailed this on several occasions, most recently stating that "the Kings have suffered major losses tied to the real estate they control surrounding the Golden 1 Center, sources say, while having layoffs on the business side as well. There's just no way that reality doesn't come into play with any decision of consequence."
One of the notable decisions of consequence Amick is referring to here is the future of Vlade Divac, the current vice president of basketball operations and general manager for the Sacramento Kings. Can the Kings, and more specifically, Kings ownership, afford to fire Vlade Divac despite financial stress? That's really what we're talking about here.
I will spare you the chronological rundown of Divac's transgressions to prove that removing Divac from office is the right basketball decision. We've done this so many times, and quite frankly, I think that list is no longer pertinent to the discussion. There was a brief moment earlier this season where you could politely entertain the argument that Divac should still be making basketball decisions for an NBA franchise, but after Sacramento's dreadful NBA bubble performance coinciding with the extension of the organizations NBA-leading 14-season playoff drought, we are healthily past that point. This story doesn't have a happy ending. It's over. Accept it. Move on.
Despite Divac's failures, the prevailing thought among NBA reporters, speculators, and fans has been fairly consistent: Vivek won't fire Vlade right now. Not with Ranadive's current financial situation. Not during a pandemic. That notion, that report, while logical, is extremely shortsighted. If Vivek Ranadive is the forward thinking Silicon Valley maverick he wants you to think he is, he must know that.
Vlade Divac has already cost Ranadive hundreds of millions of dollars. The beat horse is long dead, but not drafting Luka Doncic is a several-hundred million dollar mistake on its own. Doncic is quickly becoming one of the most marketable young athletes across any sport. Once you get beyond obvious revenue streams like merchandise and ticket sales, the brand awareness you acquire from an athlete like Doncic is impossible to understate, especially for a 'small market' city like Sacramento. Drafting young stars is often the only way for an organization in this position to succeed in the modern NBA.
What is the monetary value of a decade of playoffs appearances, a decade of All-Star games, a decade of MVP discussions, and the ability to recruit other NBA stars? The Sacramento Kings might be at an all-time low with regards to fan interest and NBA relevance. They've already lost a significant portion of the fan base, and the ones dumb enough to stay (I put myself in that category) can't look away from the car crash. Major publications barely acknowledge their existence, and the Kings did nothing to prove them foolish in Orlando.
Luka Doncic equals immediate relevance. Luka Doncic equals hundreds of millions of dollars in the pockets of Ranadive and minority ownership, and the financial stress Divac's decision-making has caused Ranadive and the Kings doesn't stop there.
Here's quick list of Vlade Divac's most expensive free agent signings. How many of them lived up to their contracts? How many of them made the team tangibly better?
Kosta Koufos: 4 years, $32.9 million
Marco Belinelli: 3 years, $19 million
Rajon Rondo: 1 year $9.5 million
Arron Afflalo: 2 years, $25 million
Anthony Tolliver: 2 years, $16 million
Matt Barnes: 2 years, $12.25 million
Garrett Temple: 3 years, $24 million
Vince Carter: 1 year $8 million
George Hill: 3 years, $57 million
Zach Randolph: 2 years, $24 million
Nemanja Bjelica: 3 years, $20.5 million
Yogi Ferrell: 2 years, $6.2 million
Cory Joseph: 3 years, $37.2 million
Trevor Ariza: 2 years, $25 million
Dewayne Dedmon: 3 years, $40 million
Harrison Barnes: 4 years, $85 million contract
Richaun Holmes: 2 years, $9.77 million contract
Buddy Hield: 4 years, $94 million contract
Vlade Divac has spent roughly (conservatively) $545,000,000 of Vivek Ranadive's money in free agency alone. That's over half a billion dollars on what amounts to a 31 win team (equivalent of 35 wins in an 82 game season) five years into his run. And this number doesn't include Divac's own salary, or the salary of other executives, or the salary of failed draft picks, or Dave Joerger and the money the Kings had to pay him to stay home, or Luke Walton's contract. This is just higher profile free agents.
Divac's tenure has been nothing short of a financial disaster for Vivek Ranadive, so I reject the idea that ownership cannot afford to replace Vlade at this time. Divac, with plenty of help from surrounding incompetence, has run this organization into the ground. New leadership is the only way Ranadive can save his bank account, and his basketball team.
Anything less than replacing Divac and giving the new head of basketball operations full autonomy to put this train back on the tracks would be another financial misfire. Moderate success in the NBA is not nearly as hard as the Sacramento Kings would have you believe. Hire the right executives, develop clear organizational hierarchy, and let those people do their jobs. It's really not that complicated.
The ball is in Vivek Ranadive's court. He can set the new standard. He can hold management accountable. He can turn this franchise around. It's going to take some serious self-reflection and some short-term financial discomfort, but it's the only way out.
His organization can't afford another season of the status quo.