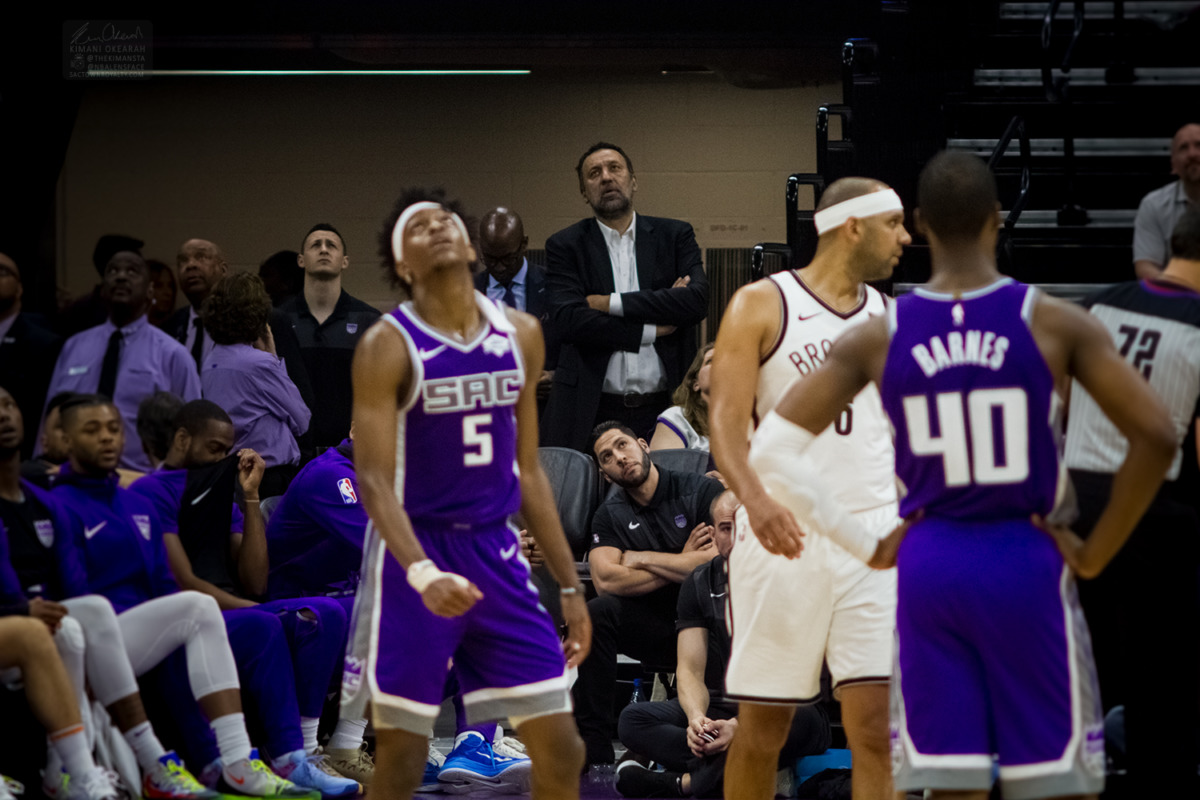 In the ideal world, this isn't how Vlade Divac's story in Sacramento would have gone.
When he returned to Sacramento in 2015, it was with a noble, fantastic goal - to finish what he and the Golden Age of Kings basketball couldn't and finally bring a title to Sacramento. It was the ultimate Vlade move, betting it all on himself. And to be honest, I was ecstatic - you couldn't have written a better script for this Kings fan, and I'm sure for many others. The leader and catalyst who made the crew headlined by Chris Webber, Peja Stojaković, and Rick Adelman into the greatest show on court, coming back and directing the Kings turnaround after 9 years of disaster? I'm a sucker for basketball narratives, and I refuse to believe you could craft a better one than that for Sacramento. There wouldn't have been anything sweeter than to see Vlade standing next to Adam Silver with the Larry O'Brien Trophy clutched in his oversized mits.
But five years into his tenure, it is clear that this isn't the role Divac should play in a winning organization. There could certainly be a place for him somewhere - Director of Player Personnel or Global Ambassador -  somewhere where he can utilize his charm and persona that can still light up a room, even one as large as the Golden One Center. But ultimate decision maker? No - five years of rebuilding is long enough to see that this team needs a new direction. Five years is long enough for other teams in the West - Memphis, Phoenix, New Orleans, and Dallas - to hit rock bottom with Sacramento and rebound past them, both in the standings and the overall future promise of their talent. Five years has given us more than enough proof that Vlade is overmatched in this arena.
History shows us how narrow the road is for a small market franchise to become a real contender, and Vlade has missed on most of his biggest decisions and a whole lot of the smaller ones. Hiring Coach Luke Walton was perhaps Vlade's last chance to nail a big decision, and - like Vlade - Walton is getting outmatched on a nightly basis. In the Orlando Bubble, the team has adopted Walton's deer-in-the-headlights look on both ends of the court, and there's not a player on the roster who is better utilized than they were under Dave Joerger. It's all well and good to have a coach the players can get along with, but when a coaches' message after two bad-to-terrible, low-effort losses is "relax and enjoy what we're doing" - we don't have to wonder why the Kings aren't playing tough, physical, and prepared. As our intrepid buddy Will Griffith put it yesterday, "With four months of preparation and a solid chance at a playoff berth, the Sacramento Kings came in woefully unprepared for the task at hand and were bushwhacked by teams that were injury plagued and unimpressive, but prepared."
Divac did nail one big decision - he selected De'Aaron Fox, an All-Star level talent who could help blitz this team back to success... but not by himself. Fox is not a transcendent player who can carry a bad roster and terrible coach to the playoffs. Buddy Hield and Bogdan Bogdanovic, once promised to be excellent backcourt mates for Fox, but now both are mightily struggling under Walton in the Bubble and will combine for a huge chunk of the salary cap this offseason. Only three of the eight 1st round picks Vlade has made are still on the roster - and Harry Giles might be on his way out after the Kings declined his fourth year option, just one of a dozen small-but-inexplicable decisions made by the front office. And while we cannot know what Marvin Bagley would become without his foot troubles - not Vlade's fault, of course - there are plenty of stars emerging from that fated 2018 draft.
Indeed, the chances for this rebuild's success probably ended on June 21, 2018, when Divac and company selected anyone over Luka Dončić. There will be endless, meaningless arguments about how good the MVP candidate would be in Sacramento, and it's true that without an established, top-tier coach like Rick Carlisle, Luka probably wouldn't have hit this peak so quickly. Fans can argue Doncic's fit with Fox until the cowbells stop ringing from the Golden One rafters.... which, given the growing apathy for this franchise, might be sooner than Vivek Ranadivé wants to admit. But there's no logical argument that the Kings wouldn't be better, wouldn't be making more money, and wouldn't be closer to Divac's goal of a championship. No matter who made the hardest push for not-Luka, Divac had the final say - and there will never be a reasonable answer for an NBA General Manager to pass on a prospect with Luka's gamebreaking basketball instincts and sheer skill.
That, itself, is the most heartbreaking part of all of this; after lady luck smiled on the Kings and gave them a clear shot at greatness, they ran against the grain and all basketball logic. In an alternate universe, we may all be endlessly praising Vlade just because he made the easiest layup of his life. But that isn't this universe - and while this is understandably the worst possible time for the Kings to be paying to replace a General Manager and yet another Head Coach, if the Kings want any shot at this rebuild to be salvaged, they need to find new leaders.
Vlade is a generous man who didn't need to do anything more to win over the City of Sacramento. We already loved him - and even after his run as General Manager, and the half-decade he has set the franchise back, he will always remain one of my favorite Kings. But I think I speak for many fans when I say we'd appreciate him more if he'd admit the truth - that he is not the person who can take the Kings to the promised championship. Thank you for all the memories, Vlade - it's time to step down.