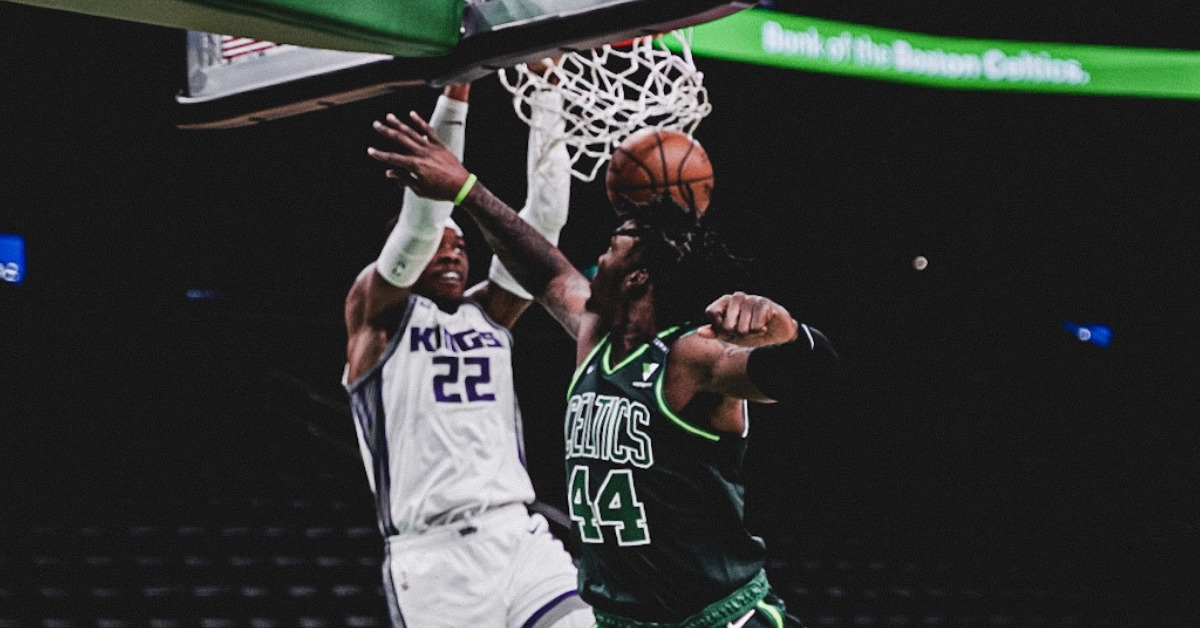 According to Shams Charania of The Athletic, multiple teams are expressing interest in Sacramento Kings starting center Richaun Holmes, including the Toronto Raptors and the Charlotte Hornets. Although no potential compensation was mentioned by Shams, his colleague Sam Amick recently shared that Holmes would probably command the most value of any Kings player outside of De'Aaron Fox and Tyrese Haliburton, and with Harrison Barnes' known market sitting somewhere around a first round pick and a young player, Richaun's value could be sky-high for a resetting team like Sacramento.
The prospect of moving on from Holmes presents an interesting conundrum for the Kings, as he's undoubtedly one of their most impactful players, but he's also set to be an unrestricted free agent this summer. Due to the fact that he only signed a two-year deal with Sacramento, the Kings do not posses his full bird rights, meaning they can't go over the cap to secure him to whatever deal they desire. Instead, their early bird rights will allow Monte McNair to ink him to a contract starting at 175% of his final year's pay or 105% of league average salary in the 2020-2021 season, whichever is greater. That would put Holmes at a starting pay of around $10.5 million with 8% non-compounding raises, but that's probably too low for Richaun's expected market. If the Kings want to guarantee themselves a shot at retaining their starting center, they'll need to open up a chunk of cap space, a challenging task if they're not looking to move Harrison Barnes and Buddy Hield's market is as cold as it's been reported.
The other interesting twist to Holmes garnering interest is Sacramento's recent link to Atlanta Hawks big man John Collins. Travis Schlenk is reportedly seeking a first round pick and a young player in exchange for Collins' services and restricted free agent status, and the Kings could theoretically use assets from a Holmes deal to properly compensate Atlanta. And with Collins due to get paid this summer, potentially even at a max contract rate, cashing out on Richaun Holmes right now to avoid paying the front court a combined $45 million may be the smart move for Monte McNair. Collins would also represent a palatable compromise to any factions within the Kings ownership and management groups, as his acquisition would strike a balance between a full tank for draft picks and a win-now stance that isn't realistic for this season.
If the Kings were to move on from Holmes, they would almost certainly be waving the white flag on the season and setting their sights on a top-5 draft pick. Holmes is one of the league's top net rating differential leaders, as Sacramento has been outscored by 10.4 points per 100 possessions with Richaun on the bench. And with Marvin Bagley out for at least a few weeks, an already weakened big man rotation would be completely devastated, especially on the defensive end, even if John Collins was headed Sacramento's way. The Kings would likely lose the vast majority of their remaining games and tumble down the standings quite quickly, perhaps to the satisfaction of Monte McNair.
The NBA trade deadline is Thursday, March 25th.