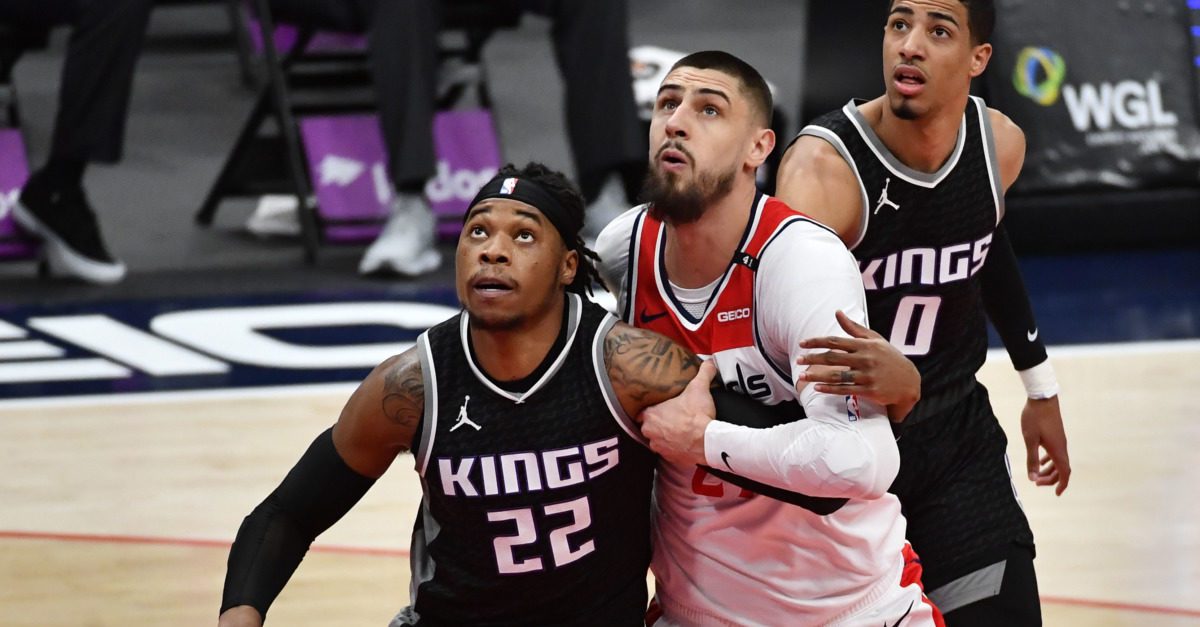 Over the last 18 hours or so, Adrian Wojnarowski of ESPN and Shams Charania of The Athletic have done their best to alter the landscape of the NBA as we know it, having emptied their iPhone drafts of all of the free agent signings and trades consummated thus far. Many teams made large, splashy, expensive moves yesterday, and while the Sacramento Kings weren't one of them, they still managed to retain their most important free agent, Richaun Holmes, and add a little bit of depth around the edges. With three free agents signed, and the mid-level exception burning a hole in their pocket, the Kings still have several decisions to make heading into the second day of the 2021 NBA season.
Depth Chart
PG: De'Aaron Fox, Davion Mitchell, Delon Wright**
SG: Tyrese Haliburton, Buddy Hield, Jahmi'us Ramsey
SF: Harrison Barnes, Moe Harkless, Robert Woodard, Justin James*
PF: Marvin Bagley, Chimezie Metu*
C: Richaun Holmes, Alex Len, Damien Jones*
At first glance, the Kings seem to have already filled their 15-man roster, but a lot could change over the coming days and weeks. As of this moment, Delon Wright is still on the team, but he was included in a reported trade to the Atlanta Hawks on Sunday (need link), and according to Keith Smith, that deal is still on in some way, shape, or form. (need link) It's unlikely that the veteran guard will be on the team come opening night.
Aside from the awkward situation with Wright, decisions still must be made for the non-guaranteed deals of Justin James, Chimezie Metu, and Damian Jones. James' non-inclusion on the team's Summer League squad doesn't bode well for his future with the team, and Monte McNair will likely be choosing between one of Metu and Jones moving forward, as the Kings don't necessarily need two project big men on the depth chart. It's possible that Metu could once again return on a two-way contract, but Jones is ineligible for that option due to his years of service in the league.
And speaking of two-way contracts, recent draftee Neemias Queta also isn't included in the depth chart, as he has yet to be signed, and second round picks don't always make the final roster. If he does perform well enough over the next few months, he could be inked to a minimum deal, or the Kings could assign him as a two-way player to continue his development.
The final name awaiting a decision is Terence Davis. The 24-year old wing was sent the qualifying offer, granting the Kings the rights of first refusal in free agency. He can sign the qualifying offer, a one-year contract worth about $1.8 million, but that path seems highly unlikely, even though it would grant Davis the freedom to choose his team next summer. Instead, Davis can seek offer sheets from other teams and force Sacramento to either match or let him walk, or he can enter into private negotiations with the Kings. His early bird rights transferred at the time of his trade, so Monte McNair can offer a deal up to the same terms as Richaun Holmes, although Davis' final contract would obviously be much less lucrative.
Leftover Lunch Money
The Kings didn't have a ton of flexibility heading into yesterday afternoon, as any team over the cap is limited in what moves it can make, but Monte McNair did a nice job of adding some depth and retaining talent with his finite resources. Sacramento used one of their two major spending tools, the bi-annual exception, on center depth, bringing back fan favorite and immovable object Alex Len on a two-year deal. The definition of the BAE is in the title, and the Kings won't have that option available to them next offseason.
Richaun Holmes and Moe Harkless were brought back using cap loopholes that allow teams to retain their pending free agents, even if they're over the cap. Holmes was signed via early bird rights, allowing him to be paid 105% of the league's average salary, while Harkless only qualified non-bird rights. In his case, the Kings were able to ink him to a deal worth 120% of his previous contract, hence his two-year, $9 million payday.
Aside from Terence Davis' pending situation and veteran minimum contracts, Sacramento's front office has one realistic bullet left in the chamber, and it's their big one. They still control the standard mid-level exception, which allows them to go over the cap to offer a free agent a contract of up to 4 years, $41 million. The MLE doesn't have to be spent on an individual player, but it would be a bit surprising to see the Kings split their one remaining tool into multiple, less valuable contracts with their already crowded depth chart.
Outside of the MLE, a couple of less likely options remain for the Kings. They can sign-and-trade another team's pending free agent, but those sorts of deals are typically negotiated and completed early in free agency, as evidenced by Monday's flurry of transactions. Sacramento would need to find a player who really, really wanted to come here, as well as possessing the correct assets to convince another team to agree to a trade.
One final option for the Kings is their two trade exceptions, worth $3.6 million and $2 million, both of which expire in February of 2022. Those tools allow a team to absorb salary without sending anything in return, but the size of Sacramento's TPEs makes them all but useless, and they cannot be used to sign a free agent outright. TPEs also can't be combined to make one, larger TPE, nor can they be lumped in with any other sort of exception. In all reality, the Kings are likely looking at the standard MLE and veteran minimum contracts to fill out their roster.
Depth Decisions
Even after the Kings make decisions on Justin James, Chimezie Metu, Damian Jones, Terence Davis, and Delon Wright, and spend their MLE, there is still more work to be done on this roster. Buddy Hield and Marvin Bagley have been on the trade block for the last year or so, and the likelihood of either of those players starting the season in a Sacramento uniform feels awfully low. With a major need at one of the starting forward spots, Monte McNair should look to fill that hole whenever he gets around to shedding those players and their contracts.
The Kings were never going to be a major player in free agency with their limited funds and lack of desirability across the league, but they accomplished their one, true goal in re-signing Richaun Holmes to a reasonable contract. With the standard MLE still at their disposal and multiple trades likely on the horizon, Monte McNair is nowhere near done retooling this team as the Kings head into the second day of free agency.