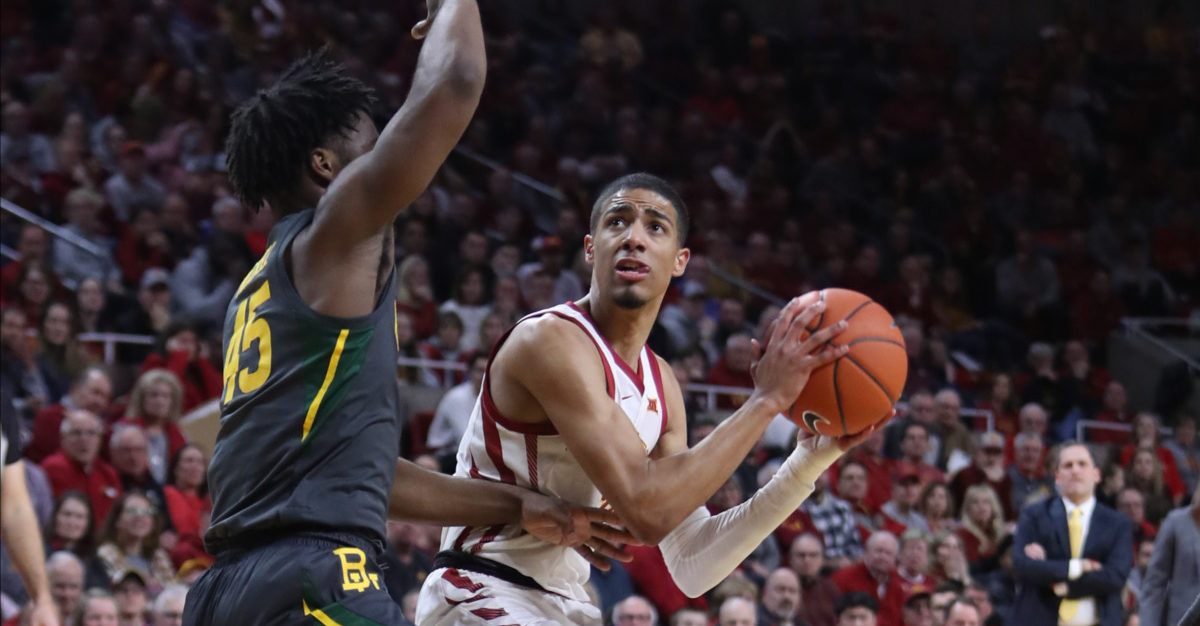 With the selection of Davion Mitchell, the Sacramento Kings add a third guard behind De'Aaron Fox and Tyrese Haliburton. While the three guards have the potential to be dynamic, the question of fit remains. The good news is Mitchell played in a three-guard backcourt at Baylor and thrived in it. Specifically he enjoyed playing off ball with two guys (Jared Butler and MaCio Teague) who could make plays for themselves and others. The trio turned that into a National Championship.
In 2020, Baylor crossed paths with Iowa State and another guard who now will play alongside Mitchell at times (depending on the lineups): Tyrese Haliburton. Iowa State and Baylor played twice in Halliburton's final college season. On draft night, Mitchell was asked about playing against his new backcourt teammate:
"It was definitely fun, especially because Haliburton was one of the best guards in the country. So I looked forward to him playing every night," Mitchell said. "We had a really good game plan on him. We threw everything at him because he's a really good guard. He can make plays, he can make shots. So, now I'm looking forward to playing with him, having some fun and winning some games."
Baylor must have had a good game plan because they defeated Iowa State in both of those games. Here are Haliburton and Mitchell's final stat lines in the two contests:
Jan. 15, 2020 – Baylor 68, Iowa State 55
Haliburton – 6 points, 9 assists, 8 rebounds, 3 steals, 2 blocks and 4 turnovers
Mitchell – 17 points, 6 assists, 3 rebounds, 1 block and 2 turnovers
January 29, 2020 – Baylor 67, Iowa State 53
Haliburton – 17 points, 8 rebounds, 3 assists, 2 blocks and 5 turnovers
Mitchell – 10 points, 5 rebounds, 3 assists, 4 steals, 1 block and 1 turnover
Following the draft, Haliburton also was interviewed about the Kings new rookie:
"His willingness to guard full court [is what makes him so tough on defense]. I think to be a good defender, you've got to let things brush off you. You're going to get scored on things happen, but I think he does a really good job of he doesn't care, you've got to score on him again," Haliburton said. "He guarded me full court for two games so there's not many guys that succeeded guarding me my sophomore year, he did a really good job."
Just for fun, let's take a quick look back at some of the film from those two games, a lot of which shows some of the potential Mitchell has offense.
Here, Mitchell rises up and drains a three with Haliburton guarding him.
Nice vision here.
Here is a nice catch and shoot with his feet set.
Here is a nice line drive at the basket for a layup.
Nice patience here.
Finding the open man for a three.
Nice pick and roll action.
He shows some of his defensive ability here, not just by staying in front of Tyrese and forcing him into a missed shot, but also by immediately blocking him out for a rebound.
And I can't leave you without a few Haliburton clips.
Yeah..
Just a thing of beauty.
Couldn't find a lot of defensive highlights from these games as the available clips were somewhat limited in that regard, but as you probably know by now, Mitchell has some stellar highlights guarding Cade Cunningham. Here is just one for your enjoyment.
We'll get a good look at Mitchell in action this evening at the California Classic.