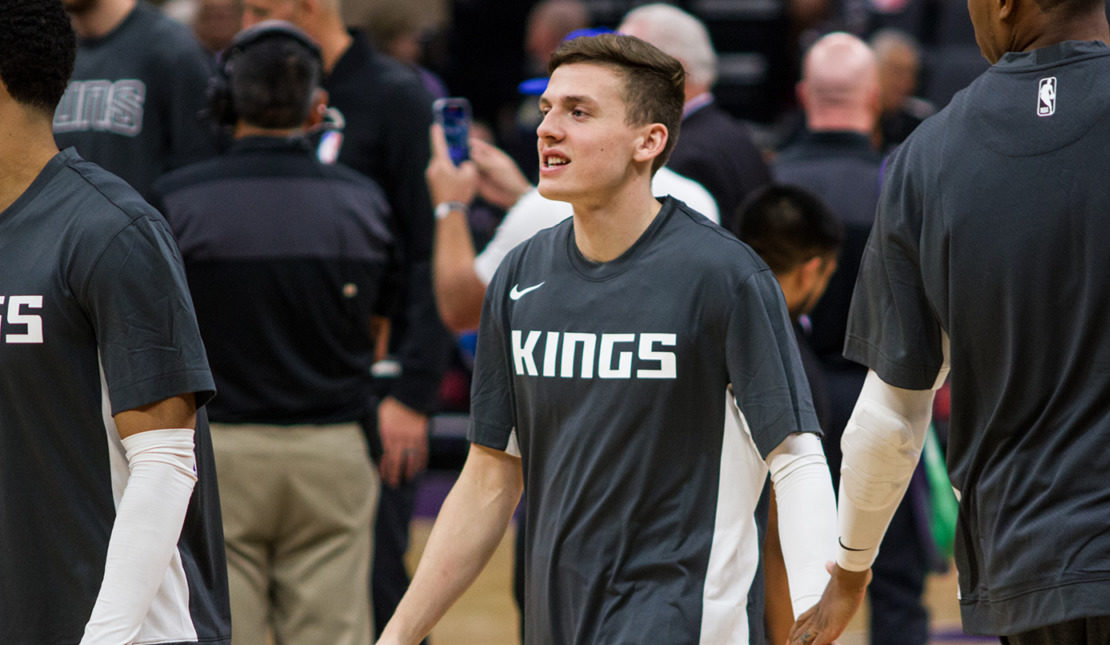 Remember how DaQuan Jeffries cracked the Sacramento Kings rotation last season? Harrison Barnes and Buddy Hield were out because of COVID-19, clearing a path for Jeffries, a two-way player in Stockton, to display his craft. Jeffries seized that opportunity, advancing from a two-way contract to a two-year contract.
Kyle Guy, Sacramento's 55th overall pick in 2019, could experience a similar trajectory. In Sacramento's second preseason game of the year, Guy got the nod from head coach Luke Walton as Cory Joseph, the primary backup at point guard, dealt with back soreness.
Guy played 23 minutes Sunday and scored 14 points (4-8 overall, 3-7 3P, 3-4 FT), grabbed five rebounds and dished out three assists. Guy's scoring output tied for first for Sacramento alongside Richaun Holmes' 14 points. He turned some heads with this performance.
Joseph's absence propelled Guy into first-quarter minutes; in game one on Friday, Guy didn't debut until the fourth quarter.
We know Guy can shoot; it was his established trait in Virginia, and he translated it to the G-League, shooting a blistering 40% from deep on 9.6 attempts a game for Stockton. The real test for Guy lies in advancing that shot into the NBA. Can he prove he's not a G-League-all-star/fringe-NBA-player guy? Can he mature into a rotational guy? This game shifted that needle slightly forward.
Portland also knows Guy can shoot; Enes Kanter and Carmelo Anthony both crowded him at the arc. For Guy to establish himself in the league, he'll have to spice things up from time-to-time, which he does here.
Guy sets a fake pindown screen, and instead, leaks out himself as Glenn Robinson III traverses the baseline to clear room. Anthony dismisses tagging Frank Kaminsky as the roller, opting to join Kanter in blitzing Guy. Guy has three choices once he receives the ball back: 1. Take what the defense gives you (bounce pass to roller) 2. Shift the ball to Tyrese Haliburton the arc (risky, the defender can jump the lane) 3. Hoist a three (imprudent)
Guy delivers a perfect bounce pass between the two not-very-good defenders, and Kaminsky repays Guy with an assist.
This play is reminiscent to the one prior, though this time, Guy comes off the pindown and Haliburton sets the screen. Guy receives the dribble hand-off and notice the clever pump fake - that fake is just enough to catch Jusuf Nurkic out of position as he leans to contest, prompting Guy to supply another crisp pocket pass. Kaminsky reimburses Guy yet again. Delivery? Last name Guy? Huh, maybe the Kings have their perfect Pizza Guy for the season.
Okay, maybe not all of Portland knows Guy can shoot (*ahem* *points at CJ Elleby*). This is just a simple DHO between Robinson and Guy; Elleby fails to switch, and Guy exploits it. Guy won't always receive this look, but it's imperative, for his sake, to knock them down when the opportunity arrives.
When I talked with Stockton head coach Ty Ellis in May about the team's season, I asked him about Guy's ceiling.
Ellis said, €œIf you like Seth Curry, you will love Kyle Guy.€ Ellis pointed out that Guy was wearing comparable shoes to a young Seth Curry in terms of how he evolved into the rotational player he is now. Curry's body favors him better than Guy, but if Guy's path continues to rival that of the former King, that's a huge win. But let's not get too ahead of ourselves just yet.
Here's another three-point attempt by Guy. Some defensive miscommunication by Portland permits Guy to sneak around the baseline into a catch-and-shoot opportunity. That's what you want to see from him, despite the miss. He doesn't need the ball to work, so you can feel comfortable playing Guy with Haliburton off the bench if necessary.
Here's another catch-and-shoot attempt. Haliburton rounds the corner after receiving the DHO and Anthony is caught ball-watching. The 12th overall pick in 2020 kicks it out to Guy for a clean look, but unfortunately, it rims out.
I've previously questioned if the Kings, who are exiguous in playmaking, will sign another point guard. To this point, it's ambiguous if Guy is a long-term King. This is just one preseason game, but there's some confidence in the fact that Guy did this against Portland's prominent role players. As we near the final two preseason games, sign me up for all the #KyleGuyMinutes.