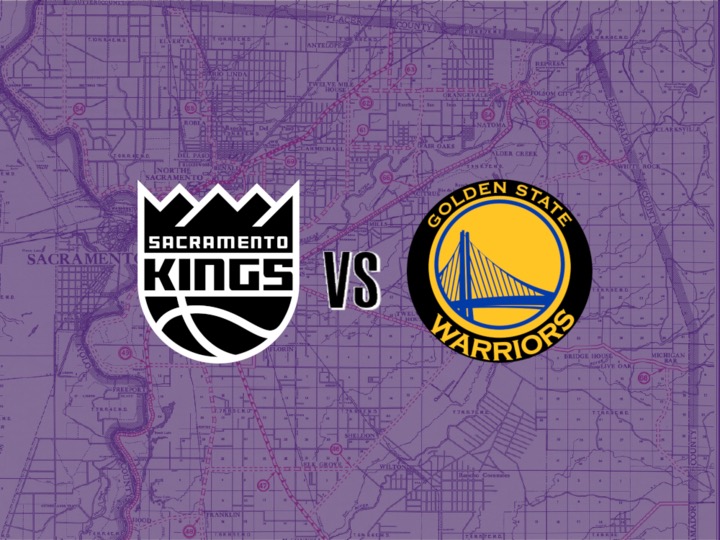 The Kings are home after a 1-1 start to the preseason in Portland and ready to take on Wardell Curry and the new look Warriors. Gone are the Warriors of old, who roamed the courts with those Curry-Thompson-Green death lineups and were always 30 seconds away from taking a good game by its hair, dragging it to the edge of a blowout then drowning it in three pointers and cringey shimmies. With Klay Thompson hindered by a torn achilles and on the wrong side of his 20's to expect a complete return to form, that chapter is closed and with the turning of the page comes something much, much stranger.
Tonight will be Kings fans' first look at a revamped Warriors roster and all the good, bad and ugly that go with it. From Kelly Oubre's gorgeous eyes and terrifying defense to Andrew Wiggins terrifying Andrew Wigginess, the Warriors have found complimentary players and high upside youngins in spades and are ready to reclaim their spot amongst the NBA's best. All Steph Curry has to do is be an MVP candidate and play without one of the greatest backcourt running mates in NBA History.
Let's talk Kings basketball.
When: Tuesday, December 15th, 7:00 PM PST
Where: Golden 1 Center, Sacramento, CA
TV: TNT
Radio: KHTK Sports 1140 AM
For Your Consideration
The Book of Three Rings: I love watching the second act that inevitably befalls all great teams. Its a fascinating study of how team management responds to adversity and change, you get to see how players react to the status quo being turned on its head and how fan bases handle their slide from a top spot towards the cliffside of irrelevancy. Things always get weird and I love the NBA's brand of weird. The Kings cutting their hearts out and slowly sending away the greatest team in NBA history to never win a title, only to end up with a season that involved Mike Bibby, Ron Artest, Bonzi Wells, Shareef Abdur-Rahim, Brad Miller, Corliss Williamson and a rookie Kevin Martin forcing a top seeded Spurs squad to six games in the first round of the playoffs. That was a fun squad that died almost immediately after but I still think fondly of Jason Hart and Vitaly Potapenko when that team gets brought up in discussion. Another was Steve Kerr as a general manager trading franchise favorite Shawn Marion (and Marcus Banks) out of Phoenix to throw a 36 year old Shaquille O'Neal monkey wrench into the Seven Seconds or Less machine. That was bizarre and doomed from the start and a slow motion train wreck that you just couldn't look away from.
Now, all that being said, I don't think the Warriors are quite there yet, but they're as close as they have ever been to taking their once hit show off-Broadway. If Steph and Draymond Green come back healthy and play to a reasonably expected level, I think they're going to be a playoff team. But, the additions they've been able to make in the last season or so certainly point to them entering their Weird Warriors stage.
Acquiring D'Angelo Russell in what ended up being a trade for Kevin Durant was a little weird. Great value when you know you're losing a guy of that caliber but... still... weird. Flipping D-Lo for Andrew Wiggins and a Top 3 protected 1st rounder in 2021 after half a season of play was also, lightly weird. I'm not saying it isn't justifiable. At 24 years old, Maple Jordan might have just needed a change of culture and scenery to unlock that next level to his game and super valuable draft picks are always great return for teams with aging stars, but again, starting to feel like the Warriors brain trust was trying hard to be clever. Mix in some desperation into that clever and the weird starts oozing out of a franchise. Drafting James Wiseman was an intelligent choice and it will be fun to see what that franchise and culture does for the mystery big man. Taking advantage of the fire sale in OKC meant sending a conditional first rounder in return for Kelly Oubre, the frenetic small forward who had himself a breakout season in Phoenix before being traded to a scrapheap for Chris Paul. Tossing Wiggins, Oubre, Wiseman into the mix with the likes of last year's standout Eric Paschall and heady draft picks like Nico Mannion adds a ton of young scrappy energy and people who have something to prove.
The Warriors are less top heavy than they have been in a long time and have lots of odds and ends that could fit together and work towards another deep playoff run, but it won't be without growing pains and some rounded blocks going into square holes. Another injury, or some major fall off from a guy like Draymond Green could spell the Warriors heading into the strange twilight of this record breaking, league altering run for them and I'm here for it.
[All this being said, Draymond and James Wiseman won't be playing tonight.]
Prediction
The TNT crew has no idea who the hell the Kings have on their team and absolutely zero interest in trying to suss that out. Most of the talk is about Steph's new line of shoes for octogenarians and how thin Draymond Green looks thanks in part to Peloton. Kings shoot 45+ threes again.
Kings: 121, Warriors: 117