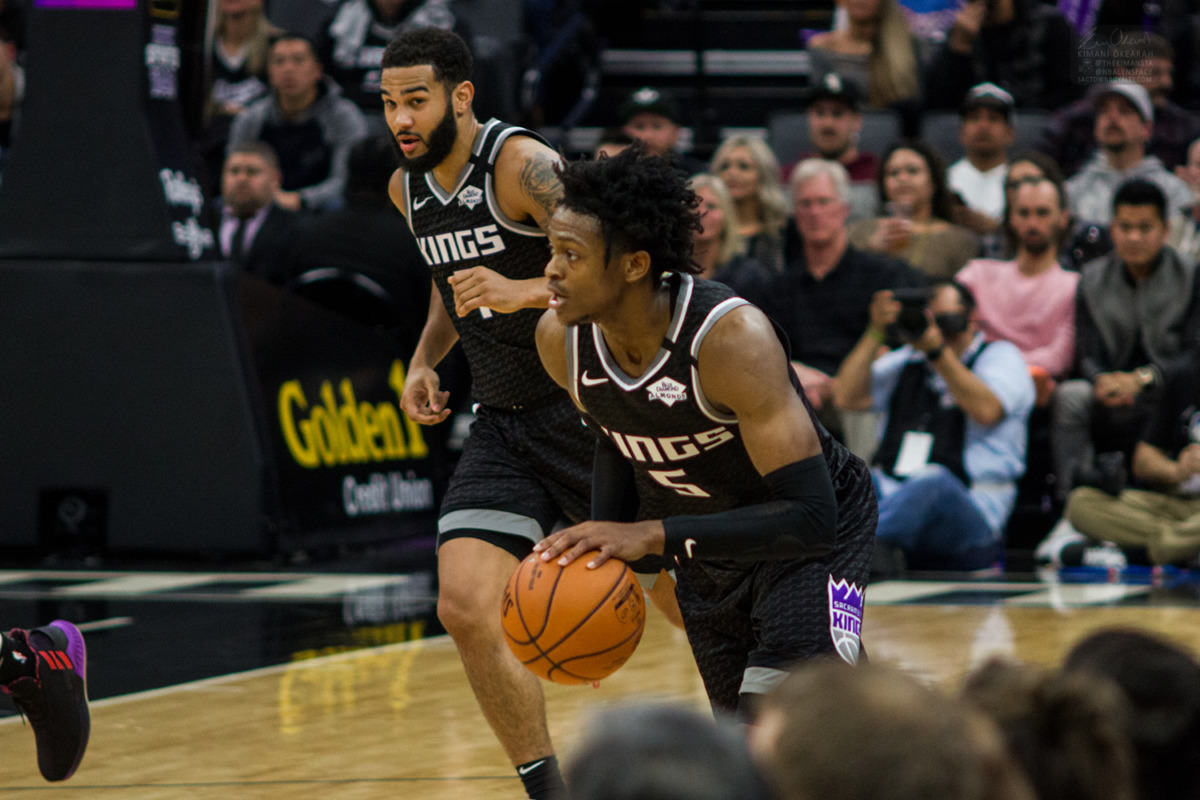 Welcome to 20Q, a variation on our usual 30Q series. With the abbreviated time until the season begins, we'll just do 20 questions this season, finishing up right before the season begins on December 22nd.
Analyze the current roster of the Sacramento Kings, and you'll notice something in particular: Whether you classify them as 4's and 5's or just as bigs, the Kings have a plethora at their disposal.
Joining Marvin Bagley, Nemanja Bjelica and Jabari Parker on the roster are Hassan Whiteside, Frank Kaminsky, and Chimezie Metu (training camp deal), with a strong possibility that both Harrison Barnes and Robert Woodard II get minutes at the four. That congestion is bigger than a weekday evening on Highway 99 by Downtown Sacramento.
But a logjam in one department means an opening in another. For the Kings, that vacancy resides at point guard.
With Bogdan Bogdanovic departing for Atlanta, De'Aaron Fox persists as the sole initiator on the roster. Cory Joseph's specialty lies on defense; Kyle Guy, on a two-way contract, is more of an off-ball shooting guard (though he should compete for minutes); Jahmi'us Ramsey is a rookie that probably won't receive minutes immediately; Tyrese Haliburton is an option, but he's also inexperienced and dealing with a condensed training camp; Buddy Hield, as we witnessed first-hand last season, is far from a ball-handling initiator.
So, will the Kings sign another point guard?
Fox, who could see an uptick in minutes per game, can't shoulder the burden alone. The issue, however, is that Sacramento's roster is stationed at 20; they'd need to cut players to create room if they pursue another initiating guard.
Fortunately, the point guard market hasn't been picked clean just yet.
Veteran initiator
Shabazz Napier, 29, is arguably the best player available. Though a bit undersized, Napier can fully initiate while also knocking down jumpers off the ball if needed. He played alongside Bradley Beal in Washington last season, putting up solid numbers despite not inking a new contract yet. Napier won't be a needle mover for Sacramento, but he's an experienced veteran who can step in comfortably for adequate value.
Low risk, high reward
A younger, but experienced, alternative is Emmanuel Mudiay. The 6'5" guard has featured for three teams in five seasons, which has stained his resume. That's not the only stain: Mudiay hasn't been a positive impact player on either end of the floor since his rookie season. However, there's intrigue in his scoring, which has improved in specific spots. In Utah last season, he shot 56% on long mid-range jumpers (41 attempts), good for the 90th percentile, per Cleaning the Glass. On all mid-range jumpers, his percentage sat at 48 (128 attempts), slotting him in the 86th percentile. And on non-corner threes, he shot 38% (50 attempts), putting him in the 74th percentile (both stats from CTG). These are all career-high numbers for the soon-to-be 25-year-old guard, so if the Kings want a low risk, potentially high reward backup, Mudiay could receive a phone call.
Small, but promising sample size
An inexperienced name flying under the radar is Jordan McLaughlin, a restricted free agent from Minnesota. McLaughlin originally inked a two-way deal, but earned minutes in mid-January (logged 574 minutes total) and impressed, staying in the rotation until the pandemic halted the league. The 5'11€ guard wasn't ball-dominant, but boy did he rack up assists. His assist: usage ratio climaxed at a whopping 1:64, good for the 96th percentile, per CTG. For context, his usage rate of 18% placed him in just the 10th percentile. McLaughlin also shot 44% from deep, ranking in the 92nd percentile, per CTG. Keep in mind that CTG filters out garbage time stats and heaves, making McLaughlin's numbers even more salivating, despite the small sample sizes. Minnesota doesn't seem to be rushing for McLaughlin to stay, but the RFA tag could make it difficult for Sacramento to acquire his talent. You don't want to overpay for small sample sizes, though the pros seem to outweigh the potential cons in this context.
Some other obtainable guards include Brandon Knight and Yogi Ferrell (re-sign). The market is extremely dehydrated, so it's entirely rational if the Kings simply commit to supplying minutes to Guy and Ramsey to see how they develop.
But if that's the outcome, brace yourselves for some not-so-pretty basketball.