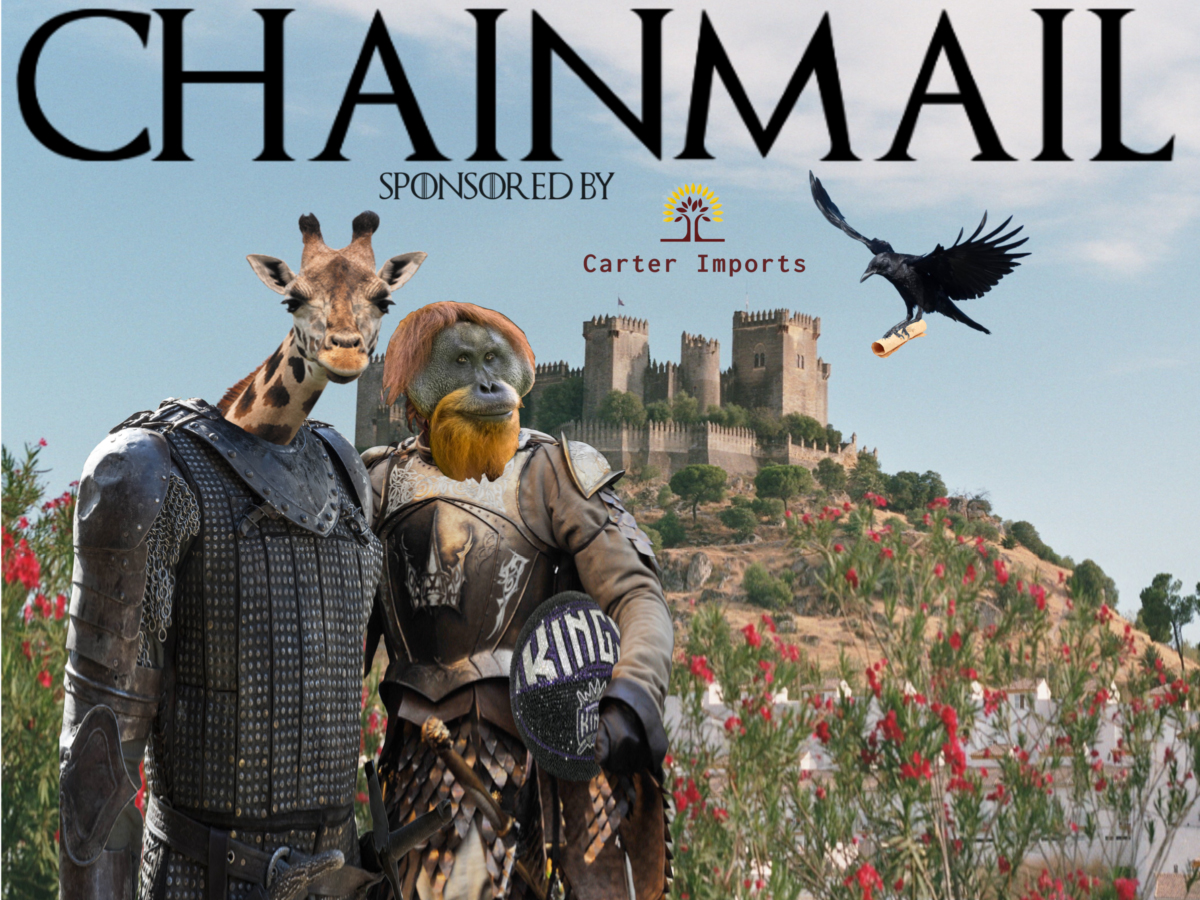 Welcome back to Chainmail! Special guest Sanjesh decided to stop by the mailroom and throw his thoughts into the ring.
Before we get to the answers, want to thank our sponsor for the mailbag, Carter Imports! Carter Imports is a Sacramento-based company that imports some of the very best Extra Virgin Olive Oil and Cretan Thyme Honey available in the world today. There has never been a better time to support one of our own than right now!
Let's dive right in!
From TyrekeFan18
What will be the Kings record this season?
Tim: If the Kings keep their roster relatively close to what it is now, I think they're in for a 30-ish win season, which would equate to 35 wins in an 82 game season. If the Kings semi-blow things up like I believe they're going to do, we're looking at about 24 wins, or 28 in a standard year.
Will: I think without any major moves, the Kings are trending for right around 23-25 wins. They don't look bad on paper: Hassan Whiteside puts up stats and could be an interesting fit, Marvin Bagley is a complete unknown who could be in a real make or break season in terms of his long term value for the Kings and the fantastic draft that Monte McNair and company had makes for interesting bench minutes. But, the Western Conference is stacked, the timeline is tightened up and they're still coached by Luke Walton. Yes, they went out and grabbed some well respected assistants in Alvin Gentry and Rex Kalamian but it isn't going to matter than much in the grand scheme. When Monte McNair holds himself a garage sale during the Kings now semi-annual spring cleaning, the Kings are going to bottom out hard and the focus will move to rookies getting time. If Walton is fired early on or the Kings start out the gate 1-10 (which isn't out of the realm of possibility), the youth movement might come sooner and with it, a sub-20 win season.
Sanjesh: Tough question with the first pitch, I see. This season can conclude in a variety of ways, depending how healthy teams remain when it's all said and done. If the Kings hope to clutch onto a playoff spot, they'd likely be the result of multiple playoff-lock teams falling apart for whatever circumstance. But that's easier said than done, because there's multiple playoff-fringe teams the Kings would need to surpass for a playoff spot. It's a shortened season; teams can't afford multiple slip-ups. If all teams sustain good health, the Kings are probably looking at a win total in the early 20s. I don't think this is the year when the rain pours to end the drought, and with the 2021 draft class, that's not a bad thing.
From Farmer Guy
Now that most (or all) of the final free agency moves have been made:

Who do you predict makes the final roster?

What is your predicted depth chart to start the season?
Tim: Here's what I've got. First, Frank Kaminsky is cut. After that:
Rotation
Fox/Joseph
Hield/Haliburton
Barnes/GR3
Bagley/Bjelica
Holmes/Whiteside
Spot minutes
Jeffries, Woodard, Parker
Out of rotation
Ramsey, James
Two-way
Guy, Metu
Will: I think we'll see an early season lineup of Fox/Hield/Barnes/Bjelica/Holmes with the bench rotation being Joseph/Haliburton/GR3/Bagley/Whiteside being used. If he can stay healthy, Bagley will be in the starting lineup within 15 games, but where he's recovering from COVID-19 and hasn't played in a year, I think the coaching staff will want to bring him along slowly and get his confidence early playing against bench guys that he can just outrun and out jump. As the season wears on, I think we'll see Whiteside start some depending on the matchup, to boost what little value he might have and we'll see Jeffries and Woodard get more minutes in the second half of the season, especially if the Kings are active at the deadline.
Sanjesh: Let's spice up the rotation (no way does Luke Walton do this)
Fox/CoJo/Ramsey
Haliburton/GR3/James
Hield/Jeffries/Woodard (who can play the 4 too)
Barnes/Bjelica/Parker
Bagley/Holmes/Whiteside
Two-Ways:
Kyle Guy (give him a shot at PG), one of Metu/Edwards/Rose (whoever impresses the most)
From: RandyBreuersNeckHair:
In a perfect world, who are we drafting next year?
Tim: Cade Cunningham is the best prospect since Anthony Davis and would perfectly complement both De'Aaron Fox and Tyrese Haliburton. Assuming that the Kings don't luck into the first overall pick, there are still a ton of good long-term wing options. Any one of Jonathan Kuminga, Ziaire Williams, or BJ Boston would be a fantastic pick up for the Kings. The 2021 draft class seems perfectly built for their small forward needs.
Will: In a perfect world, its Cade. In a world closer to reality where the Kings aren't picking in the top four picks, I think it's going to come down to Kuminga, BJ Boston if he's there and, my personal €œguy to watch€ Scottie Barnes. Barnes is a weird one, drawing comparisons to Draymond Green with his mix of defensive presence, better than most passing ability and his high basketball IQ. He's a defensive forward with a really nice eye for passing and someone who could fit in with a team where Fox and Bagley could be relied on as scores. A future lineup of Fox, Haliburton, ____, Scottie Barnes, Bagley would be rich with switchability, hustle guys on defense and three high IQ passers. They might still need that #1 threat to take the team from promising to perennial playoff contender but Barnes is the type of weird that works in the modern NBA.
Sanjesh: If Cade Cunningham is off the board, I'm satisfied with any of the wings who could be available. Now the statement I made might change as the college basketball season progresses, but it's a salivating class. If the Kings end the season feeling comfortable with a Fox-Haliburton-Bagley triumvirate, they can find their future wing with ease.
From jwalker1395
How many minutes can we expect Tyrese, Woodard, Ramsey, DaQuan, and even James to play? I suppose I could throw in Bagley too for that matter.
Tim: I expect Haliburton to be thrown to the fire almost immediately, averaging 18 - 22 minutes per game, with that number increasing as he gets more comfortable in the rotation (or after Buddy Hield is inevitably traded). Woodard and Jeffries feel like spot minutes candidates if someone is hurt or in foul trouble, maybe 6 - 10 minutes per game, but not playing in ever game. I don't think Ramsey will see the floor much at all. As far as Bagley is concerned, if he's healthy (I know, I know), he should be in there for 32 - 35 minutes per night. The Kings aren't winning many games anyway, so they may as well try to discover what they have in Bagley.
Will: I think it's pretty easy to see that Haliburton is going to take over the bench role that Bogdan Bogdanovic held for much of the past few years, but with an increase in time for Joseph/Fox back court lineups and even GR3 playing minutes at the back SG, as Haliburton adjusts to the NBA schedule. 22-25 minutes sounds about right for him. Everyone else you've listed by Bagley are going to be victory cigars or hustle guys that are brought in at some desperate moment to make a point about playing hard and being ready every night. The Kings are going to get blown out a good amount this season and they're going to eat those minutes. Bagley will probably end up a starter and if healthy can average 33-35 minutes a night, but with Walton and it being a lost season, I'd venture to guess it ends up being more around 29-31 a night.
Sanjesh: Haliburton and Jeffries are the players in that bunch I feel most comfortable about playing immediately. I'm expecting Haliburton plays a semi-imperative role early on, but tempering expectations is also important. Jeffries, as we saw in Orlando, can step right in and pick up the minutes Kent Bazemore abandoned. Woodard, who looks built for the game's physicality, could receive minutes as both a 3 and 4. Ramsey and James have a tougher path, but could be in for spot minutes here and there if necessary. I could see a reality where James is playing more often than others because of his familiarity with Luke Walton's system, but we'll see.

And for Bagley, for his sake, he *needs* to be featuring for at least 28 minutes a game. Walton may need to ease Bagley back in, but Bagley needs significant minutes to display his worth.
From Kangzville
What's your hottest take heading into the 2020 season?
Tim: I don't know how hot this take is, but Buddy Hield, Richaun Holmes, and Nemanja Bjelica are all off of the team by the trade deadline, with Buddy being moved within the first month of the season.
Will: I see a lot of light optimism in Kings World about how they aren't THAT bad and I get that it's a hedge because of all the veterans that the Kings have on their squad. So I guess my hot take is, the Kings are going to perform worse than most think. Trades or no trades, I think this team is a bottom two team in the West this season and while there's certain to be a lot of moral victories, I think there is going to be a lot of people looking back on Twitter and other places wondering why they said the Kings €œweren't bad enough€. Adding to that, I saw all over Kings twitter a ton of people very casually predicting Marvin Bagley being right around a 20-10 guy this year and so I guess it's a hot take to say, I think we're going to have to be very patient with Bagley. Between missed developmental time and the lack of confidence and frustration that comes with being beaten on for being constantly injured and even taking into consideration that he's getting over Coronavirus, I think it's very easy to see him lose confidence in himself early in the season and spend this whole rushed year trying to climb out of the hole. Expecting a ton of him early is a perfect way to ruin what little joy you might take from this season.
Sanjesh: The Jabari Parker train is picking up steam in camp. That's a sentence I did not imagine writing at all. You want to get hot? Parker becomes a starter and not because of injuries/possible COVID-19 cases.
From Chent
Any early thoughts of '21 free agent class and who would you want the Kings to pursue?
Tim: The Kings have about $40 million in expiring contracts heading into the offseason, and I'm also assuming that they're going to get off of one or both of Buddy Hield's or Harrison Barnes' contracts. If they clear one of those and don't take back any crazy contracts, they're looking to be in great shape for the summer of 2021. Let's say they move Buddy Hield. Here are their guaranteed deals on the cap sheet:
| | |
| --- | --- |
| Player | 2021-22 |
| Fox | $28,100,000 |
| Barnes | $20,284,091 |
| Bagley III | $11,312,114 |
| Haliburton | $4,023,600 |
| Joseph | $2,400,000 |
| Woodard | $1,517,981 |
| Ramsey | $1,517,981 |
| Total | $69,155,767 |
After accounting for minimum roster charges, Jeffries' likely guarantee, and the 20201 first rounder, the Kings are looking at somewhere around $25 - $30 million in cap space. They can do a lot with $25 - $30 million. Okay, now it's time to actually answer the question!
First and foremost, the Kings should NOT go after veterans to try and push for the playoffs. They should be building young-ish around De'Aaron Fox. Lonzo Ball, Lauri Markkanen, and John Collins are all restricted free agents who I wouldn't mind throwing an offer sheet. There aren't too many unrestricted free agents who are particularly attractive outside of maybe Kelly Oubre. If the Kings do walk into the summer of 2021 with a ton of space, I would prefer the to use it to absorb bad contracts for young players and draft assets.
Will: I'm fine with the Kings punting this next off-season in free agency. Sure, they should kick the tires on deals with guys like OG Anunoby and Duncan Robinson but there's no reason to go out and spend wildly on vets for a team that is rebuilding. I'd even avoid a Markkanen who doesn't quite fit with Bagley (if he shows himself to be a part of the core). Save your money in 2021, draft well, then in 2022 reach out to a culture setter that won't break the bank like Marcus Smart, who can take young, hungry, smart guys and have them follow his lead as a defensive guru. If you're really twisting my arm about a guy in 2021? Go out and grab Boban Marjanovic as a backup center. Why? I love the man and he's massive.
Sanjesh: I, for one, am pretty excited for next year's class, considering the class that just passed was parched in quality. As Tim mentioned, Oubre is the most appealing UFA for Sacramento's young group. But it's likely Oubre remains a Warrior. What other unrestricted names do I like? Nerlens Noel, Daniel Theis, Gorgui Dieng (don't overpay him), Dennis Schröder. For restricted names, I like Lonzo Ball, Lauri Markkanen, John Collins, OG Anunoby, Derrick White, Gary Trent Jr., Bruce Brown, Isaac Bonga and Duncan Robinson. I'll stop there, but it's a more intriguing class than what we just experienced.
From Marty
A text exchange with my Kings buddy that we've probably written dozens of times went, €œKings need to completely overhaul their broadcast team.€ Well, here we are. How are you feeling about things?
Tim: I feel pretty good about the broadcast team. The Kings snagged two highly qualified professionals who will be a huge upgrade over Grant Napear's nonsense, and Doug Christie continues to grow as an analyst. I probably won't be watching games on mute now!
Will: I'm very happy with the Kings choices for broadcasting. Mark Jones is a legend and a refreshing choice after the exit stage right of the ol'We answer your questions about the rotation, the upcoming season, the NBA draft, and more! Peach. Draper I haven't ever heard broadcast but hearing that Doug Christie helped in the selection process eases what little tension I have over it. Obviously I'm bummed that a guy like Jim Kozimor loses his job in a pandemic and obviously having Jerry retire has been a blessing for pretty much only Kings Herald readers and listeners, but I'd say they did a good job of filling in the holes left by others.
Sanjesh: If by broadcast team you mean the NBC crew, I'm happy with the new hires. The Kings desperately needed a new voice in the booth, and they picked up two(!) extremely qualified commentators who will make a good pairing with the great Doug Christie. If you meant about the team going into the season, I'm fine with the roster construction. It looks like a team destined for a high lottery pick, and I'm totally okay with that. I just hope the players stay as safe as possible; that's my biggest concern.