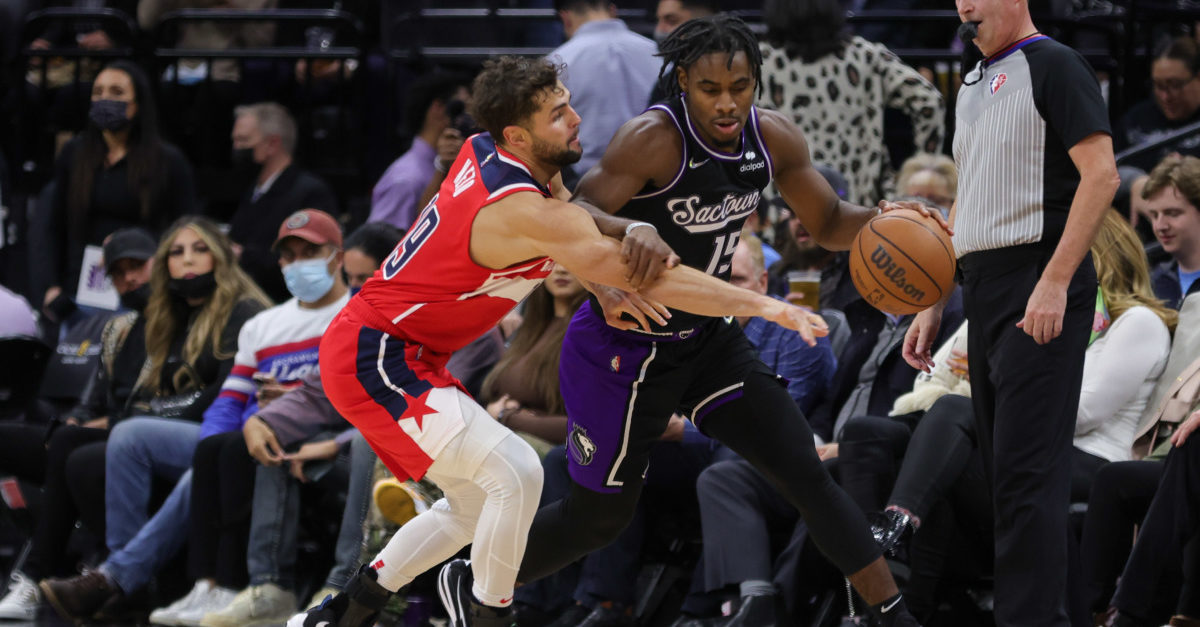 Following Monday's brutal loss to the Toronto Raptors, the Sacramento Kings players held a players-only meeting. Over the team's three-game losing streak on the road, which came to a conclusion in Toronto, the Kings averaged 16 turnovers, gave up 121 points per game, allowed opponents to shoot 51 percent from the field and average 61 points in the paint.
This all came, of course, after winning three games in a row and head coach Alvin Gentry and the players preaching about how they have to be consistent. So, yeah, it was probably time for the players to get together and chat about the issues that seemingly never go away.
On Wednesday night, the Kings limited their turnovers to 11 (and really limited them in the final three quarters of the game), held the Washington Wizards to 105 points and won the points-in-the-paint battle 68-56. Following the win over the Wizards, which featured a few firsts, chief of among them Doug Christie serving as the "interim interim" head coach with Gentry catching COVID-19 and in health and safety protocols and Davion Mitchell starting his first game, the team spoke about how the players-only meeting might have helped.
"After the Toronto game, we had a lot of conversation as a team about what are we going to do? Who are we going to be? And just having that candid conversation and then coming out and actually responding with that effort, not necessarily with what you guys see on the court, but just how we talked to each other on the court, how we talked to each other on the bench, in huddles, in the locker room. It was definitely putting action behind what we've been saying," Harrison Barnes said. "So, I think to cap it all off with a win says a lot about our group."
Mitchell, who finished with 13 points and 5 assists in 29 minutes, was asked if the conversations after the Toronto game helped and spilled into Wednesday's performance.
"100 percent – I feel like throughout the game we were more together, we talked more, we just felt we had that energy throughout the whole game, you could see toward the fourth quarter we did really good defensively, we were talking, yeah, we did a really good job," he said.
Tyrese Haliburton said everyone was honest with each other.
"Just an honest conversation, right? Just looking at each other in the mirror and being honest with each other I think is helping us. I'm not obviously, going to go into detail about what was said, but I think a little bit of self-reflection within ourselves is going to lead to good things to us moving forward," he said.
And moving forward we all know what needs to happen: Consistency.
"The only thing we've consistently done is be inconsistent so we've got to figure that out and obviously there is a lot of time, but I hope that conversation we had in Toronto and kind of what we've went through this first quarter of the season or whatever it is, I hope what we went through so far is learning experiences for us, stuff to learn to learn from so just got to keep building from here," Haliburton said.
Barnes, Christie, Haliburton and Mitchell also spoke after the game about what the day was like, which featured the news about Gentry testing positive for COVID-19, Terence Davis and Marvin Bagley also entering the NBA health and safety protocols and having Christie assume the head coaching duties for the first time.
The Long Day
Harrison Barnes: "It was a long day, just a lot of things that were just unexpected and the biggest thing that we just tried to tell ourselves coming into this game was do whatever we need to do to come out with a win and I think that's just what our mindset was. Obviously, we had our ups and downs and guys had different things going on, but the biggest thing was we were just trying to do everything it took to win."
Tyrese Haliburton: "It's been a long day. It's been a weird day. Obviously, everything in the world is kind of crazy right now, especially in the NBA world. I think it threw a lot of us off our routines and stuff like that, and some guys are superstitious and stuff like that so I'm sure it messed some guys up, but I thought we came out and played really well. I thought the energy was really good and thought it was a complete team effort."
On Christie's First Game As Coach
Harrison Barnes: "Doug always keeps it light, he always has jokes. I thought, like I said, coming into today, I don't think he was thinking, 'I'm going to be coaching my first game,' but I thought he did a great job just stepping in, just getting everybody the right motivation they need to do to go out there and get a win."
Doug Christie: "I wasn't super nervous oddly enough. I did have a million things running through my head, which I just went and found a room and just kind of wrote down a few things that I wanted to focus on and all the assistants were incredible to kind of help and guide me through certain parts. Then the team, they responded."
"Defensively, I thought we played one of our better games. We didn't turn the basketball over after the first quarter. I believe we had 8 turnovers for 14 points in the first quarter and then after that in three quarters we had three turnovers for five points, so that's winning basketball and that's proud basketball."
"This is a proud city, a city that deserves a high level of basketball when they come out to watch it."
More on the defense: "Playing defense and playing at a really high and hard level – it hurts, it doesn't feel good. You have to stop on a dime, you have to fight through screens, you have to do things that you don't like to do and tonight they were willing to do it and accomplish it. They just have to be more willing to do it on a consistent basis to reach the levels that you saw tonight."
Tyrese Haliburton: "He's always preaching physicality, getting into people, getting stops defensively, obviously from who he was as a player and what he thinks as a coach so it's the same stuff and I thought we responded pretty well tonight."
Davion Mitchell: "He wants me to be a better off-ball defender, so the little things that can help the team: get deflections off the ball, help the screen and roll off the ball, on the ball I'm pretty good at it, so off the ball he's just giving me key pointers of something that can help us be really good defensively."
There is a question as to if today's game against the 18-11 Memphis Grizzlies will be played due to concerns about the COVID-19 outbreak among the team, including De'Aaron Fox and Alex Len now entering health and safety protocols.
The Sacramento Kings cancelled today's practice, shut down the team's facility and have growing concerns whether a Covid outbreak will allow them to play Friday night's game vs. Memphis, sources tell ESPN. The team continues to test and retest players and staff.

— Adrian Wojnarowski (@wojespn) December 16, 2021
First and foremost, I hope everyone is OK and has a speedy recovery and no other infections have taken place. If the Kings do play, they will get a chance to prove the players-only meeting and any assumed momentum after Wednesday night is legitimate.
"It's consistently can we build off it? Can we not have slippage and have another losing streak in which we then try to rally and come together for a win?" Barnes asked.