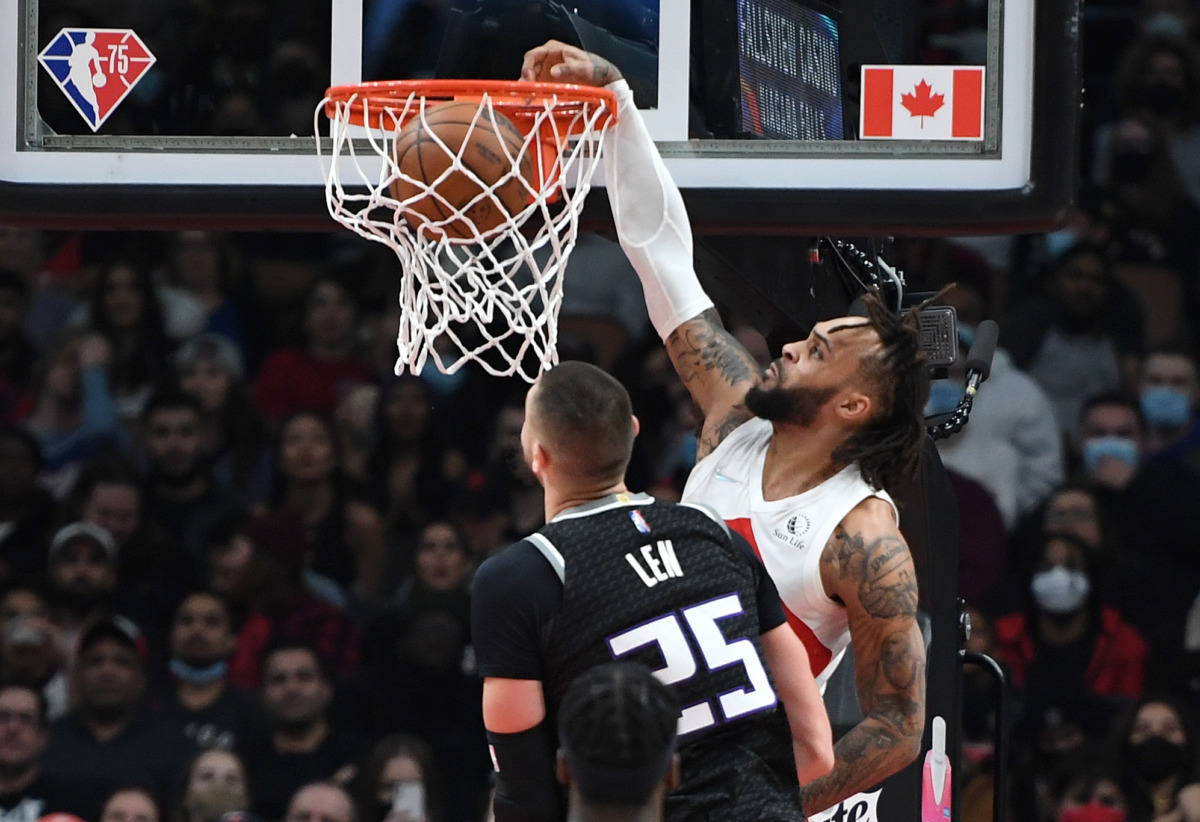 The Sacramento Kings arrived to the Scotiabank Arena in Toronto on Monday night riding a rough two-game losing streak. Sacramento followed up an all-time Kangz loss in Charlotte with a horrendous effort in Cleveland to put together the worst run of Alvin Gentry's tenure as the Kings' head coach. So far. And despite those losses, the team woke up Monday morning as the reigning 10th seed in the Western Conference play-in race.
The bottom of the West is just begging for somebody to start playing decent basketball, but it sure as hell wasn't the Kings tonight.
Gentry rolled out another new starting lineup for this one which felt like an appropriate response to their offensive effort in Cleveland. Richaun Holmes is still out with an eye injury, so the Kings started Alex Len, Chimezie Metu, Harrison Barnes, Tyrese Haliburton, and De'Aaron Fox. Early returns on that unit were pretty terrible.
The Raptors jumped out to a quick 11-0 lead which should have told us exactly where this game was going, but for one fleeting moment in the middle of the the first quarter, the Kings looked like a competent basketball team. Then came the 2nd quarter, and it was at that point that I stopped taking real notes down because the Kings stopped playing basketball.
Toronto dominated Sacramento 40-23 in the 2nd quarter, and carried a 70-45 lead into the half. Seventy to forty-five. There is nothing valuable to say about an NBA game where roughly 40 of the 48 regulation minutes were garbage time.
I'm saying nothing new here, but this team is a mess right now. They've been a mess for a while, of course, but things are particularly messy in this moment. Their defense is as bad as it has ever been in a season where they themselves talked about playoff expectations. Embarrassing is a good word.
I don't know what else to say about this one, fellow people with questionable decision making who are still watching this basketball team. I guess we're all just waiting to see what happens next, right? Will Monte McNair finally make an impact move, or will we continue to watch Vlade Divac's roster flounder?
Monte McNair has to know that his seat is rapidly warming up, yeah? Even if ownership is telling him he's safe, I would advise him that this is Sacramento – nobody is safe. Ownership expectations and executive job security can change on a whim. There is no time to wait. With McNair's back against the wall, I don't believe that he'll go down without a swing, so we'll see what happens over the next couple of weeks.
To make matters more difficult, opposing general managers know that the Kings are desperate right now. McNair has the difficult job of picking a direction – playoff push or rebuild, and maneuver around that direction without getting fleeced by teams that know you're deeply broken.
But that's just life as a King fan. See you back here on Wednesday.