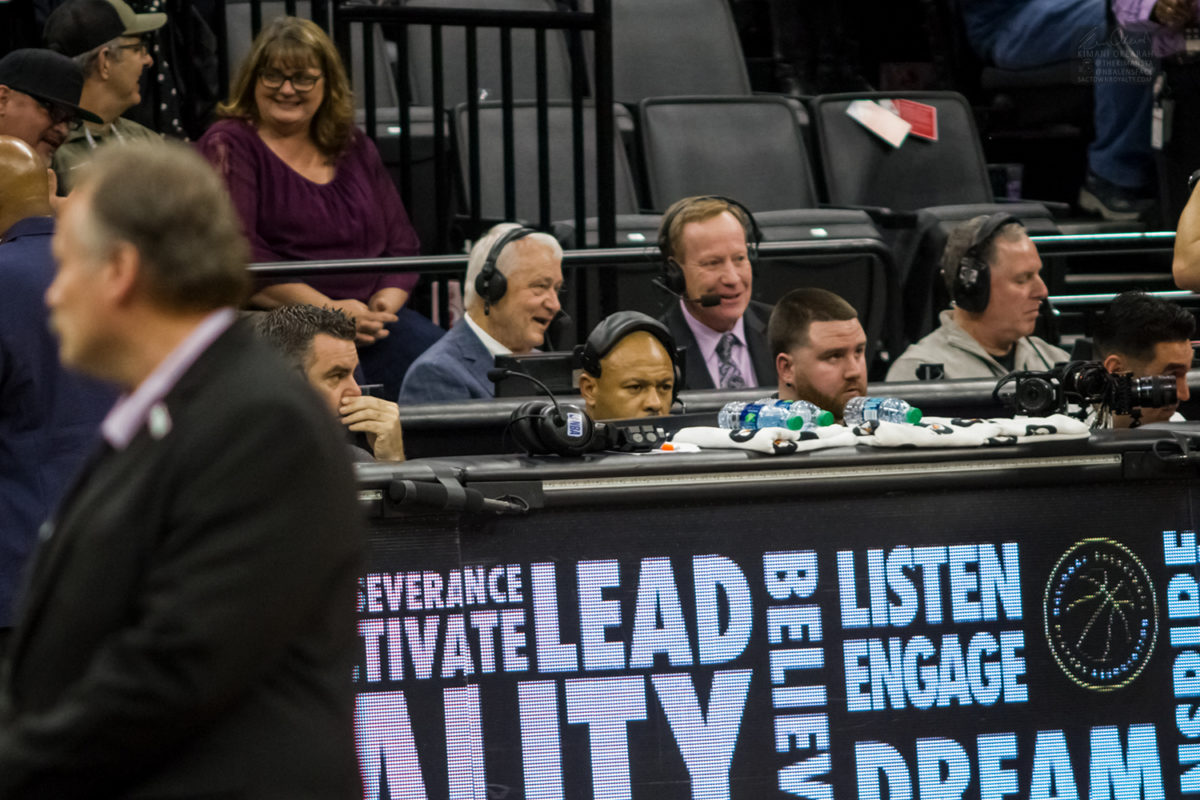 We're back with the legend Jerry Reynolds and part two of his interview with us.
If you missed part one, Jerry discussed the team's progress as a whole this season and much more. Today, he breaks down the progress of some of the key players on the roster.
Any trade potentials you have considered? Who do you think should be on the trading block and who are you looking at in terms of guys who could put the team over the top?
Well, not really because honestly, it's not my job and because there are so many things in play in terms of the salary cap and how much money you want to pay somebody. How important is Bogi [Bogdan Bogdanovic] to you? Well, I think he's pretty darn important €" to what level? Or, can you use somebody under contract to get somebody else you think is better or would fit better?
I've got guys in mind that I would like to keep and I think Bogi is one of them. I always say about free agency €" one of the keys is keeping the guys you want to keep. Now, at what price do you do that? I don't know. On this particular team, the one guy that could probably play on every team in the league is Bogdanovic. It may be different roles because of his versatility and shooting ability and competitive spirit and all of that. I'm not saying he's better than [De'Aaron] Fox or as desirable as Fox, but you can't name a team from the Milwaukee Bucks, to the Lakers, to the Clippers, that he wouldn't play on. That makes him valuable to the point that would scare me.
So it sounds like you would be good with having Bogi as the long-term starting shooting guard?
To me, whether he starts or comes off the bench really doesn't make any difference to me. I think he's a really, really good player. The fact that if Coach Walton sees him in that role going forward that's fine, or if he would want to go back to Bogi off the bench, to me it doesn't make any difference. My real thought on Bogi is that he's a keeper. Not to say if somehow Golden State wants to trade Klay Thompson for him you do it, but I'm just saying that I think he's a keeper. €¦ Bogi is one of those guys €" he's got the complete skillset. €¦ He would be valuable to a lot of teams in the league and on that basis, he ought to be very valuable to the Sacramento Kings because I really do believe he could be a 20-to-30 minute player on a bunch of 50-win teams - and I don't believe he'd be the best player on any team in the league.
Because of injuries we don't have a complete sample size of what Marvin Bagley is right now, or what he could become, but what is your make of what you have you have seen out of him so far and his chances of being a cornerstone of the franchise moving forward?
I would start by saying I don't know. I mean, I've seen nothing to indicate for sure that he can't be, and I've seen nothing for sure than he can be. I know that is an ultimate cop out, but I think it's true. I think until a guy has played 150 games or so in the league, unless he's one of the all-time franchise kind of guys, and I think that is one thing I can say for sure is that it's pretty clear he's not a franchise-changing player as the Jordans, Birds, Magics, or Kobe's, and even Kobe took two or three years. There's not many of those guys so you know that he's not that. But it's also true you see talent: ability to rebound in a crowd, rebound per minute, those are things that you can't make up. His ability to score around the basket was true.
What you didn't see was probably the defense you wanted to see out of a very long, athletic young player; you didn't see the ball movement and passing that you wanted to see out of a guy that's going to draw a lot of double teams and things of that nature. I'm not surprised by that part, that's usually a little more of a work in progress. I think our fans sometimes forget that. I'm old enough to remember [Hakeem] Olajuwon's early years, I mean you talk about a black hole €" but within four or five years he became a terrific passer out of double teams because you had to double team him.
So, there's a little time there and patience is called for, but can he be all that Vlade [Divac] hopes for him to be? Well, he can be. Can we give him that status already? Not fairly, we can't. I'm not one of those who wants to throw him in the trash, and I'm not one who wants to give him five-time All-Star yet either.
Buddy [Hield] had a rocky season. Why do you think he didn't continue the upward trajectory we saw last season? Obviously, the style of play and the injuries did factor in, as did moving to the bench. What did you make of his season though?
I'm a big fan of Buddy, but I think sometimes he forgets rule No. 1 is it's possible to have unspoken thoughts, and it didn't serve him very well sometimes. So, he put himself in spots I thought where he was getting criticism that he had never gotten before, and much of it deserved. So maybe trying to do too much as a player to show people he was really good, which, of course, he is, he doesn't have to go prove that.
Anyway, then I thought style of play €" there probably was a feeling that Buddy could do more maybe than he can at a high level. I thought one of the things last year if I was going to summarize it, to me he's certainly more like Klay Thompson than he is Steph Curry. And I thought last year he played more like Klay Thompson and this year early, he was trying to play like Steph Curry and I think the results are the results, aren't they? That's the downside of when you make a total coaching change. I wouldn't blame Luke [Walton] for that, it's sometimes you just don't know players as well until you are around them a long time.
And then, the injury to Fox certainly did not help during that stretch where he was struggling because De'Aaron did get him much better shots for the most part. As Buddy struggled, he did what a lot of shooters do, he started taking more tough shots. Talk about a shooting slump, well, he wasn't in a shooting slump, it was amazing he could hit the percentage of the quality of shots he was taking because he was taking a lot of bad, tough shots. It's not nuclear physics or anything. I call that my Eddie Johnson rule. I always remember telling Eddie, one of the great shooters: He was saying, €˜Well, I'm really struggling shooting the ball, I'm just not hitting.' I said, €˜Well, no with the kind of shots you are taking it's amazing you are hitting as many as you are. Quit taking tough shots, and make sure you are getting open shots, the percentages will come up.'
So, there was a little bit of that.
I think with Buddy, like almost all players in the world, with the possible exception of Curry, [Damian] Lillard and a few of the true greats, they don't shoot as well off the dribble. It's tougher to do as opposed to spot shooting, or maybe one-bounce escape dribble. Buddy is great, absolutely great at that, much like Mitch Richmond was. Mitch was the same thing, if Mitch took more than four or five dribbles, mostly bad things were going to happen.
Anyway, style of play was a big part of it and Buddy's own thinking he could make every shot, all of that played into it. And I think the benching brought it to a head and settled him down a little bit and he, for the most part, was awfully good since then.
How important is it for this team for Fox to be willing and able to take over in the fourth quarter like we saw a lot after the All-Star break?
For this team to be really good, he has to be really good and he has to be the facilitator, the leader, the driver and I think most of the last 20 or 30 games we saw a lot of that, not all the time. You certainly see the potential for him to do that and do it better. I think his playmaking still is a work in progress to be honest. He can get to places on the floor and I think his offense is getting close. I think he can be a better assist guy €" I think he can be a 20 and 10 guy in a reasonable timeframe. He has got to be the guy because I think he can be a top-5 point guard in the world and if he is, this team has a chance to have a lot of success.
You mentioned how Fox needs to improve in the leadership department. What have you seen from him that makes you say that?
I thought he made good strides, especially the second half of the year. He was going after the ball, demanding it, making plays for himself and others at a more regular rate. Maybe even being a little bit hungry offensively, which I think is good in today's game. Point guards have got to score. So, he forced the action a little bit. To me, where I think he needs to get a little better, and everybody can't be Chris Paul, but probably needs to challenge his teammates a little more, direct them a little bit more. I think that will come. I think it's pretty clear to his teammates that he's the guy, and that's a big step. I think that was established this year. That will make it easier for him to kind of go down that road. €¦ He needs a little meaner streak in him. He's such a nice kid and there's nothing wrong with that, but the ball goes up you've just got to leave that behind. You can have group hugs after the game and before the game, but I think he really needs to get into guys. We've seen him do it against Ja Morant and different guys maybe he sees as somebody he needs to take on, he's done that.
Walton said this week that he likes the idea of giving Barnes more minutes at the four. Do you like that idea?
I completely agree with Luke. I think you need to play him at four in today's game. With [Kent] Bazemore or with Bogi or Buddy playing the wings, I mean if you've got four three-point shooters on the floor, it's really tough to cover. And then, add in that he might be the best post-up guy the Kings have. At some point you actually do need to post up somebody and I think Harrison is pretty good in there. He's big enough to make it tough on small forwards and then he's quick enough and agile enough on most power forwards to be a problem, so yeah I like that idea.
***
Thanks again to Jerry for joining us. And make sure you check out his podcast, The Jerry Reynolds Show.