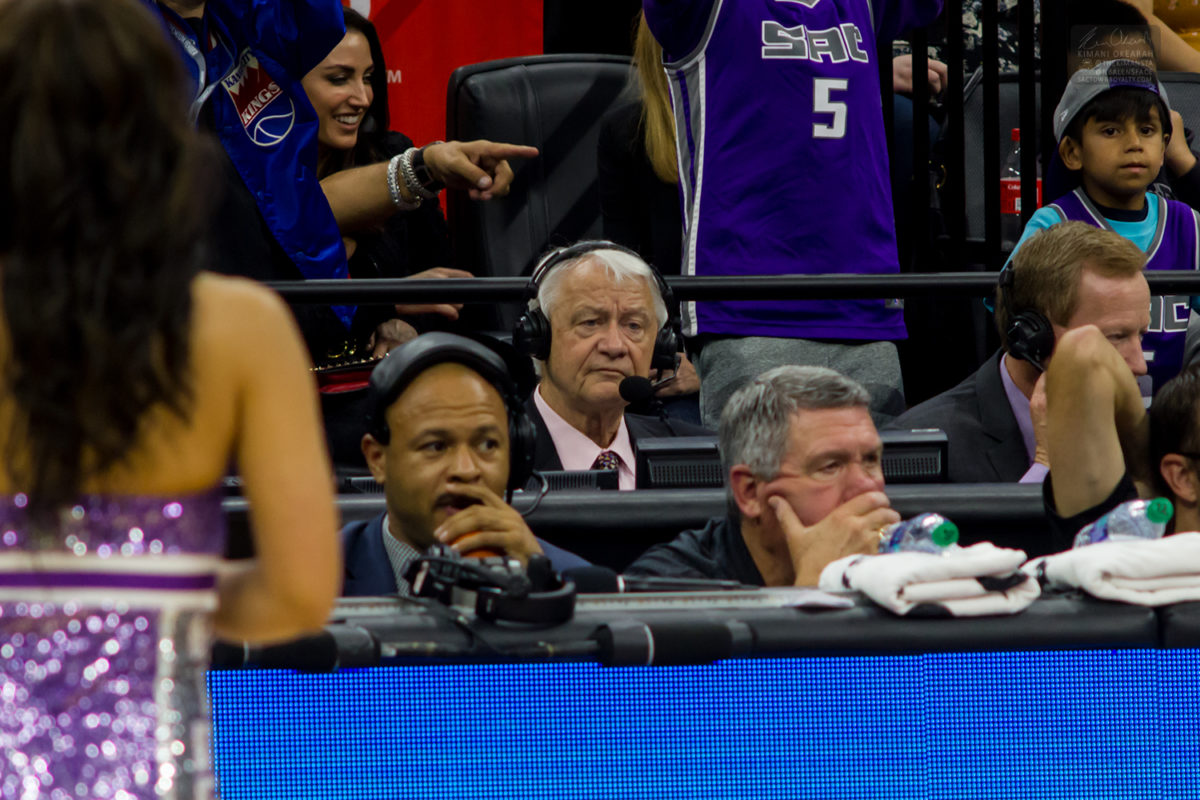 The night was already a little bit off. The NBC Sports team told Jerry Reynolds they wanted him to go to the studio in the Bay Area for the broadcast of the Sacramento Kings v. New Orleans Pelicans game on March 11. NBC Sports didn't want him to do the pre- and post-game show in the concourse because of the threat of the coronavirus and the close interaction with fans.
This was tough on Reynolds because, €œthe best thing I can say about the show, in most cases, is getting to spend time with the fans,€ he said.
Reynolds obliged and headed to the Bay Area studio for the broadcast. He was fully expecting the game to be played, but was aware that it was probably going to be the last game before the season was called off. The news had already begun trickling out that the NBA was taking action to try halt the spread of the virus, and Reynolds was somewhat perplexed as to why the Kings game was still planned to be played after the announcement came in that the season was expected to be stopped after the two evening games.
€œI think most of us didn't quite understand the rationale behind that. If you called off the season, why not call off those two games too?€ he said.
Before they went on air they had heard the game in Oklahoma City had been cancelled and Reynolds credits Sam Amick of The Athletic for bringing up the connection between a referee at the Kings game that had called a game a Utah Jazz game a few days prior that (which was alarming due to Rudy Gobert's coronavirus diagnosis). This resulted in the Kings game being canceled.
For those who weren't too concerned about the virus yet, the cancellation of the NBA season set off alarm bells throughout the country about its seriousness.
Reynolds has been doing everything he can to stay healthy, but like many, he misses sports. He was kind enough to join us to chat about the Kings season. Below is part one of the interview that focuses mainly on the team as a whole. On Friday, we will share part two that discusses many of the players individually.
Let's just say for the sake of argument that the season is officially over. What are your biggest takeaways?
If I had to say one thing it would probably be disappointment. I fully expected the team to start off much better and obviously, it was just a terrible start to the season, which just took away so much excitement and hope that we all had right away. Certainly, we saw some real positive things jump out there like Richaun Holmes' play €" it was just something I don't think a lot of people expected. I knew he was going be better than people thought, but I didn't know he was going to be that good.
Then, the early injuries to Marvin Bagley and De'Aaron Fox, and I'm not one to whine about injuries because everybody has them, but did it help the Kings? Of course not. Was it the reason for their poor start? I don't believe so for a second. Toronto has had more injuries than anybody and look at them, and they lost two of their key guys before the season to other teams. €¦ So, I was very disappointed in how the team started, and the style of play. I really didn't like any of it.
As the year went along you saw things, in my mind that wasn't very effective. The overall defense was not really improved for a long time, if ever. Offensively, it was a step back so I was disappointed in that. Now, having said all that, I think Coach [Luke] Walton, to his credit, made a lineup change moving Buddy [Hield] to the reserve role and Bogi [Bogdan Bogdanovic] back as a starter, and then started to get some really good play out of [Nemanja] Bejilica during that time. So, the team started playing closer to its ability and then sadly probably the last 20 games before the end, was playing terrific. It was really a good team.
You touched on it there, but what do you make of their improvement after the All-Star break? Obviously, the trade that brought Alex Len and Kent Bazemore here had an impact.
There's always several factors. I think as you hit on, I definitely thought the Bazemore and Len additions made a huge difference, Bazemore maybe even more so. The day he arrived the team got better because of the way he was playing. He gave them that defensive presence and wild enthusiasm flying all over the floor that they didn't have, and honestly, he was a better version of [Iman] Shumpert the year before. And then Len, in a way, was a throw in on the deal with [Jabari] Parker, but he gave consistent rim protection. Holmes wasn't able to play; he provided rim protection and size and toughness that Harry Giles is just not big enough to do. So, you simply just got better with those two guys and in my mind, their bench became one of the best benches in the league. In many games, the bench was better than the starters so that's a plus, and I would credit Luke Walton a good deal on this because he was very comfortable not only playing the bench, but staying with them. Even though Buddy wasn't happy with being moved to a reserve role, and good players shouldn't be, he started playing like Buddy buckets that we saw all of last year.
And then third, and most importantly, De'Aaron Fox started playing like a young star-type point guard and I thought showed a good bit of leadership €" I still think there's quite a bit of room to grow there, by the way. And I think coach Walton to his credit, allowed De'Aaron to push it and all the sudden the team got to playing at a pace that probably fit them better. In my mind, there's never a downside to playing fast because if the worst thing that happens is you don't get a good shot in transition, you're setting up your offense 4 or 5 seconds faster, which I€˜ve always thought I don't see a downside to that either.
Luke Walton said early in the season that the team had to learn how to play in the half court and learn how to play like a team that can win in the playoffs once they get there. That was his reasoning for not playing with pace. What was your point of view on that?
I understood part of it, and totally didn't understand the other part of it. The part I understood and totally agree with him is that the team needed to become better in the half court because I think most of us understand that if you're going to be a good team down the stretch of games you have to be effective in the half court. You don't get to just fly up and down the court all the time; the opposition has something to do with that and the game gets more physical in the end, it always has. So you have to be able to execute in the half court if you're going to win close games and certainly if you get to the playoffs...
What I didn't agree with, I'm not quite sure how much better the half-court offense is. I mean it's one thing to say that, it's kind of like saying we're going to focus on defense, but if you aren't stopping people any better then it's just words, and so we saw a little bit of that. Where I did disagree with coach is not understanding that the team had had a lot of success playing fast last year. I agree that doing exactly what the team did last year would make no sense because it sort of did flame out and teams in the league adjusted, and also the team's half-court offense just wasn't good enough as the season went on. I totally agree with his thinking process, but I wasn't seeing the results to be honest. Had they maybe came out of the gate and decided they were really going to push it and play fast while they worked on the half-court offense and defense I think success might have come earlier.
Do you think if the season had continued and the Kings had kept playing the way they were that they would have made the playoffs?
I think they had a great chance. And I know a lot of the fans will say, 'well you're just being a homer,' of course I'm a homer, but I do believe that. I think they were playing better at that time than Memphis or New Orleans. New Orleans would have been the team that scared me more than anybody because I think they might be more talented even though they're much younger. And then, you can't discount Portland because of Damian Lillard. Having said all of that, getting to 38, maybe 39 wins would have got you in the playoffs and I thought the Kings had a chance to get there. They also had a chance to get the tie breakers, which my feeling was that it probably would have come down to that. I think the Kings were 7-3 over their last 10 and that was better than any of the other teams. So, was it homerism? Sure, to some degree, but I think it's also based on the most important analytic €" that's called wins and losses in the last 10.
Where are you on the decision to not draft Luka Doncic? Obviously, it looks like Luka was the better pick, what do you think of the decision process there with Vlade Divac taking Marvin Bagley over him?
Well, there's no doubt that if he could do it over again he would do it over again, I think. It was one of those things, I didn't know enough about the draft at that time, just what little I had seen of Luka, a few highlights and games, and then Bagley, or Deandre Ayton, or Trae Young, or whoever. I was one to say, €˜well Vlade and Peja [Stojaković] would probably have a better feel of this than I would for sure and if they think that Bagley is the better prospect then I'm OK with it.'
I guess my initial feeling before the draft was I thought Luka seemed like maybe the sure pick of all of them because my own feeling is that Europe is so much better than the college game, and I think a lot of fans still haven't quite understood that. The top European teams are just way better than North Carolina, Duke and Kentucky and those teams. So, when a guy is maybe the best player in that league and the MVP, that puts his stock pretty high as opposed to 30 or 40 years ago North Carolina, Duke or Kentucky would have went over to Europe and kicked the shit out of the European teams, and now it's just the opposite.
What do you think needs to happen to make this team better over the offseason, whenever the season begins?
The first thing you have to do is keep the players you want to keep. At the end of the season let's say you end strong, but you don't get there then you don't want to cop-out and say you had a great year, you didn't because you needed to make the playoffs. That doesn't mean many of the players on your roster couldn't be part of a playoff team, an important part. Having said that, there may be some guys you'd say maybe they played roles this season, but we need to get better and this might not do it by keeping this particular player or if we can make trades, whatever. I think the roster as such is not quite good enough. €¦. I would be looking at the draft pick, a player, or two and think trade more than draft. Think trade, free agency, any way you can get a player, or players, that you think you can plug in and make you better, that's what you better do. I think the least thing this team needs is another 19-year-old guy who is not ready to help you play and win. It would be different if this was a proven veteran team like the Kings of early 2000s and you can have a Gerald Wallace who is really good and probably needs to play, but not quite good enough. This team needs to be a playoff team, so whatever it takes to get in the playoffs. I know a lot of fans are excited about the next 19-year-old guy, but in my mind, some 25-year-old guy that's proven he can really play, last time I checked that should work just fine.
***
You can catch Jerry on his podcast The Jerry Reynolds Show. He says he has an episode coming out soon with Whitey Gleason.
We will be posting the second part of our interview with Jerry on Friday.