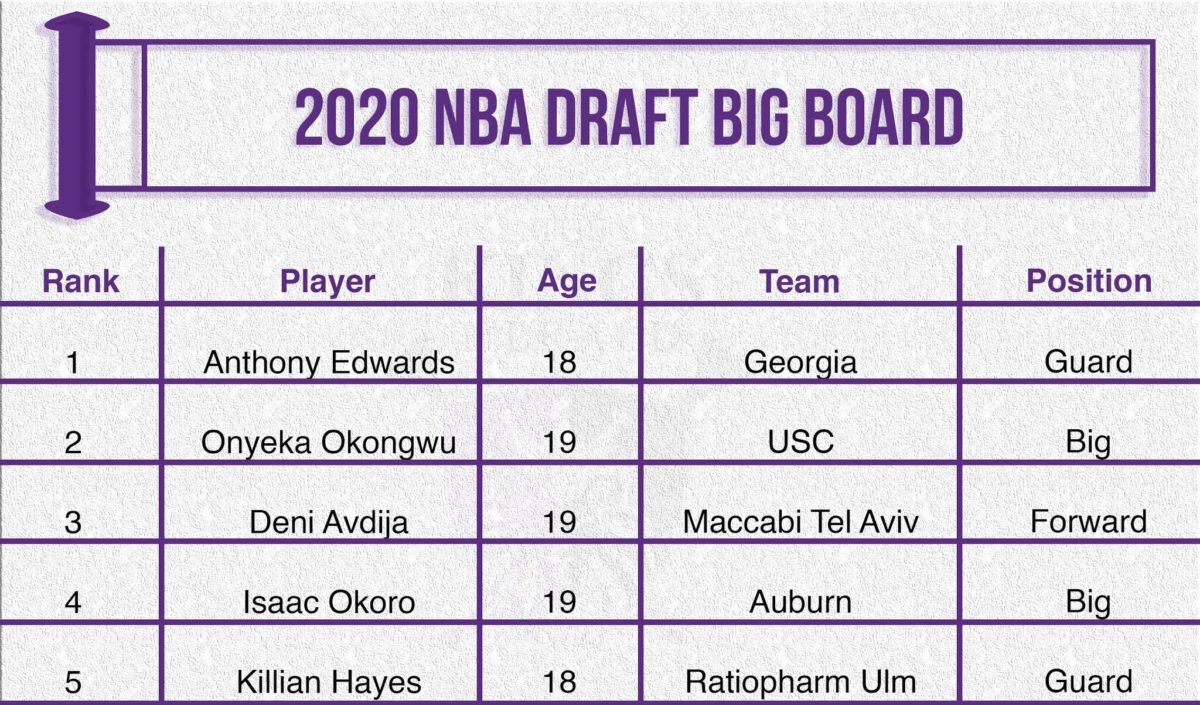 Welcome to the weirdest NBA draft in a decade! We don't know when the draft will take place, what the draft order will be, or how teams will change their drafting strategies based on the recently implemented interview and scouting guidelines. But this was a weird draft even before the world was turned upside down; the potential 2020 class lacks any clear-cut franchise players, and every prospect in the lottery of my rankings has a ton of question marks.
Back in January, Jeff Goodman quoted an NBA GM saying that the top of this year's NBA Draft €œcould be 2013 all over again.€ This is an excellent analogy; the top of the 2013 draft was messy, and a lot of the lottery teams didn't end up with the impact players they were hoping for (side note - I had Ben McLemore No. 3 overall in that draft, behind Nerlens Noels. You sure you wanna keep reading?). But even if the top of the 2013 draft was considered underwhelming, the class still gave us Victor Oladipo, Otto Porter Jr., C.J. McCollum, Steven Adams, Rudy Gobert, Dennis Schröder, Kentavious Caldwell-Pope, André Roberson€¦ and Giannis Antetokounmpo. Every draft gives the league talent, and it's up to the smart teams to find those talented players.
Anthony Edwards, my top ranked prospect, would have been 4th on my Big Board in 2019, (behind Zion Williamson, Ja Morant, and Jarrett Culver), 6th in 2018 (behind Luka Doncic, Deandre Ayton, Jaren Jackson Jr., Marvin Bagley, and Michael Porter Jr.), and probably 8th or so in 2017(...let's never talk about my rankings for that class). But just like 2013, in five seasons or so, we'll be highlighting a good handful of dudes who'll make real impacts in the league. And to find diamonds in the rough in a rough draft class, especially with the new interview rules and slightly less tape than normal, teams will have to make sure their scouting departments and front offices have done their homework. Considering the Kings have four selections€"their 1st and 2nd, and Detroit and Miami's 2nd round picks€"let's hope they are up to the challenge.
I've listed two sets of rankings for my Big Board: a Kings-Centric (KC) ranking, and an Overall (OV) ranking. These rankings aren't meant to be massively different, especially in this class. The Kings should draft the best player available (BPA) at each of their four picks and be done with it. Sacramento isn't at a point in their rebuild to get overly concerned with fit, beyond one obvious exception; De'Aaron Fox is the franchise point guard, and it would be best if any selected player could clearly complement him. This complement discussion will get much more complex if the Kings jump into the top 4 post-lottery (the shifted lottery odds mean any lottery team could jump into the top 4), where there are a ton of primary initiators who are defensively locked as guards€¦ but outside of €œmaybe don't take a pure point guard,€ the Kings don't need to overthink fit. Any differences between my Kings-Centric and Overall rankings are therefore focused only on €œhow does this player complement De'Aaron Fox,€ and nothing else.
With no live sports to distract and my initial order set, I'm planning on watching a backlog of missed games, especially for the players in my Watch List, who I haven't seen enough (or at all) to provide honest opinions on. Given that, this initial ranking will likely see major shifts between now and Draft day.
The Kings Herald 2020 NBA Draft Rankings 1.0
KC
OV
Name
P
School
HT
TIER 1

1

1

Anthony Edwards

G

Georgia

6'5

Beefy combo guard with tons of explosiveness and scoring upside. He proved he could hit absurdly difficult shots against double and triple teams while also flashing some exceptional passing skills. Comes with real efficiency and decision making concerns, but he was playing on a really bad Bulldogs roster.

TIER 2

2

2

Onyeka Okongwu

F

USC

6'9

High-motor, high-ceiling big with talents across the board; he's got great touch, multiple ways of scoring, solid rim protection skills, the ability to defend in space, and€"just maybe€"a hidden shooting ability. I started the season thinking he was severely overhyped, but I'm all in on his upside now.

3

4

Deni Avdija

F

Maccabi Tel Aviv, Israel

6'8

High IQ wing with a non-stop motor on both ends. His shot selection and decision making instincts aren't great, but he's an extremely capable and crafty playmaker and is learning to play off the ball. If I trusted his shot, he'd be in contention for #1.

4

6

Isaac Okoro

F

Auburn

6'6

My 2020 Draft Crush. Okoro is a tremendous defender, an underrated driver, a very talented passer... and a terrible shooter. In the modern NBA, that shooting weakness could render the rest of his game significantly less effective, but in a class of uncertainty, I'd bet heavily on his motor and upside.

5

5

Killian Hayes

G

Ratiopharm Ulm

6'6

Crafty high-IQ guard with excellent passing instincts. He's not an amazing athlete, but his handle and change-of-pace skills are excellent. His shooting form is worrying, but he started hitting off-the-dribble shots at an alarming rate and his free throw rate hints that he'll become a solid deep shooter with work. He could be an exceptional secondary initiator fit next to Fox.

6

7

James Wiseman

C

Memphis

6'11

Tough to get too much out of his 3-game season; he had some great moments and more real ugly ones. His toolset gives him a high ceiling, but his decision making across those three games hinted at a real low floor. He's the riskiest pick on this board, but given this class, that's not saying much.

7

9

Devin Vassell

G

Florida State

6'5

The premier 3-and-D player in the class. Excellent shooting touch, both on the catch and off-the-dribble. He proved to be a top-notch team defender and a pesky on-ball defender on a switch-dependent team. Less-than-ideal athletic tools and needs to add weight, but he's got great length.

8

11

Tyrese Haliburton

G

Iowa State

6'5

The super skinny Cyclone is an elite passer with excellent basketball instincts and proven (if funky) shooting talents. I think he'll be best served as a secondary initiator at the NBA level: I'm high on him for Sacramento because his off-ball ability and spot-up shot makes him a real fit next to Fox. Needs to get significantly stronger.

9

12

Obi Toppin

F

Dayton

6'9

The best offensive big in the class; above-average shooter, explosive dunker, great touch in the paint, good vision, and capable driver (although his dribble and footspeed remain weaknesses). Not confident on what he can do defensively in the NBA, and he is 22 years old already. The biggest negative; why go by Obi when Obadiah is such a badass name?

10

10

Tyrese Maxey

G

Kentucky

6'3

Combo guard in the body of a point guard who often channels Marcus Smart-level energy on defense. His shooting fluctuated through the year and finished at just 29% from deep, but also hit 39% of his off-the-dribble shots; one of many indicators that he shot might be real. He's an excellent, crafty driver with great explosiveness and strength, and is far and away the most determined guard defender in the lottery.

11

8

Cole Anthony

G

UNC

6'3

His mid-season injury and terrible Tar Heels team have made him underrated. He's a gifted shooter who will be unlocked with better teammates and NBA spacing. Not confident about his defensive translation, though.

12

3

LaMelo Ball

G

Illawarra Hawks, NBL

6'7

I'm almost certainly too low on him overall€"he's got as much touch and bball IQ as anyone in the class€"but he'd be a terrible fit in Sacramento. The guards above him can, to varying success, play off the ball... that's not who Ball is. That said, if the KIngs end up in his draft range, they should absolutely look into trading the pick. Hopefully he ends up in the right situation where he can thrive.

13

14

Jalen Smith

F

Maryland

6'10

If there's a player I'll miss on this year, it's Jalen€"I truly think he's a unicorn hiding in plain sight. He's a promising deep shooter (36.8% on 87 attempts), a good rim protector (3.0 blocks per 40), and one of the better rebounders in the Big 10. Needs to get stronger to handle bigs

and

get more flexible to handle switches.

TIER 3

14

15

RJ Hampton

G

New Zealand Breakers, NBL

6'5

Electric athlete with the length, size, and off- and on-ball skills to be a versatile NBA guard if he adds strength. Got to the rim with ease in his 15 NBL games, but his efficiency both at the basket and on his three point shot (29.5% on 3 attempts per game) needs work.

15

16

Saddiq Bey

F

Villanova

6'8

Bey proved to be an extremely efficient shooter this season, hitting 48.8% of the catch and 45% from three overall. He's also an active, strong defender (you better be when you play for Jay Wright), but he was better against forwards and struggled with smarter, faster guards.

16

18

Patrick Williams

F

Florida State

6'8

Promising project player with strong defensive instincts around the basket. Good vision on both ends of the court for an 18 year old, but I'm not as high on his scoring potential as the players above him. Not sure I buy him as a combo-forward on defense; he's much better in the paint than guarding the perimeter.

17

17

Aaron Nesmith

F

Vanderbilt

6'5

Nesmith was having an unbelievable shooting season before injuring his foot in January. He sank 52.2% of his 3 pointers, and was hitting them both off the catch and off the dribble; he showed he was willing to run the distance to get shots off. Not as sold on him as a defender or as a ball-mover.

18

13

Kira Lewis Jr.

G

Alabama

6'3

Kira flashes talent across the board; he's a promising spot-up shooter and a ballhawk on defense, and he made strides as a playmaker. If he improves his decision making and bulks up, he could sneakily end up a top player in the class, but I think he's a year away from being a contributor. Even if he only hits his floor, he'd be an absolute perfect backup to Fox.

19

19

Josh Green
G

Arizona

6'6

Potential 3-and-D player with quickness, explosiveness, and length (6-10 wingspan). Plays with effort on every moment. He's further along as a defender than as a scorer, and his ballhandling needs work to be more than a catch-and-shoot player, but he does flash some acrobatic, crafty finishes.

20

21

Killian Tillie

F

Gonzaga

6'10

Tillie has deserved a 1st round selection in each of the past few years, but leg injuries have kept him from turning pro. He's a top-tier big shooter (44% from deep in his four years at Gonzaga) and a high-IQ defender, but needs to get much stronger to handle NBA bigs. Here's hoping he can stay healthy€"he'd be in the lottery if not for those concerns.

21

20

Precious Achiuwa

F

Memphis

6'9

Combo big with a big-time motor and the quick, explosive athleticism to back it up. Has the defensive range to protect the rim and guard on the perimeter as his instincts improve. He's a terror in transition and earned buckets with his tools and determination, but lacks offensive versatility (30 assists in 943 minutes) or efficiency (53.4% TS%, 32.5% from three) to be worth a lottery pick.

Tier 4

22

22

Theo Maledon

G

LDLC ASVEL

6'5

Maledon has an impressive ability to get to the basket and has solid shooting percentages, but his decision-making instincts didn't wow me in the games I watched. In a class with a ton of combo guards, he's one I'm less sure on.

23

23

Jaden McDaniels

F

Washington

6'10

If McDaniels accepts a role as a 3-and-D player, he could end up much better than this ranking€"but at Washington, he showed himself to be an inefficient attacker who lacks explosiveness, decision-making skills, or shiftiness. Hoping he ends up somewhere that utilizes him, but I do not like his fit in Sacramento.

24

25

Tyler Bey

F

Colorado

6'7

Lanky, high-IQ player with an efficient jumper and three point shot, albeit on less than ideal volume. Quick, instinctual defender who generated a ton of disruptions (2.1 steals and 1.6 blocks per 40) with his enormous wingspan. Was 2nd in the Pac-12 for rebounds.

25

24

Xavier Tillman

F

Michigan State

6'8

Tillman is a beastly defender who makes up for his lack of height with insane strength and excellent instincts. He's also an excellent passer (18% assist rate) and can score at the rim against taller opponents thanks to solid touch, but he's not a shooter; he made just 20.9% of his jumpers in the halfcourt. He'll be a strong bench big for a smart team.

26

26

Devon Dotson

G

Kansas

6'2

Super smooth, electric-quick guard with excellent craftiness when he gets to the rim. Shooting numbers are underwhelming, but he improved as the year went on and his free throw success is a positive indicator. Determined ball-hawk on defense, if undersized.

27

28

Tre Jones

G

Duke

6'3

Exceptional point-of-attack defender who improved as a shooter this season (36% from deep, 40% on catch-and-shoot shots). Smart player across the board (7.2 assists per 40) who will likely be a high-end bench guard as long as he isn't expected to create his own shot.

28

27

Nico Mannion

G

Arizona

6'3

Crafty, high-IQ passer who will make an excellent backup PG as long as his deep shot€"which vanished in the latter part of the season€"proves to be real.

29

29

Isaiah Stewart

C

Washington

6'9

I'm in on Stewart, even if I dislike his collegiate situation. Almost half of his offense came from post-ups, and Washington's zone masked legit concerns about his ability to guard in space. Needs to prove he can be a modern, versatile scoring big AND not get played off the floor defensively. But Stewart is a beast, a dude with a non-stop motor and the size to hopefully become a solid 3rd big if his shot is real.

30

30

Vernon Carey Jr.

C

Duke

6'10

Much like Stewart, Carey's role in the NBA will hopefully be massively different than the one he played at Duke, where he was primarily a post-up player (45% of his attempts). But at his worst, he'll provide strong rebounding and a big-body in the PnR, even if his vertical athleticism is hampered by his sheer size (270 lbs).
On my Watch List:
Aleksej Pokusevski, Big, Olympiacos B (Serbia); Daniel Oturu, Big, Minnesota; Desmond Bane, Wing, TCU; Grant Riller, Point, Charleston; Jahmi'us Ramsey, Guard, Texas Tech; Jordan Nwora, Louisville; Leandro Bolmaro, Wing, Barcelona; Malachi Flynn, Point, San Diego State; Paul Reed, Big, DePaul; Tyrell Terry, Guard, Stanford; Zeke Nnaji, Big, Arizona