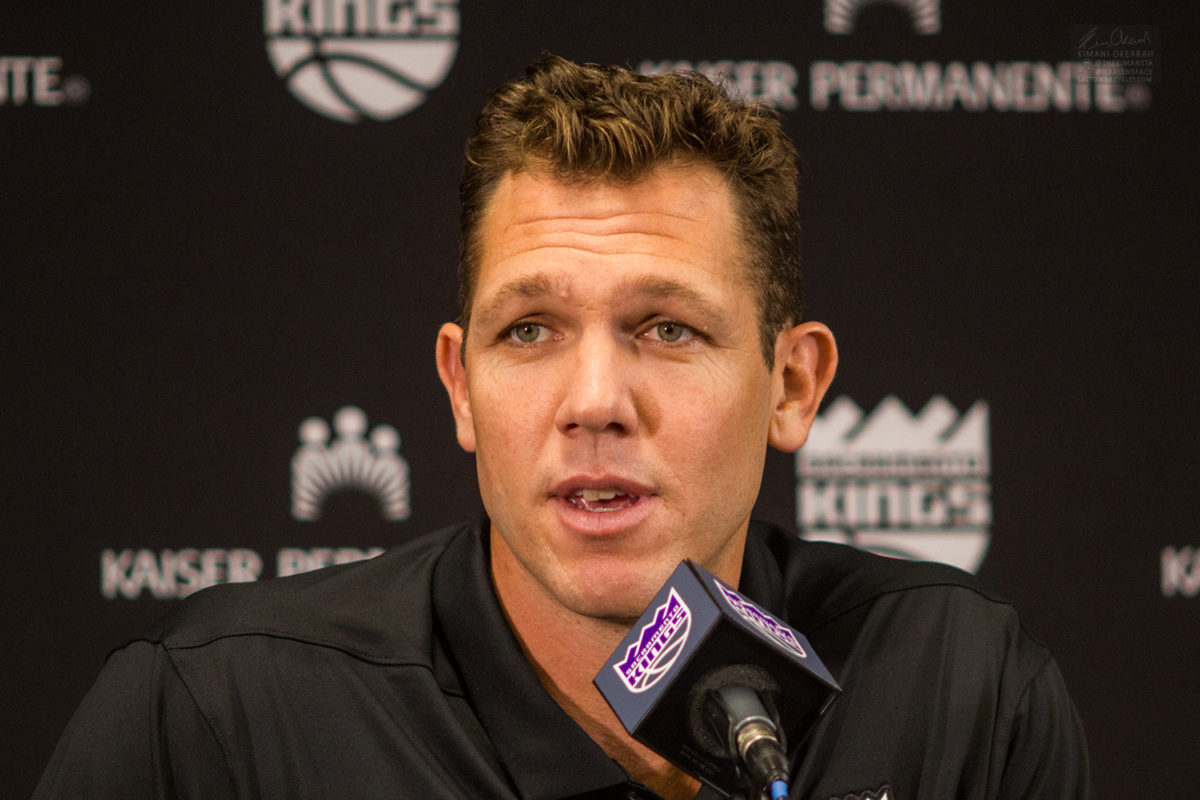 Sacramento Kings head coach Luke Walton held a conference call with local and national media Wednesday. He discussed how the players are managing the COVID-19 crisis, what he thought of the season up until this point, provided an update on Marvin Bagley, discussed what he has noticed on film and more.
Below are some excerpts from the call.
On COVID-19:
According to Walton, the coaching staff is staying in constant communication with the players. There's not a whole lot the players can do other than get some shots up on their own hoops because of social distancing, but the trainers are sending them the equipment they need to stay in shape. They also have access to online workouts and yoga classes on Zoom.
Walton said he is proud of what all of the players are doing to help out in communities.
The NBA is having calls with coaches and GMs. Walton said the league is looking into every possible option to play again, but that €œthere's not an answer yet.€
What He Has Seen While Watching Kings Film:
"I was really pleased with the way we were playing over the last 20, 25 games. €¦ We were really starting to play some consistent basketball, where we were just going out and playing and defending and just playing the way we want to play. Guys were understanding each other and knowing and playing off each other, and you could see it in these games. So, there was some really exciting stuff to continue to build on and there's some stuff that we want to continue to try more €" five-out actions with some of our smaller lineups that we were getting to. Having De'Aaron [Fox] back and having him play at the level he was playing at, running some more of the pistol actions and continuing to get Harrison [Barnes] some more looks at the four. Little things like that, that's been exciting to go back and watch.€
On Why the Team Was Playing Well Down the Stretch:
"We were playing some pretty high-level basketball as far as a team that is embracing what it needs to do. What I mean by that is individuals understanding their roles, individuals understanding what we need out of them and then those individuals making sacrifices for the betterment of the team. I think that's why we were winning games at a pretty solid rate there toward the end."
"Alex [Len] and Baze [Kent Bazemore] coming over really brought some toughness, some physicality that we need and the defensive level that was being played. And then a big part was having De'Aaron get going like that, he was starting to get to the free throw line consistently and the last the few games I think he was shooting up around, I know it's a small sample size, but he was shooting around 90 percent from the free throw line those last few games. If he can get there eight times a night, that's going to be helpful."
"Buddy [Hield] was really dominating his role for us coming off the bench. Bogi [Bogdan Bogdanovic] in the starting lineup was making nice basketball plays. So, we had a lot of good positive things going for us as a team. We were excited, we were looking forward to every matchup we were playing and our guys were giving it their all."
An Update on the Health of Marvin Bagley:
"Marvin is doing great, he's feeling much better. €¦ He feels much better and he's been asking for film clips and we've been sending him videos to study and he's excited about playing ball again."
On monitoring his rehabilitation: "A lot of my talks with Marvin are more along the lines of how he's doing, how he's feeling mentally, emotionally. I leave the specifics of the details of what he's doing rehab wise to the medical staff, but he's doing a great job of practicing his social distancing and staying safe and staying with his family and for him, he's got some brothers so he can get out in the backyard and play a little bit more than just get shots up. But he says that he's in a really good place and his body is feeling good and he's looking forward to being able to play ball again."
On if the season were started now, would he be cleared to practice and play and if he would have any way to know that: "No, I mean there's stages he'd have to go through just like if we were in a normal part of the season. We'd have to get him out there to do some three-on-three, some five-on-five and all that first. And then again, that would come down to the medical staff."
On the Team's Three-Point Shooting:
"I thought we've done a nice job all season of understanding the concept of how we want to play with that and the big difference I think is as the season went on we started to get a better feel for the type of three-point shots we wanted, not just about shooting a lot of threes. We want to continue to attack the paint, continue to get inside and then kick the ball out for threes. I think as we understood that more and understood each other as a team more, we did a much better job of getting the type of threes we wanted and because of that our three-point numbers started going up and by the end of the stretch that we are at, we were shooting the lights out of the ball. It was pretty much every single night, but because we were playing unselfish, we were playing as a team, we were playing aggressive I think is why those numbers were so high and so impressive toward the end there."
On How Close They Were To Achieving Consistent Winning/Play:
"It's tough to measure, but I can tell you this: The way we were playing is where we were trying to get to and once you get to that level, you'll still have winning streaks and you'll have losing streaks, but they won't be as drastic as what was going on earlier in the season.€
€œWatching those games and just feeling those games before this hiatus I could feel and see that we had gotten to the consistency part that I was constantly talking about."
***
From what Walton said, the team and the league in general is putting the safety and health of everyone first instead of rushing back into things, which is obviously the right thing to do. It is new territory for everyone in the world and certainly creates a new dynamic for players and coaching staffs.