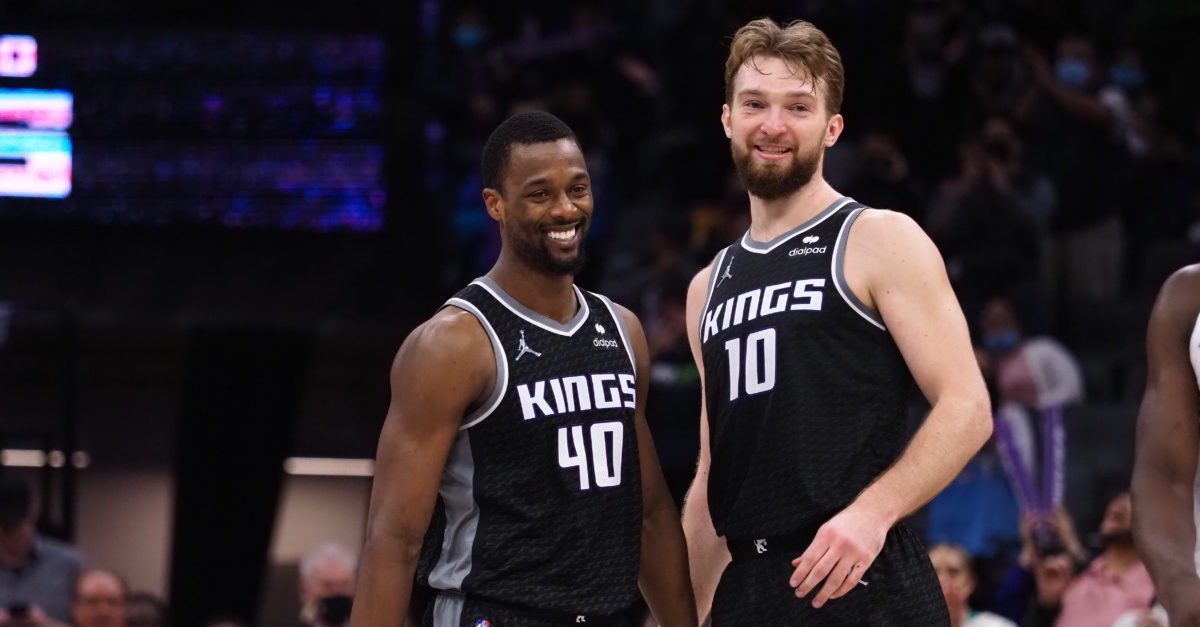 The Sacramento Kings have a two-time All-Star on the roster, and it definitely showed Wednesday night in front of an excited Sacramento crowd. In Domantas Sabonis' first game in a Kings uniform, he finished with 22 points, 14 rebounds, 5 assists and 1 steal.
His physicality, foot work, rebounding and passing all were on display, and it helped lead the Kings to a 132-119 win over a good Minnesota Timberwolves team. Without even a practice with his team, Sabonis showed all that he can bring to the team to help De'Aaron Fox shine. What stood out the most was his passing though. The Kings finished with 32 assists and passing is one of the key things he wants Kings fans to know he plans to bring.
"We're going to play hard, we're going to share the ball. Today was a great example. We showed up 10 minutes before, did a little shoot around, coach showed us some plays, but you can see where this is going. The passing is contagious and that's where the fun happens," he said.
That is fun, isn't it?
"A lot of teams can guard the first possession, one stop, two stops, but if the ball keeps moving it's hard to stop," Sabonis said. "I kept telling Justin [Holiday] and Jeremy [Lamb] it's contagious, let's just play our game and everyone is going to keep passing the ball and I feel like it showed today, we had 32 assists so it was just a lot of fun out there."
Fox finished with 27 points, 8 rebounds, 3 assists and 2 blocks alongside his new teammate. Sabonis said Fox's game suits him well and vice versa.
"It's great having a talented guy like that with his [Fox] speed, his finishing, his playmaking. It's going to make my job a lot easier and hopefully I can make his job a lot easier too. That's the goal to make everybody better around us," he said.
That is pretty fun too, isn't it?
As for how he feels about being in Sacramento: "I feel like this is a fresh start for me. It's going to be exciting. We want to be here, I want to be here. The fans were amazing tonight," he said "Just trying to find a home where I'm loved. I want to come out and compete every day, and I feel like I found it here. I love it here and I just want to keep playing and getting wins."
Kings fans are loving what they saw also, and you felt it in the crowd Wednesday night.
"That was like one of the old Arco [Arena] crowds. I thought the fans were unbelievable, I thought they were very much into the game," said interim head coach Alvin Gentry.