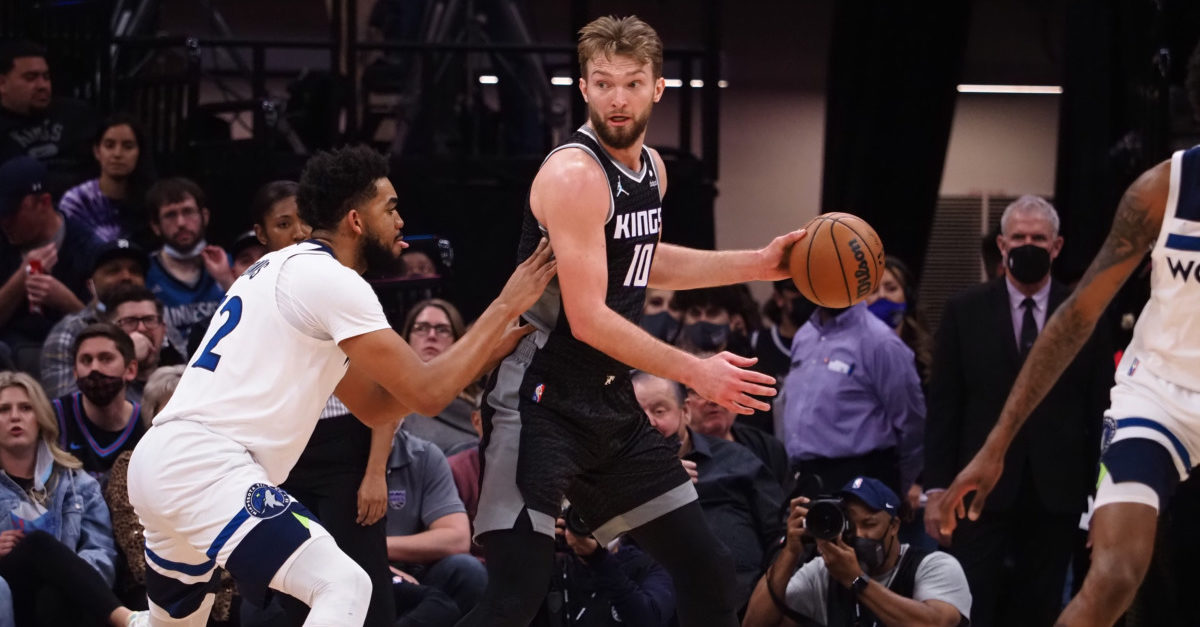 This game started as expected and like a game with two new starters. Turnovers, miscues, new starting shooting guard Justin Holiday needing to just chill a bit. Minnesota took advantage of some of that chaos, drawing free throws galore early on, in route to opening up a 13 point lead 8 minutes into the first quarter. D'Angelo Russell and Anthony Edwards each had 11 - 22 of the Wolves first 29 points. On the other side of things, Chimezie Metu proved early why a guy like new Kings center Domas Sabonis can be so damn valuable - Metu had 8 quick early points, with half coming from assists from his new front court partner. A Jeremy Lamb triple led to a Chris Finch technical foul and a Lamb made free throw to cut it the Wolves lead to 7 with a minute left and a Metu buzzer beater tip in kept the Wolves lead at six after 1: 37-31.
Fox came out aggressive in the second quarter and a Domas Dime to Harrison Barnes cut the Wolves lead to 2 with 9 minutes and the ensuing possession saw Barnes hit a three to take their first lead of the game. The Kings wound up going on a 14-3 run to take a four point lead with so great passing leading to open shots all over the place. 15 of the first 19 buckets for the Kings were assisted and … I mean, wow. That's fun. The defense was still messy as hell, but… the offense was already flashing that potential. The Wolves took the lead back half way through the quarter, then the Kings wrested it back. It was sloppy and chippy (especially between KAT and the Ox) but it was legitimately fun to watch on the offensive end. The Kings wound up scoring 42 points in the second quarter, taking a 7 point lead into half.
Highlights of the First Half:
Fox: 15 points, 2/3 from 3
Barnes: 18 points, 4-5 fg, 3-3 3fg.
Sabonis: 10 points, 6 rebounds, 5 assists. 5-10 fg.
Anthony Edwards: 20 points, 7-14 fg.
The third quarter started as the D'Angelo Russell show, with him scoring 8 points in the first four minutes and 13 before the half way point, dragging his team back into this game. With this being his first start at center for the Kings, Sabonis got his very Sacramento welcome - getting an elbow in the damn face, causing a small laceration under his eye and forcing him to sit for a stretch. Minnesota took the lead back on their 14th three of the evening with 6:18 left in the third. The next few minutes was back and forth basketball with Minny never getting ahead by more than 5 and Sacramento never getting closer than 2. Minny took a 102-97 lead on another Russell three (his 7th in 11 tries) that was quickly followed by a Fox lay up. After three quarters - 102 to 99.
Sabonis returned to start the 4th quarter and immediately went to work: hitting free throws and a nifty layup on back to back possessions. Davion Mitchell followed that up with a three to retake the lead at 106-105 and from there on out it was lead changes and ties, score and answer. At the half way mark of the 4th the score remained knotted up at 110 a piece. A Barnes layup, followed by a terrible missed call on a Fox fast break lead to a KAT layup and technical free throw and wouldn't you know it but, Minny had the lead. With less than 4 minutes to play, the Golden 1 Center errupted after a Fox outlet lead to an emphatic Davion Mitchell slam to take back the lead followed up immediately by a Fox fast break layup to put the Kings up four points. A Sabonis tip-in off of a missed Fox floater pushed the run to 7-0 and a Barnes three on the subsequent possession pushed the lead to 9 and the run to 10-0 with 1:55 left to play. From there on out it was playing keep away and the Kings got it done!
The Good, The Bad, & The Ugly
THE GOOD
Chimezie Metu's 1st Quarter Heroics: The kid was everywhere in the first quarter and keeping the Kings afloat while they found their footing with 12 points on 6/7 shooting! He ended up with 13 in 25 minutes, but the Kings don't win tonight if he doesn't take his opportunities and run with them.
The New Guys Are Here: Jeremy Lamb hit his first two threes before airballing his third and ended up with 14 points in 30 minutes. Justin Holiday shot just 2-11 from the field and had 5 turnovers, but someone had to be the one to struggle in their first game. Here we go, everyone!
Harrison Barnes Rejuvenated: This trade is going to really open up some opportunity for Barnes to score (if he isn't traded in the next 16 hours). The man scored 30 points and grabbed 8 boards, shooting 8-11 from the field and 4-5 from deep. Yo
Bench Benched: Last night the Timberwolves bench score SEVENTY TWO points, outscoring Sacramento's by FORTY. Tonight? Sacramento's bench scored an identical 32 points but held the Wolves bench to just 22. That's a massive turnaround and a big reason the Kings were able to come out with a victory.
So Pass-é: If this game is any indication of what life is like with this new group, we're going to see a TON off assists generated for the rest of this season. Seven players had at least 3 assists for the Kings and Davion Mitchell led the way with 7 and the Kings ended up with 32 assists on 48 made field goals.
THE BAD
Two Quick Fouls For Fox: Fox wound up scoreless in the first and played only four minutes because of some quick fouls. Again, every single thing I write tonight is with grains of salt sprinkled on top, but the Kings are going to have to turn around some victories quick if Monte McNair's 10th seed dream is to be realized. The Kings aren't deep enough or talented enough yet to withstand long stretches of Fox not being his best. He wound up with 27 points, 8 rebounds and shooting 10-20 from the field so all is well that ends well!
Richaun Gone?: Richaun Holmes played just 2:20 in the first half and 11:36 overall. Not sure if that was matchups or trying to get the new guys acclimated but… yeah he might be out of a Kings uniform this time tomorrow.
THE UGLY
3-point Barrage: The Timberwolves can shoot the hell out of the ball. D'Angelo Russell decided tonight was his night, starting the game 5-6 by the first few minutes in the 3rd. The team shot 46 over the course of the night and hit 16 so it didn't kill the Kings tonight. I'm curious to see how this defense unfolds in the coming days.
The King of Kings
I mean, why not give it to the new 1a addition to the Kings, Domas Sabonis. The man ended up with 22 points, 14 points and 5 assists and one really good shiner after an elbow to his face. The man's passing completely changes this team's offensive identity and everyone fed off of his energy, throwing that ball all over the place in some truly unselfish basketball. Game 1 was impressive. Let's see how it goes from here!
Operation: M.C.N.A.I.R. Watch
I mentioned this in the preview today but there's a newly five month old Sacramento-area resident named Cooper Crowe who has been diagnosed with ASXL3, and who I'm asking we donate on behalf of here!
The Kings won tonight, but I'm still donating tonight - the loss of Haliburton but not any loss by the Kings. If you do decide to donate tonight, please write-in that your donation is in honor of Cooper Crowe or The Crowe Family, and if you'd like to mention Operation:M.C.N.A.I.R. or Haliburton they have a separate notes section for that inclusion.
Again, if you've been holding off on giving a donation to the many good places we've been able to help - maybe this is the one tonight that you throw a little money their way. If not, we'll still be holding them for the next Kings loss, as well.