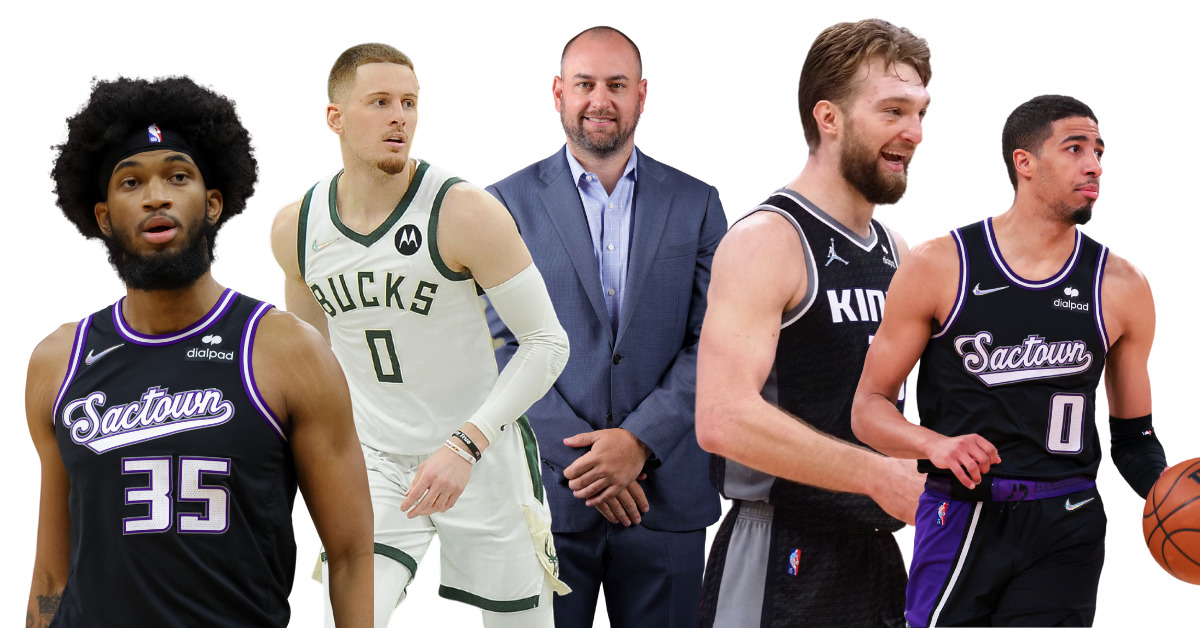 Over the last few days, Monte McNair finally took some action and overhauled the Sacramento Kings. Tyrese Haliburton, Buddy Hield, Marvin Bagley, Tristan Thompson, Jahmi'us Ramsey, and Robert Woodard are gone. Domantas Sabonis, Donte DiVincenzo, Justin Holiday, Jeremy Lamb, Josh Jackson, and Trey Lyles are here. In 48 hours, the Kings traded away or cut about 35% of their total minutes played this season, and some members of the crew have gathered together to share their thoughts regarding the last 48 hours or so.
Tim: B-
I'm having a really, really hard time processing this trade deadline. The Kings got better. They got rid of Buddy Hield, Marvin Bagley, and Tristan Thompson, three of the hardest players on the Kings to root for on any given night. Monte McNair managed to swing Marvin Bagley for actual value in Donte DiVincenzo. A couple of solid role-playing wings were acquired. Oh, and they added a freaking 25-year old All-Star and the best player on the Kings since DeMarcus Cousins who's making only $18 million per season.
They didn't give up any picks. They didn't add any long-term salary. They didn't force themselves to overpay for some aged veteran who isn't going to do shit. All positives all around.
All they had to do was sacrifice the brightest future star in their hold, Tyrese Haliburton. And that's why the struggle is real, and may or may not be real for others, depending on how far one thinks Tyrese Haliburton can go. Personally, I project him as a multi-time All-Star who leads the league in assists on multiple occasions and who continues to operate as a top-5 or top-10 three-point shooter in the league. That is a deadly combination, perhaps more deadly than Domantas Sabonis, or perhaps Hali never reaches that potential. No one freaking knows.
All of that taken into consideration, I'm giving the deadline a B-minus. That may seem a little harsh, but the Kings didn't trade Richaun Holmes, who hasn't looked engaged on the court, who hasn't been good on the court, who is too good and too highly paid to be a 15 minute per game backup, and whose value is only going to decrease between now and the draft due to him coming off of the bench. The Kings took a big swing on Domantas Sabonis, which is a high-risk, high-reward gamble when compared to Tyrese Haliburton's potential, and they added solid wings who may not be here next year or the year after. I appreciate the fact that the front office didn't totally screw up or make an obviously terrible trade, but that's also such a low bar to vault. The Kings got better, but this roster as currently assembled is probably an 8 – 10 seed in the Western Conference if given an entire season together. They have very little floor spacing, no rim protection, and they need another high-level talent to add next to De'Aaron Fox and Domantas Sabonis. There's a lot more to do.
Rob: B+ / C-
Two grades here. The B+ is based solely on the vision of this organization and the results of the trades through that lens. And through that lens, you cannot deny that the roster is more talented and more balanced than it was 48 hrs. ago. For as good as Tyrese Haliburton was at setting up his teammates, Domantas Sabonis appears to be a guy that will make all of his teammates, and from an entirely different area of the floor. His presence still allows Fox to play the 1.5, but Fox benefits more from Sabonis than Haliburton via the inside-out game. The passing can now go around or across the floor, out to in or in to out. Everyone benefits offensively. And Sabonis brings toughness to the floor as well. The cost was substantial, but so was the gain: a 25 yr. old player at a position of need in the top 10% of the league's talent on a friendly 2.3 yr. contract. I won't dwell on the sum of the other additions, but Holiday is a solid 1.3 yr. add (preferably off the bench), and the Kings get to kick the tires on The Notorious DDV, who would potentially be a nice 4th guard (behind Fox, legit shooting guard, and Mitchell).
There is still a mountain to climb to see this vision through. The Kings still need to add another top-end talent. It's a long shot that Barnes can be that guy, but not 100% out of the question? Rim protection is still an issue, especially until/unless Fox improves defensively. But the roster additions (and notable subtractions) make this team better than it was a few days ago. This is a team that could be a low 40s win team next year. Add a really good player and you're sniffing 50 wins and bypassing the play-in round. That would be truly exciting. Oh, and a really good head coach, please.
The C- is for the direction. I'm not sold on it yet (again, a lot more work to be done as this permutation of front office steams towards its third off-season. I would have been more inclined to sell off pretty much anyone but Hali and hit the reset button. I get why they didn't - the current front office would likely not last through the rebuild. This tradeline's deals make sense for the front office. I'm just not sure yet that they make sense for this organization three years from now. Time will tell and all that.
TL/DR: If your hope was that this team would be more fun to watch and a little better, I think you can unfurl the "Mission Accomplished" sign. If your hope is for a viable, 50 win team, there is still a ways to go.
Tony: C+
This is a tough one. I've been loudly disappointed in Monte McNair's run as Sacramento Kings GM thus far, and while I don't hate what he did at the deadline this year, trading Tyrese Haliburton this early in his career because of the organization's obsession with 'win-now' is scary. When your trades are motivated by impatience and waning job security, the door is wide open for disaster. I thought a slower build was more sensible. Trade the vets, accumulate draft assets and young players, maybe trade De'Aaron Fox, build with youth around Haliburton, and try again next year.
But that wasn't McNair's path, and it was probably never going to be his path. If I can put what I thought was best to the side for a minute and align myself with what Monte McNair wanted to do, he did a pretty good job building a win-now team while focusing on players who also have their best basketball in front of them. Domantas Sabonis is awesome, and only 25. Donte DiVincenzo isn't awesome yet, but he's also just 25, a restricted free agent, and could be in Sacramento for a long time. McNair didn't sell the future for players in their high 20s or early 30s. He didn't trade away any draft picks. The Kings got better.
So I'm giving him a C+ because I don't want to give him an incomplete, but 'incomplete' is closer to how I feel than any letter grade. I love what he salvaged out of Marvin Bagley's run in Sacramento. Getting a player like Sabonis without giving up any picks sounds great. But if Tyrese Haliburton reaches his full potential in Indiana and Sabonis leaves in unrestricted free agency in a couple of years because McNair can't finish building this group into a good playoff team, yikes. It could get pretty ugly. This needs to be a playoff team next season, and there is still a lot of work to do.
But for now, I'm just going to try to enjoy this team for what it is. Sabonis' debut vs. the Timberwolves was the most fun I've had watching a Kings game in a while. I'll worry about Haliburton's stardom later, and be hopeful that McNair can finish what he started at the deadline, and build this into a playoff team before Sabonis hits free agency.
Rich: F
It would be easy to embrace denial after a fantastic debut game from Sabonis, but the truth is that he is not a franchise-altering player. He's good, not great. He's never won a playoff series in the much weaker Eastern Conference and hasn't even won a playoff game since Paul George and Victor Oladipo were making All-NBA teams. He would need a whole lot of help to make the Kings relevant. Way more than what they have now or are likely to get any time soon. It hurts to hear, but Sacramento still sucks.
And what did they give up for him? Only their best young players in years. Possibly the only player who really wanted to be in Sacramento. Easily their biggest fan favorite. Someone that many teams would have fallen all over themselves to get their hands on. That's if they had known he was available, which they didn't. Nice work, Monte.
But most importantly, they gave up the player that fits best with the only sensible path forward. Haliburton was the perfect piece to build a sustainable and successful future around. But that would require patience and intelligence, two qualities the Kings are simply allergic to.
When the drunkest guy at the party launches himself off the roof toward the shallow end of the pool, you shouldn't applaud the decision, no matter how cool it looks in the moment. Even if they hit a reverse somersault into a perfect jackknife and stick the landing, it is still a pisspoor idea and it should not be encouraged. That's the best way I can describe this trade deadline for Sacramento.
The Kings did the stupidest thing they could do, but they did it in an impressive way. I'm fine with the people who want to judge each individual move in a vacuum and add points for style and hype. But I'm not interested in that. The Kings went in the absolute wrong direction and they deserve nothing more than failing marks for it.
Bryant: B+
I agree with many of my fellow writers here that this is not the direction I'd have gone if I was Sacramento. I'd have rather seen this team move forward with Fox and Haliburton, trade all veterans, bottom out for a higher pick this year, and go from there. But that is clearly not what Monte McNair ever wanted to do - and if he was determined to get his All-Star now, I think this was as grand a move as we could have expected.
Sabonis will make the Kings a joy to watch again. I'm excited to see the Kings with actual wings again, and both Holiday and Lamb will fit this team well. I'm still utterly floored the Kings got Donte DiVincenzo for Marvin freaking Bagley (honestly, I'm still dreading a Woj or Shams tweet that unveils the Kings secretly sent out a protected 1st rounder in one of their deals this last week). I'm not putting any stock into Trey Lyles or Josh Jackson (please don't go look up my 2017 draft board), and I'm nowhere near as bullish on the Kings overall depth as some of my compatriots here. But the Kings are certainly better than they were a week ago.
I believe this team was one more move away from fully launching this squad to something meaningful. I feel for Richaun Holmes, but I am apparently the only person on the Kings Herald staff who wants to see him and Sabonis get meaningful minutes together - I really think it can work, at least defensively! As soon as Monte tossed down the cards and the Kings' direction became apparent, I was hoping for a Barnes + trade in one more talent upgrade, as I don't think this team will get where it wants to go if Barnes is their 3rd best player. But after nearly two seasons of waiting and begging for Monte McNair to take a step in any direction, I won't overly complain when he does so without a clear and obvious stumble.
These were two good moves, even if they took a direction I wasn't thrilled with. I might be a tank commander, but if this team is determined to play for the play-in, at least they won't be boring while they do so.
Greg: B-
As others have said, this is not the direction I would have chosen. Being win-now buyers when you're 12th in the West seems short-sighted. It will be possible, though rather difficult, for the Kings to make the play-in this season, let alone the actual playoffs. The bar for success is higher than what I believe the Kings can accomplish this season, and as such I don't think win-now was the right approach.
So why such a high grade? Because if the Kings were going to be in win-now mode, which they've clearly been in for years despite what the win totals will tell you, they made some really strong trades.
Losing Haliburton hurts, and could absolutely come back to bite the Kings in the ass. But we've spent months criticizing Monte McNair for not trading assets when their values are at their peak, and then turn around and criticize him for trading Haliburton when his value is really, really high. Haliburton has never looked better than during the recent stretch without De'Aaron Fox. If McNair thinks that Fox and Haliburton can't be optimized alongside each other, and if Fox's value wasn't terribly high at the moment, maybe this was a chance to trade Haliburton at peak value. Kings fans know as well as anyone that player growth and development isn't linear or guaranteed. Losing Haliburton is a risk, but it's too early to call it a failure.
In the meantime we know the Kings got back Domantas Sabonis, an absolute monster on offense, a rebounding force, and a passing marvel that could make the Kings fun as hell to watch again.
At the end of the day my grade is higher because McNair traded away many of the least enjoyable Kings players, brought back enjoyable players, and gave up only a single prized asset in the whole process. It's easy to forget that as much as we loved Haliburton, that's the only blue chip McNair gave away. The Kings have all their draft assets. The Kings have some really good pieces not just for this season's ill-fated playoff push, but for the future.
My grade would have been higher if the Kings could have unloaded Richaun Holmes and/or Alex Len and provided this roster with a little more balance, but overall I think it was a very solid deadline for the Kings.