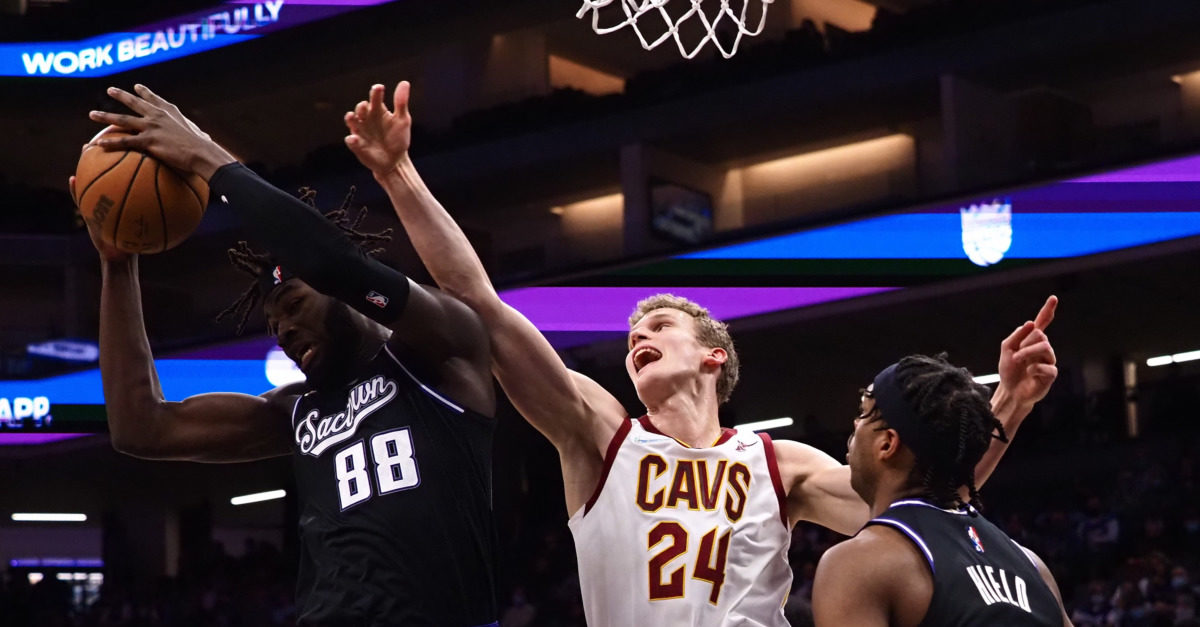 The Sacramento Kings made things interesting in the final minutes of Monday's matchup with the Cleveland Cavaliers, but ultimately came up short.
The effort was much better than it was in the beating that occurred in Portland the night before, but with this team you can't take too much away from that considering even winning streaks rarely mean improvement. However, it was good to see the fight, and have Neemias Queta be a key part of it. Queta finished with 11 points, 5 rebounds, 1 assist and 1 steal in 23 minutes. He also was a team-high +8 on the night.
Following the game, Tyrese Haliburton, Alvin Gentry and Queta discussed the game. Haliburton and Gentry also explained what they think the team's identity is/should be and how there needs to be a sense of urgency more frequently.
On The Performance Of Neemias Queta

Alvin Gentry: "I thought Neemie was really, really good. Obviously, it's his first time really playing any NBA minutes and I thought he went out and did a good job, had some big rebounds, tried to finish it at the basket strong like we would like him to. Even on the blocked shot, it doesn't bother me as long as you are going and trying to finish like that. So, I thought he was really, really good."
"I thought Neemie added a little bit of punch to everything. Now, he is as raw as they can get from the standpoint of basically having no NBA experience whatsoever and we're throwing him in there against three 7-foot guys to battle, but I thought he held his own and did a good job. I think you can see that with experience and being able to play and being able to get in games especially in Stockton that it's going to help him over the long haul."
Tyrese Haliburton: "I was just really excited for him. Obviously, you all know he's a fan favorite, a league favorite, a country favorite, so I'm just excited for him. He came out here and he made plays, made good defensive plays, made layups for us, set great screens, I thought he just had a great overall game and he's been performing well in the G League so it's not much of a surprise, we know what he's capable of and just really excited for him."
"I thought he brought great energy for us. He's really active, he's active on the glass, active defensively, he brought a lot for us, so I think we just kind of float with that energy and kept it going."
Neemias Queta: "I felt good on the floor. I felt like I was able to help the team play defense and just rebound, and just being a presence in the paint. I just sticked to my role and I felt like we played a good game, just unfortunately we didn't get the win."
"Today, once I knew I was going to get a shot, I think everything just calmed down and I just felt a lot more relaxed and at the end of the day, like I'm used to saying, it's just basketball, this is something that we've been doing for our whole lives, and we just feel comfortable in there. So, whenever the opportunity comes, we've just got to take advantage of it."
The Positives Down The Stretch

Tyrese Haliburton: "I thought we battled back. We were down 10, with I don't know a couple of minutes to go, and just made pays defensively, got stops when we needed to to put ourselves in a position to win the game, missed a good shot, so there is nothing you can do about that. I feel like it was a good look, and we just build on that."
Alvin Gentry: "I thought we battled. I thought we gave ourselves a chance to win. They're a good team, and not only are they a good team, but they're a really big team and I thought we did all we needed to do to put ourselves in a position to win. We just couldn't quite get over the hump, but if you could tell me that I could get De'Aaron Fox a foul line jump shot to win the game, I'll take that." "I thought we competed, and I thought we played hard, there's no moral victories, but I think if we play that way, we played a very good basketball team tonight, but I think if we play that way night in and night out, we'll change the direction of our team."
Needing A Sense Of Urgency

Tyrese Haliburton: "I don't think it's there every night. I mean if it was there every night it would look a lot better. I don't think that we have a sense of urgency every night and I don't know the reasoning for that, but we're professionals so you've got to figure that out or they'll find somebody that will figure it out."
Alvin Gentry: "We have to find a way to have that urgency night in and night out and not when we're in a desperate situation, but that has to be the norm rather than us trying to pull that out of them. I did think the competitiveness was there tonight and I did think that we played with a sense of urgency even coming out of the locker room in the third quarter."
The Team's Identity

Tyrese Haliburton: "I don't know. I mean, I think what we talk about is playing fast, playing in transition, but we've got to get stops to play in transition and to run. We can't play fast if we're getting the ball out of the hoop every play. So, for us to be who we want to be, we're going to have to get stops and get out and run. That's our biggest asset I think as a team, just being able to get out and run so I think that's what our identity is when we talk about it, but we don't do that on a nightly basis."
Alvin Gentry: "I think the identity of this team has to be that we are a scrappy team, compete at a high level, play unselfishly and we still haven't got to that point of playing fast. I think the more we are able to do that and the more we're able to make that part of our personality as a team then I think we'll put ourselves in a position to win games."
A Few Takeaways
Queta definitely had an impact on this game. You could feel the momentum swing in the Kings favor when he was on the floor. He proved he deserves a chance to continue his development in the rotation.
It would be nice to think that how the team battled in the fourth quarter and played defense is an indication of things to come, but we have been down this road too many times to know better. Granted, they could have given up after what happened in Portland and that didn't happen, so there is that.
Appreciate Haliburton's honesty.
The lack of a consistent sense of urgency and not being able to actually live up to the team identity they talk about wanting are two big examples of why you can't assume any positive vibes with this team will turn into much ongoing.
When you can't establish a team identity, or at least can't put it into action, combined with fluctuating rotations and a general lack of leadership and accountability, there isn't much of a chance to improve. The guys who are going to put forth the effort on defense and follow the game plan are the ones who should be playing.
The Los Angeles Lakers come to town Wednesday.