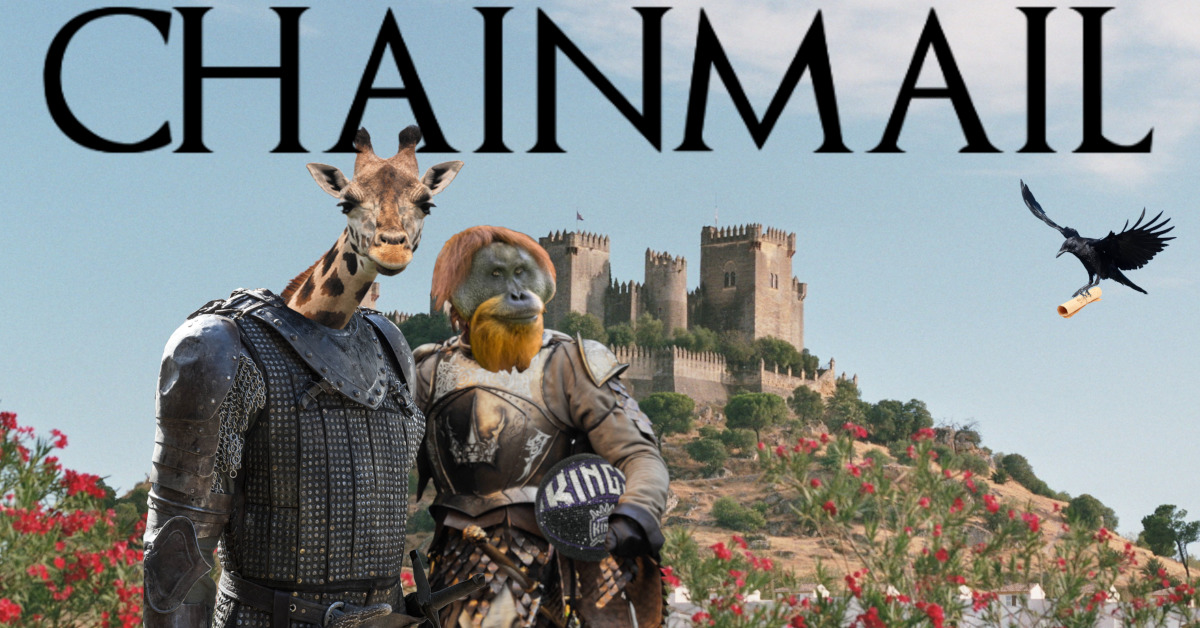 Welcome back to Chainmail! We had some great questions this week, so let's dive right into them, shall we?
From RobHessing:
You're a Kings season ticket sales rep. What's your pitch?
Tim: Hey Rob, this is Tim here with the Sacramento Kings. I'm glad you finally answered my call.
So, I wanted to talk to you about a few common complaints of fans and how we've been addressing those, and maybe that'll change your mind on next season's season tickets.
First and foremost, there have been some frustrations over the years around the availability of parking and the time it takes to get into the arena through all of the screening protocols. Well, the good news is that our screening times have never been lower and there's never been more parking available than there is today. You can walk right in with no problem!
I also know that you haven't been in love with your upper-tier seats. There's also some good news on that front. Every night, there's a decent possibility that you'll be given a free upgrade to the lower level in order to make the arena look fuller for the cameras...I mean, um...to give you a better customer experience. Yeah, that.
We're also bringing back baby races!
Hello? Rob? Hello? Did I lose you?
Will: Man, I think I'd be pitching Haliburton and hinting at an exciting top prospect because "I've heard things" like you couldn't believe. Would definitely sneak in a "was in the hallway when Monte took a call and boy, I gotta say... having a Top 3 pick in the draft is gonna be wild! and the coaching candidates he's talked to on the DL... INSANE!" It'd be a straight goddamn lie but if my job was to sell thousands of dollars worth of worthless seats over and over again? Well worth it.
From Kingsguru21:
What kind of Buddy Hield trades are out there in your opinion, and regardless at this point, what type of deal would take to move on from Hield at this point?
Tim: I'll answer the latter part of the question first. I would take any deal that sends the Kings any sort of minor asset or salary relief to Sacramento. I just want him off of the team. Here's what I'll throw out there:
SAC: Okogie, Prince, Layman
MIN: Hield
The Kings get a nice defensive-minded young wing in Okogie, a player the Wolves may not want to pay this summer, and the Wolves get a win-now(ish) bench guard who sometimes lights it up from deep. Prince and Layman are expiring deals for the Kings to free up some cap space. Also, I would do this without Okogie and with a couple of second rounders from Minnesota.
Will: At this point... Any semi-young, semi-decent prospect and an expiring would do for me. Would the suddenly surging Toronto Raptors want to have a super-sub off the bench for a playoff run and be willing to trade Goran Dragic's expiring contract and small forward Yuta Watanabe? Because I'd be incredibly okay with that!
These are the types of deals to expect now. An expiring and a young prospect or a low, protected first or seconds. The Lakers haul isn't happening again... no one in the league is that hamstrung and desperate for shooting... save for the Lakers who now have no good way to really get that done in a straight swap.
From BigDrewbot:
To maximize all of the thrills and suspense of the trade deadline:

A. Who will be the first King traded at the deadline?
B. When will the first Kings trade happen?
C. How many current Kings will no longer be Kings by the deadline?
Tim:
A. Marvin Bagley for a veteran
B. Within a week of the trade deadline
C. Marvin Bagley, Harrison Barnes, Alex Len
Will:
A) Marvin Bagley for a COSTCO 2-pack of Blueberry Muffins
B) On the day. Literally all of these trades will occur within 24 hours of the deadline.
C) Marvin Bagley, Mo Harkless, Tristan Thompson
From TheGrantNapear:
The Fox/Simmons trade rumors are back. Assuming a third team isn't involved, what would a Fox/Simmons trade currently look like?
Tim: I don't mean to cop out of this question, but I don't think the Kings could offer a realistic package to Philadephia right now if a third team isn't involved. Why would they cash out their only major chip in Ben Simmons for De'Aaron Fox when they have Tyrese Maxey already playing almost as well as Fox? And he's younger and $24 million cheaper.
I also don't believe the Kings have any combination of players or picks that they could include to entice Philly. Championship contending teams don't care about first rounders, and Sacramento's role players, namely Buddy Hield, Harrison Barnes, and Richaun Holmes, don't really fit Philadelphia's needs, especially when one also has to consider salary matching as well.
To be frank, it just isn't happening.
Will: I've got to agree with Tim here in that a straight Philly/Sacramento swap probably isn't going to happen. Gun to my head? I'd say that I could see McNair moving Fox and a 2023 and/or '24 first rounder that Philly could use later to bring in other vets via trade or package with Tobias Harris next year for someone of value. Now, whether or not Daryl Morey has any interest in Fox is a completely different story.
From TyrekeFan18:
Will Monte ever realize this team is no good and they need to tank?
Tim: No. He's trying to keep his job, and tanking isn't the plan he's been selling for the last 16 months. You can't start the year by saying this is a playoff roster and this is a playoff coach and midway through the season have a fired coach and a blown-up roster. That kinda kills your credibility as a talent evaluator...which...maybe should be happening anyway.
Will: I'm sure Monte and company understand privately that this team isn't going to go anywhere quickly and that by the time any positive momentum can be gain from this core, the veteran pieces will have aged out of their primes and effectively shut the door on long-term playoff or (godforbid) championship aspirations. The problem is: Monte McNair got hired to finish Vivek's aspirations of having a playoff team in Sacramento ASAP and well, reality is currently running counter to those plans. He may think a reset is needed but he's employed with the understand that he's to go another direction if he keeps wanting to be one of the thirty head guys in the NBA.
Is there a chance that he's fully in control of his destiny and Vivek has fully stepped back and is allowing his team to be run by well-qualified individuals? Sure. Maybe, Monte is operating at a snails pace because he's got Vivek's confidence and more than a modicum of time to be patient for the right deal. Everything we know about ownership is contrary to that idea, but people change. We just haven't seen the fruits of that change, if they even exist. I still haven't given up on Monte McNair quite yet because there is a reality in which he's got a more understanding Vivek. Time is running out on that grace, however. We've got less than a month to really see if Monte can finally pull something, really anything, out of the hat and finally give this team a direction.
From DutchKingsFanInUK:
So, how do you guys feel about breakfast?
Tim: Best meal of the day, hands down. Give me a dutch baby or a cinnamon raisin roll and we're in business.
A cold slice (or two) of yogurt pie also makes a delicious post-Thanksgiving Day breakfast.
Will: I love breakfast. back when I was playing basketball 5 hours a day, I could rip through an entire bag of Malt-o-Meal Cocoa Dinobytes in a single sitting. Pancakes, French Toast, Crepes, skillets, burritos... I'm down for anything breakfast related... Which is a decent reason why I now have a cup of oatmeal with cinnamon and a tablespoon of brown sugar every morning.
Also, I'm not quite sure what a Dutch baby is, but Rik Smits please quarantine any and all small family members as a precaution.