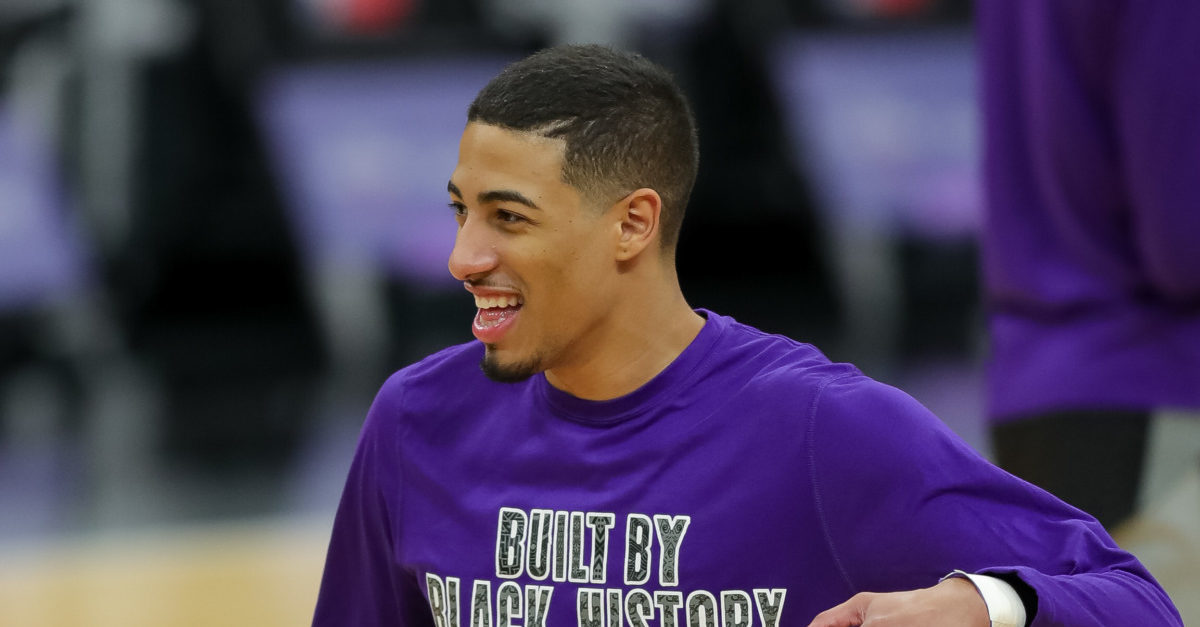 Tyrese Haliburton is damn good at basketball. The 21-year-old averaged 13 points, 5.3 assists, 3 rebounds, and 1.3 steals for the Kings last year while shooting 47% from the field and 40.9% from deep. He was one of the Sacramento Kings most important players last season, and played with awareness and confidence far beyond most rookies.
The 2020 NBA Draft class proved to be a deep group, full of a ton of talented youngsters good enough to overcome transitioning to the NBA in the midst of a pandemic - but Haliburton was arguably the most consistent and efficient rookie across the whole messy season, and he proved himself to be outstanding in clutch situations.
It isn't hyperbole to say that Haliburton exceeded most expectations fans and experts had for him last year. Of course, some of that pre-draft chatter was laughable—anyone who really worried if his funky-looking shooting mechanics would keep him from being a good standstill shooter hadn't watched enough Iowa State tape—but he overcame both the silly and understandable concerns.
In my prospect profile for Haliburton last November, I worried that he wasn't a great self-creator (he shot 28.1% on dribble jumpers in his sophomore season), and then when he hit the NBA hardwood, he started popping three pointers off the dribble. I worried about his lack of pick-and-roll success at Iowa State, and then he put on pick-and-roll clinics in the clutch. I worried that he was too skinny to play defense, and then his basketball genius translated almost immediately.
Look at this freaking insane rookie. Grant Williams hasn't even caught the ball yet and Tyrese KNOWS EXACTLY WHERE IT'S GONNA END UP. HOW?! pic.twitter.com/tNi2iaT3OW

— Bryant West (@BSWest5) February 4, 2021
There's still plenty for Haliburton to improve at - his handle currently limits him as a driving threat, he needs to bulk up to succeed in a three guard lineup, and he only attempted 56 free throws last season. But I'm not going to bet against him figuring out ways to overcome these limitations. I wrote after his draft selection that it would surprise me if Haliburton ever challenged for an All Star spot or became a top scorer on a good NBA team - but also noted "given Haliburton's truly exceptional basketball instincts and maturity, nothing is out of play." After a year of watching Haliburton's exceptional basketball instincts and growth, I'm done putting any ceiling on Tyrese's NBA outcome. There just aren't many players with his combination of skills, versatility, and court wizardry. While De'Aaron Fox is the squad's engine, we shouldn't be surprised when Haliburton steps out of his shadow and proves just as important to the future of Sacramento Kings.