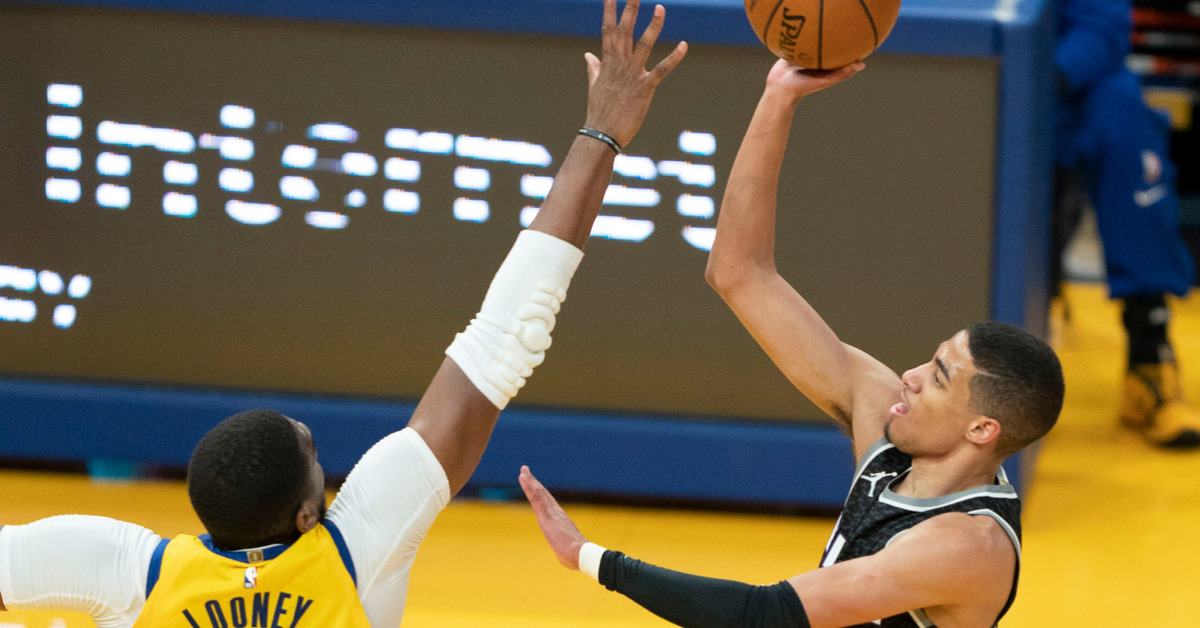 Tyrese Haliburton carried the label of a high-floor, low-ceiling prospect coming out of Iowa State after his sophomore season. Concerns revolved around his space creation ability and shooting off the bounce, yet Haliburton has quieted some of those critics by averaging 50.4 effective field goal percentage on off-the-dribble attempts this season, which accounts for 44.8 percent of his shot profile.
Yet, there is still plenty of reason to be skeptical about the rookie's ceiling. His usage rate is a mere 17.2 percent while fellow rookies Anthony Edwards and LaMelo Ball have tallied 26.2 and 27.0 percent respectfully. Haliburton can be considered one of the three best players on the roster and is the second-best playmaker behind De'Aaron Fox, yet he ranks 8th in usage rate.
Fox, Hassan Whiteside, Marvin Bagley III, Terence Davis II, Chimezie Metu, Buddy Hield, and Kyle Guy are the names listed above the 6'5€ guard. Part of what makes Haliburton ridiculously efficient while maintaining minimal mistakes is his unselfishness and desire to involve his teammates. Yet, true stars in this league recognize when it is time to take the situation into their own hands and use their talents to make something happen.
Last night, with Fox sidelined, was a fine example of that from the rookie. He finished the night with 24 points, eight assists, three rebounds, one steal, just one turnover, and a 30.2 percent usage rate.
Aside from a Brooklyn Nets game earlier this season, this may have been his best performance yet. Incoincidentally, those are the only two games this season where Tyrese attempted a minimum of 20 field goals and the highest minutes he has tallied all season.
Headed into the fourth quarter of a close game in San Francisco, Haliburton became the clear engine of the offense - nearly every possession featured the rookie in a pick-and-roll situation. He masterfully manipulated and read Kevon Looney for an extended stretch.
Initially, Looney was overly concerned with Metu rolling (and the threat of a Haliburton lob pass), which allowed the guard to practically walk into a layup. Not wanting to make the same mistake twice, Looney then remained locked in on Haliburton the next time around, which left Metu open rolling to the rim and the Iowa State product capitalized poor weakside help.
Steve Kerr had seen enough, the next time around Haliburton would be met by a blitz to force the ball out of his hands. Double teams like this are the true sign of a star player in the association or of poor surrounding talent and last night seemed to be a bit of both. If Fox was available, teams would quickly regret sending two towards his backcourt partner. Yet without him there were flustering moments with unideal spacing or passes not made quickly enough to capitalize on a numbers advantage created by the threat of Haliburton.
Golden State's following adjustment was to assign Andrew Wiggins to Metu and switch on the inevitable screen. The first time around, the switch is too lackadaisical and Haliburton quickly recognizes just enough daylight to splash one from downtown.
That defensive game plan was short-lived before the Warriors resorted back to blitzing Haliburton which proved successful due to lagged decision making or poor handling from the others on Sacramento's roster.
It appears as if Metu was focused on the next pass he was going to make before fully securing the catch in the first possession or it would have been an easy bucket for Davis as a result of Haliburton's presence. In the latter possession, the spacing was unideal as pressure was intelligently placed on the inexperienced Metu.
Richaun Holmes would quickly be inserted into the game, as would Draymond Green for Looney. With Green at the five, Golden State elected to switch everything. Subsequently, Draymond is tasked with closing out on Haliburton after Hield applies pressure and the rookie darts past the former defensive player of the year for his patented floater.
Curry was the clear weak link of the Warriors' defense and switch everything meant it should have been simple to get Haliburton in a favorable situation. Harkless, who Curry was attempting to hide on, then began to set screens for Haliburton to exploit that exact scenario.
The carry is forgivable, every player in the league makes mistakes, particularly rookies, but I admire his willingness to attempt and break Curry down off the bounce. On the ensuing possession, you see that Curry stands no chance staying in front of the 21-year-old as he converts what could have been whistled an and-one.
Tyrese Haliburton played the entirety of the fourth quarter and managed an impressive 15 points during that stretch along with a few unofficial assists that lead to free throw attempts for his teammates. His potential to be an elite pick-and-roll player was on full display and this closing quarter of play had everything Sacramento fans could want aside from the game-winning cherry on top.
The final possession featured a tough step-back attempt from Harrison Barnes in isolation against Andrew Wiggins with the Kings down two. Tyrese Haliburton did not touch the ball after inbounding it.
With De'Aaron Fox sidelined for a handful more games, it is time for Tyrese Haliburton to continue to silence the critics and shine his all-star potential. Additional showings comparable to last night against Golden State, and earlier in the year against Brooklyn, may b enough to alter the public perception on his ceiling and prove that a Fox-Haliburton backcourt duo is a force to be reckoned with both now and in the future.
It's time to see more shots, more minutes, more opportunity, and more freedom for a more aggressive Tyrese Haliburton.