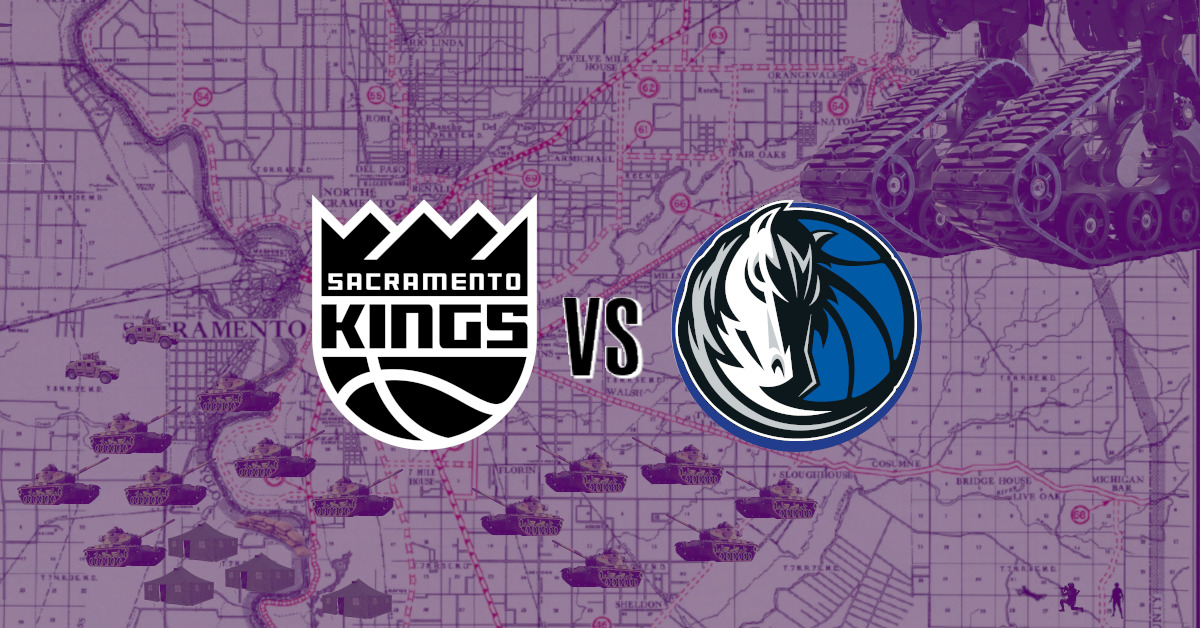 Well, you haven't gotten rid of me just yet! A million thanks to Tony for taking over this weekend while I dealt with packing up a house and apartment, moving it across the county, dealing with internet stuff etc. etc. etc. I also got my second vaccination today for COVID so if I start rambling about how great Microsoft is, or speaking in tongues... just deal with it today like you've done every preview for five years!
I missed the game yesterday, but saw the highlights and caught the drift from those in the game thread. Haliburton doing work in the fourth, Walton putting Buddy on Curry, Buddy putting the potentially game winning shot on the ground and bumbling it out of bounds. Sounds about right. Now, on the second night of a back-to-back the Kings are going to get the Mavericks, possibly sans-Luka, which sounds a lot like sambuca, which man, I could use right now with some coffee beans to keep me awake and rolling right now.
COVID shot, Buddy's (non) shot, Sambuca shot. Think I just summoned a needle-wielding demon with this intro. Let's talk Kings basketball with great haste so I can get out of here and let Bill Gates finally download minesweeper into my raggedy brain.
When: Monday, April 26th, 7:00 PM PST
Where: Golden 1 Center, Sacramento, CA
TV: NBCSCA - Mark Jones on the call
Radio: KHTK Sports 1140 AM
For Your Consideration
Luka The Draw: So this is unfortunate timing for the Dallas Mavericks to be unhealthy. As of this writing, the Mavs have all five of their starters on the injury report - Luka has a left elbow contusion, Porzingis is dealing with a left ankle sprain, Maxi Kleber has been nursing his lower back, Dorian Finney-Smith has some right leg soreness and finally, Josh Richardson is sidelined with right hamstring tightness. To give some context to their current fight in the Western Conference standings, the Mavs are 1.5 games out of the 5th seed and 2 games out of the 8th spot and if there's anything that the Mavs have made clear in recent weeks, it's that they're suddenly terrified of being in those play-in game fights that are going to take place with teams 7-10. I don't blame them. Extra games that could suddenly wreck a condensed season's worth of work would be extra frustrating and losing due to fatigue injuries would make any owner come out screaming that things were suddenly very close to being stupid.
Whoever the Kings get to face off tonight, the reality is that I'll only be watching from my Microsoft Surface Pro 7 with Intel® Core"¢ processor, all-day battery, and HD cameras, to see just how high Tyrese Haliburton's points and assists totals can get tonight. The young man is a stud, we know this, but his box score against the Warriors was, woof. Man. He's no joke. Hitting 10/20(!) from the field, 24 points and 8 assists and picking up in De'Aaron's stead with absolutely no lag time, is one of those things that make you want to smack Luke Walton over the head with again and again.
I know the Warriors aren't the most consistent team on earth, but they'd been playing extremely well of late. To give you a little extra sauce on how well the Warriors have done of late, the top of r/NBA had a post that said, since James Wiseman's injury, the Warriors rank #1 in net rating, #1 in defensive rating, and #4 in offensive rating. Tyrese was rocking and whether it's against Luka and a full strength Mavericks team or against their bench boys, Tyrese is going to be the focus of a lot of what the Mavs do on the defensive end... and he'll have earned every bit of coverage that head coach Rick Carlisle throws his way. Haliburton is why I'm showing up. The end.
Prediction
Hali goes off for 30-10. Luka plays and forces the referees to listen to a 10 minute Toastmaster's style speech on the frequency of foul calls in the NBA being too low. Luke Walton picks a cardboard cut out to guard him today and the cutout only gets 30 dropped on them.
Kings: 127, Mavs: 123