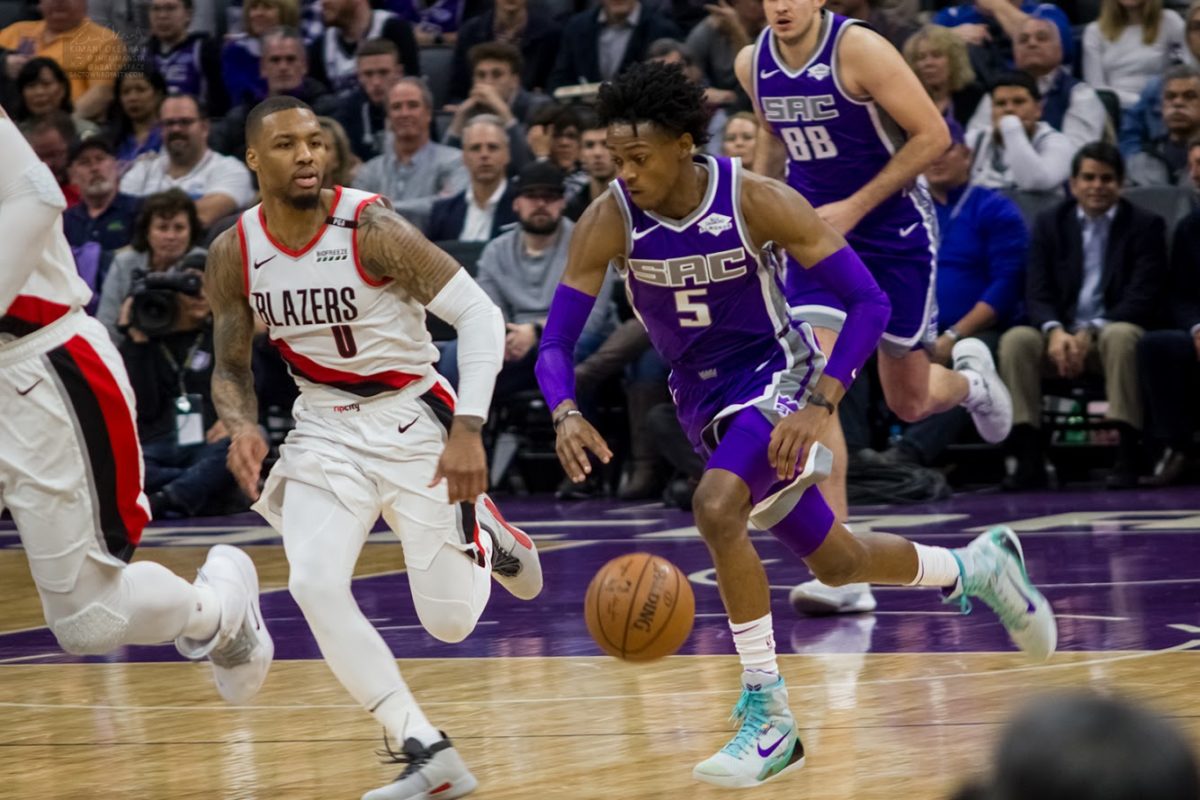 Going into the 2019-20 season, which feels like a decade ago, the goal for Sacramento was clear - end the postseason drought. After a disappointing bubble, letting Bogdan Bogdanovic walk, and doing little else to improve the roster's current iteration, the goalposts may have been moved a bit for 2020-21.
The top of the Western Conference includes the Los Angeles Lakers, LA Clippers, and Denver Nuggets. Practically no chance that Sacramento catches any of them in the standings.
In my eyes, the Dallas Mavericks, Phoenix Suns, Golden State Warriors, Portland Trail Blazers, Utah Jazz, and Houston Rockets are all at-least two tiers above the Kings going into the season. There are going to be unpredictable injuries, key players missing stints due to Covid, and other moments of mayhem as has happened all throughout 2020.
The Rockets, for example, could trade James Harden at any moment, and that might make them worse than Sacramento? I'd still bet against it.
Golden State has the league's first and only unanimous MVP returning to their roster in Stephen Curry.
Portland added much needed defensive versatility with Robert Covington, Jusef Nurkic is returning to health, and Carmelo Anthony finally accepted a bench role.
Phoenix traded for one of the best point guards in league history to pair with Devin Booker and signed quality veterans to fill out the roster.
Hassan Whiteside and Glenn Robinson III are not going to slow any of these teams down.
This would already take us to nine teams in the conference, leaving a final play-in spot remaining for the team that locks in the tenth seed.
Yet, I would even place New Orleans and Memphis a tier above the Kings at this stage. They simply have more candidates for notable internal improvement (Ja Morant, Brandon Ingram, Zion Williamson, Jaren Jackson Jr.) on their notably younger rosters.
There is a world where Marvin Bagley remains healthy, De'Aaron Fox has reached another level, Buddy Hield seems comfortable again, and Tyrese Haliburton wins rookie of the year with impeccable defensive instincts, that would allow Sacramento a playoff spot. I think it is possible, but I would gladly bet against it.
Eleven teams into the conference and I am still not sure Sacramento is the best team of the remaining San Antonio Spurs, Minnesota Timberwolves, and Oklahoma City Thunder.
Let's cross the youthful, future-focused Thunder off that last - they very well may end up with the worst record in the entire league come season's end.
San Antonio has the clear coaching advantage over Sacramento, and while DeMar DeRozan and LaMarcus Aldridge are in the latter stages of their careers, and have not modernized their games, they are still superior talents to De'Aaron Fox and Buddy Hield.
The Minnesota Timberwolves, who owned the second-worst record in the West last season, have a reason for optimism working with their first full season of D'Angelo Russel and Malik Beasley alongside Karl-Anthony Towns. The first selection in the 2020 NBA Draft, Anthony Edwards, will look to make an impact and there is potential development from Jarrett Culver or Josh Okogie.
I would tentatively place Sacramento over Minnesota, but the Wolves could very well be one of the more potent offenses in the association.
13th place in the West, that is where I have Sacramento going into this season. My predicted range would be somewhere between 11th to 14th by the conclusion of the regular season, and no end to the playoff drought.
Buddy Hield may get shipped off mid-season, some of the younger talent should be given extended opportunities, and the West is loaded as ever.
At least the 2021 Draft is a goldmine of top-tier talent!
Where do you think the Sacramento Kings will finish in the Western Conference?