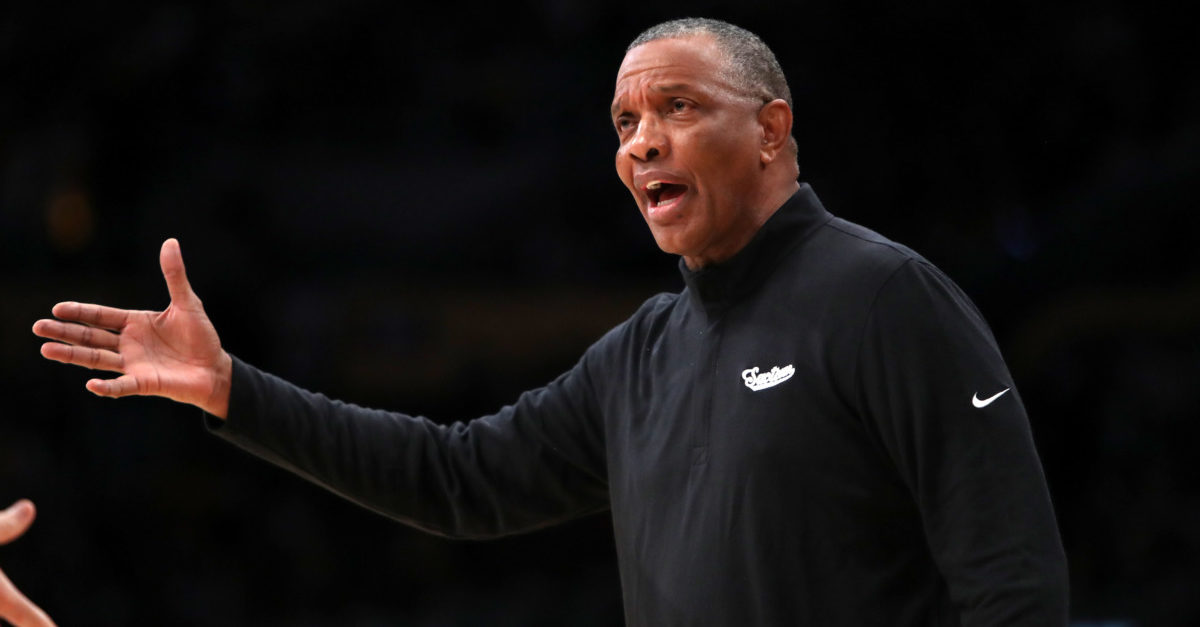 The Sacramento Kings were dismantled in front of a disgruntled and dispersed collection of their fans and a large contingent of jubilant Lakers fans in the second half of Tuesday's game.
As the Kings lead slowly gave way in a third quarter, they stopped moving the ball, started playing bad defense and taking bad shots. The passing angles for the Kings were gone as was any semblance of aggressiveness or response. Turnovers were plentiful. Meanwhile, the confidence in the Lakers players and their fans in the building increased. After scoring only 15 points in the third quarter, "Let's Go Lakers" chants rained down on Kings fans and the players in the 4th quarter, in which the Kings only mustered up another 18 points.
Following the brutal loss, head coach Alvin Gentry chose to begin his postgame press conference by apologizing to the fans.
"I guess the very first thing I should do as a coach is apologize to the fans here. They don't deserve what they got tonight. The first half we were fine, we played great basketball, and we moved the basketball, and I thought the pace of the game was great. The second half was a disaster, and it was an embarrassment and as the coach of this team I want to apologize to every Kings fan out there because you do not deserve this, you deserve much, much better and we'll find guys that will give you better. You can't do what we did in the second half," he said.
What makes a loss like this at home even worse, if that is possible, is that Gentry said before the team came out they had talked about how they have to start establishing themselves at home. They have a 5-6 record on the road and a 3-8 record at home.
"To have more road wins than home wins, your fans don't deserve that," Gentry said.
Gentry said the team has also talked about not being a "Jekyll and Hyde" team with so many ups and downs. Part of solving that, he said, is to find something they can count on night in and night out consistently, such as defense or making shots.
"I'm searching, trust me. I will do everything that I possibly can to find out why that is the case and why we're doing that and we will get it corrected," he said.
As for those chants by Lakers fans that filled the Golden 1 Center in the fourth quarter, Richaun Holmes took it personally.
"For me personally, I don't take that lightly as a competitor. We're at home and the other team is getting cheered for like we're away so I don't like that. That sticks with me personally. Makes me want to do something better, makes me want to get better, go back to the drawing board and see how we can be better in front of these fans because they deserve more," he said.
The only way to stop that? Well, play better.
"They chant that because they are here and the way we played. The way you shut people's mouth and keep them from cheering in your arena is that you kick their ass, and we didn't do that," Gentry said. "You should be livid that anyone would come in and have the audacity to do that in your arena."
Here is De'Aaron Fox on that:
"If we played better then it wouldn't happen, so I think it comes down to the specific game and how the game is being played. We didn't hear them a lot in the first half and then they go on a run and then you hear them so if we played better, if we kept playing the way we played in the first half in the second half, we wouldn't be talking about this right now," he said.
Before he left the podium, Gentry apologized again.
"Once again, I do want to apologize to the fans because they do not deserve this. I've been in this league a long time and I know the quality of fans that we have here in Sacramento, and we will find a way to make it better," he said.
Gentry's honesty here was refreshing, and honestly about as much as he could have said after such an embarrassing performance.