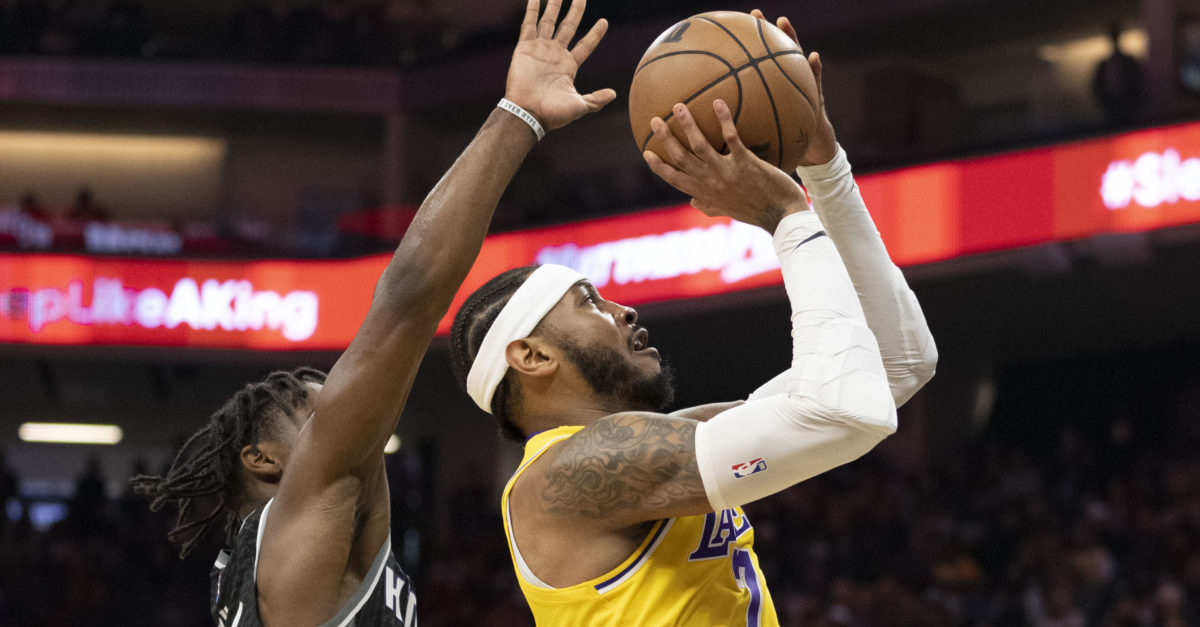 Stop me if you've heard this one before.
The Kings get off to a surprisingly good start and are holding a decent lead against a better team. Then the second half starts and the other team comes out strong and the Kings fold. Not only do they fold, they completely collapse, and what had been a competitive game turns into a blowout loss.
That's been the story too many times already this season, and for the past few seasons. There wasn't anything particularly special about tonight's collapse that isn't consistent with many other games. I'm sorry if you were hoping for a more traditional recap (Here's a link to the box score, Richaun played well, Metu had moments, everyone else sucked), but I'd rather talk about this team's deeper issues as they keep rearing their head over and over again.
Luke Walton was not a good coach, but even a good coach would be hard pressed to make this team give a shit. There's no leader here. Not De'Aaron Fox. Not Tristan Thompson. Not Alvin Gentry. Not Monte McNair. Definitely Not Buddy Hield.
This is a team that has fun when things come easy, as we saw in the first half tonight. When another team is making mistakes, or when the shots are going down, this team is excited and hyped and having a grand, old time. In the first half alone we saw a ton of transition opportunities for the Kings, and quite a few alley-oops to Richaun Holmes and Chimezie Metu. Everyone was smiles then.
But then the going gets tough. The other team stops making mistakes. Guys like Russell Westbrook and Anthony Davis buckle down and get their team buckets. Suddenly it isn't as easy to get to the rim or dribble. And the Kings fold. They don't have any fight in them. They settle for jumpers. The ball movement disappears. The momentum shifts, and in the blink of an eye a double digit lead becomes a double digit deficit becomes yet another loss.
And the even bigger problem? Everyone's still all smiles. Buddy Hield and Tristan Thompson are yucking it up with Anthony Davis. De'Aaron Fox and Malik Monk are reminiscing about the Kentucky days. We've heard all the excuses before in the post-game pressers, and we'll likely hear them again after tonight. But this team doesn't really care, or else we'd see it. Instead, it's the same shit, different day.
It's easy to see why so many fans are tuning out and why the Golden 1 Center looks less full than when there were cardboard cutouts in the arena last season. If the players and team don't care, why should the fans? Fans are well past frustrated and angry anymore. Instead, many are just apathetic, and that's a harder path to come back from. It's hard to blame them though.
If the plan is to build around this core to get back to the promised land, I'd argue the whole premise is flawed at this point. Monte McNair has resisted making wholesale changes throughout his tenure so far, but enough is enough. This team needs a shake up and not just a shuffling of the deck chairs on the Titanic. Nobody should be off the table. Nobody deserves to be.
That's enough from me tonight. Enjoy the rest of your night/day. Try not to let this dumb basketball team get you too riled up like it clearly did with me.