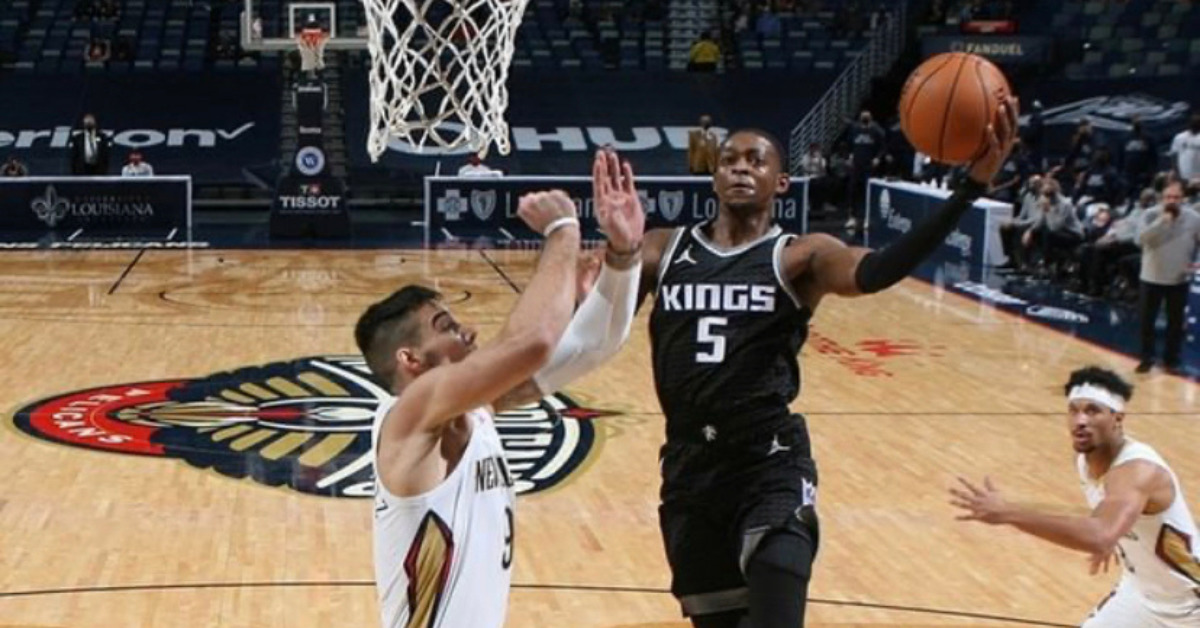 De'Aaron Fox completely dismantled the New Orleans Pelicans Monday night on the way to a 118-109 win.
Fox dropped 17 of his 38 points in the fourth and throughout the game we saw several of his incredible moves. Following the game he broke down a few of the plays.
Spin on Zion Williamson
With two minutes left in the fourth quarter and 12 seconds on the shot clock, Fox drives at Zion Williamson, hits him with a spin, then fakes Lonzo Ball for a layup past Brandon Ingram.
"I knew Zion was going to either hedge hard or try to trap it, or jump hard out at it. And it was either you're going to have to do a quick crossover, or between the legs like I did against New York, today was just a little bit more creative and I a spin move so it's kind of read and react," Fox said.
Was it pre-meditated?
"The spin move was definitely pre-meditated," he said. "I didn't know if I was going to do a spin, a crossover, or between the legs, but when I saw how hard he kind of jumped out I knew the spin was there, so like I said, it was kind of read and react, but you kind of always have to have your head on a swivel and kind of know what you want to do."
Here it is in slow motion.
How is this even humanly possible?!? This is arcade game joystick stuff. https://t.co/xZRW2XWV9S

— Kevin Fippin (@kfippin) February 2, 2021
Fake Pass
With 3:40 left in the fourth quarter, Fox spins Ingram around with his first step and fakes out Willy Hernangomez on a beautiful fake pass for an acrobatic layup.
"Coming downhill, it's kind of two on one with the big men and what you see with a lot of bigs in this league is they don't want their guy to score. So, he's always going to go for the fake pass if it's Rich [Richaun Holmes], or Marvin [Bagley] or Hassan [Whiteside], or whoever is down there, a lot of times, bigs are going to go for the fake pass because they don't want their guy to score. So, that's definitely pre-meditated and if he comes up to me then you just dump the ball off," Fox said.
Did He Fake A Fall?
In the third quarter, Fox fell down with Williamson guarding him, only to use the fall as a way to see which way Zion was headed to use it against him.
"I didn't mean to fall, but when I was getting up I felt where Zion was going so that just let me know that I was able to get right and get an open layup so just read and react," Fox said.
Crossover
He didn't break this one down, but this is just a beautiful crossover.
Fox said this offseason he worked on mobility and he was able to get over the ankle issue that nagged him last year. Getting stronger has also allowed him to finish better around the rim. Additionally, he's just been trying to get creative with his moves.
"It's just having an open mind," he said.
Tyrese Haliburton described what it is like trying to stay in front of Fox.
"I guard him every day in practice, ya'll don't even know the half of it," the rookie said. "You all haven't even seen everything, it's nuts man. I tell my friends all the time back home, they are like, 'How good is Fox?' I'm like, 'Man, he's ridiculous.' Everything you are seeing on the court is like half of what he gives me in practice. €¦ He's an All-Star in my eyes."