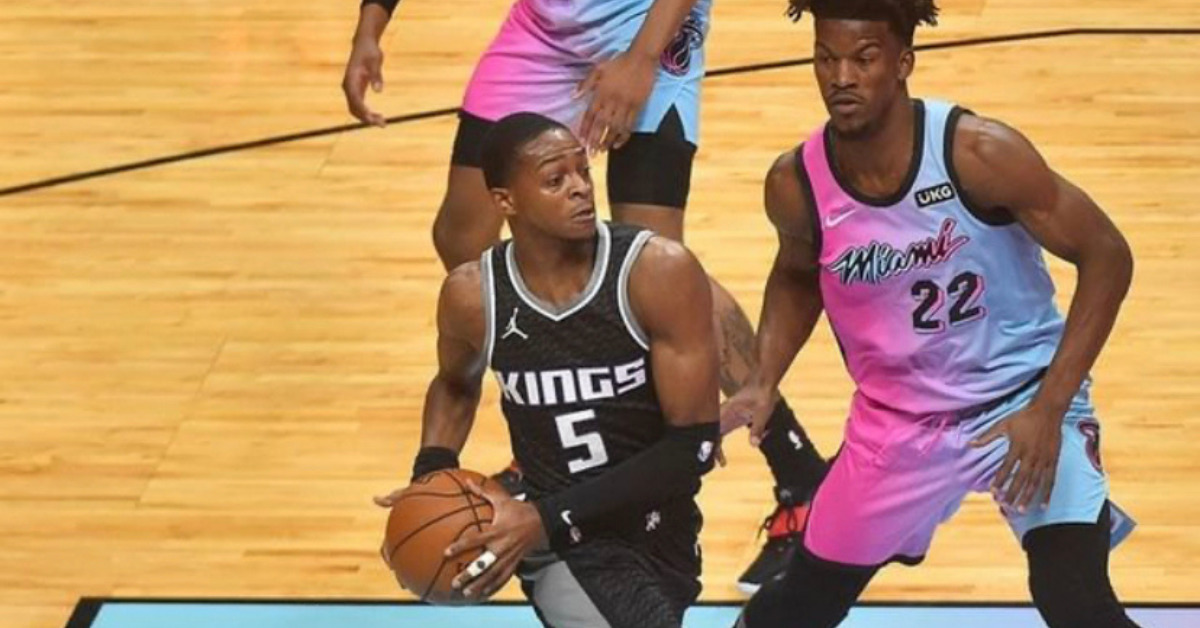 Over the last three-plus years, Kings fans have continuously asked themselves one question regarding De'Aaron Fox:
When is our cornerstone going to realize he's the guy and play more assertively?
There's never been any doubt about Fox's unique blend of speed and tough shot-making skills, but his tendency to flow within games rather than control them has always been a point of frustration for those around him. An aggressive quarter or half has often been followed by multiple minutes of drifting, and the Kings nearly always fall apart in those lifeless minutes. The talent has always been there, the consistency has not.
The first dozen game of this season (ignoring a five-minute performance against the Chicago Bulls), displayed the same old De'Aaron Fox. He looked and played exactly like his 2019-2020 self, a concerning lack of development for a player who had just inked a five-year, $163 million max contract extension.
| | | | | |
| --- | --- | --- | --- | --- |
| Span | PTS | AST | FG% | 3P% |
| 19-20 | 21.1 | 6.8 | 48% | 29% |
| First 12 | 20 | 5.6 | 46% | 28% |
However, since his 43-point outburst against the New Orleans Pelicans in mid-January, De'Aaron's game has not only surpassed that of last year's performance, it has developed into an All-Star worthy conversation. He's becoming the guy for the Kings.
There's no better example of Fox's recent willingness to takeover than his last two fourth quarter performances, as he's combined to score 34 points in 24 minutes of play on 61% shooting from the floor, while recording a plus-22 in his time on the court. Overall, over his last seven games, Fox has averaged 28 points, 8.4 assists, and 4.4 boards on a nightly basis, one of three such players (Doncic, Lillard) to average at least 28, 8, and 4 over that span. Perhaps even more impressive than his overall play has been De'Aaron's outside shooting. He's knocking down 38% of his shots from deep, and he's taking more than double his career-average at 7.3 per game.
Fox's newfound aggression isn't only found in his basic box score numbers either. The evidence is everywhere. Through his first twelve game of the year, De'Aaron was actually less assertive than last season, recording 77.4 touches per game and averaging 6.3 seconds of on-ball time per possession, compared to 80.6 touches and a 7.1 second average in 2019-2020. During his recent surge in production, Fox has skyrocketed to 96.5 touches per game, an incredible 20% increase from the first part of the season, as well as averaging 8.1 seconds per possession, both of which rank fifth in the NBA.
That dramatic increase in usage hasn't come from Fox simply jacking up more shots from around the court either. While it's true that his field goal attempts have increased somewhat drastically, from 16 to 21 per game, De'Aaron isn't settling for a bunch of low percentage, low efficiency shots. In fact, he's taking about one fewer midrange jumper per game during this hot stretch. Instead, Fox has categorically refused to turn off his afterburners at any time during the game. He's driving the ball 21.4 times (5th in the league) and averaging 14.1 points (3rd in the league) on those forays into the paint, a far cry from his averages of 15.1 drives and 9.8 points per game earlier in the season.
Interestingly enough, Fox's increase in scoring and in average number of drives hasn't correlated with an increase in transition opportunities. He's actually averaging slightly fewer fast break points over his last seven games, meaning his jump in production isn't due to the Kings getting out into the open court more frequently. This version of Fox is not only taking advantage of opponents as they're backpedaling; he's also dominating defenders in the half-court, a development not yet seen to this point in his career.
In January, after the team's 8th loss in 10 tries, Fox was brutally honest about his struggles regarding leadership and star-level play, but his last seven performances have demonstrated what exactly he's capable of on the court. He's finally seemed to realize that the only player who has been stopping De'Aaron Fox from playing at an All-Star level has been De'Aaron Fox. He's finally becoming the guy for the Sacramento Kings, and that's exactly what this franchise desperately needs.