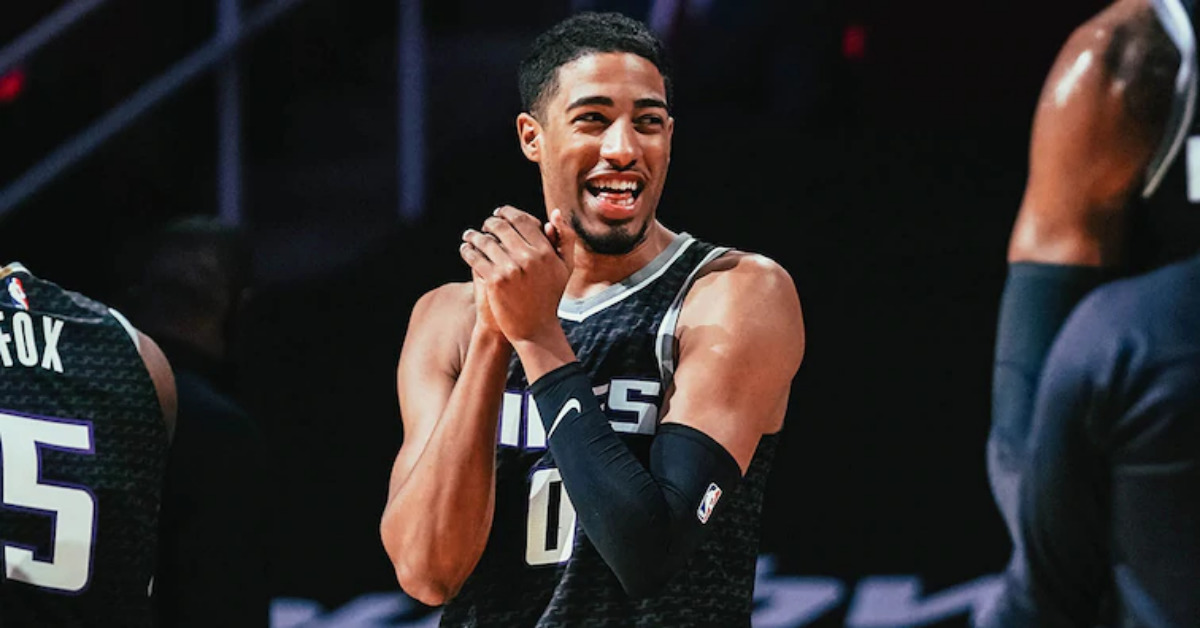 On Tuesday afternoon the NBA announced their first round of Rookie of the Month awards for the 2020-21 NBA season. Since the season started in late-ish December, this award covers both December and January and accounts for roughly 25% of the NBA's 72-game season.
Sacramento Kings rookie Tyrese Haliburton got the Western Conference honors this round, with LaMelo Ball picking up the award for Eastern Conference rookies.
I don't need to sell anyone in Sacramento on Haliburton's Rookie of the Month, or Rookie of the Year credentials at this point. You've seen him play. You know how tremendous he's been through 18 games. I shudder to think what the Kings bench unit would look like this season without his creativity, defense, and scoring, but it's nice to see Haliburton get some respect for his play outside of the Sacramento bubble.
Hailburton's odds to win Rookie of the Year have remained fairly steady since the middle of last month, with a small recent decline likely attributed to his lackluster shooting over the last couple of weeks along with the emergence of some of his peers. Haliburton is still shooting above 40% from three on the season, but has struggled with his shot recently, shooting just .275 from three over his last 8 games.
After winning Rookie of the Month honors for both December and January, though, you could see his odds improve from here, and have to consider him right in the Rookie of the Year mix with expected contenders like LaMelo Ball, James Wiseman, and Anthony Edwards, along with the surprise of the 2020 NBA Draft, Knicks guard Immanuel Quickley.
The Kings dropped a press release following the NBA's Rookie of the Month announcement with more of Haliburton's credentials:
SACRAMENTO, Calif. ----Sacramento Kings guard Tyrese Haliburton has been named the Western Conference Rookie of the Month for games played in December and January, the NBA announced today. The 12th overall selection in the 2020 NBA Draft, Haliburton averaged 11.0 points (.473 FG%, .417 3pt%, .833 FT%), 3.4 rebounds, 5.4 assists, 1.1 steals, 0.7 blocks and 28.6 minutes per game in 17 games (1 start) to begin his rookie campaign. Haliburton has scored in double figures in 13 games including a career-high of 17 points twice €" vs. Chicago on Jan. 6 and vs. Portland on Jan. 13.

The former Iowa State Cyclone registered his first career double-double when he dished out a career-high 11 assists, tying the season high for any rookie this season, along with 10 points and six rebounds in a victory at Toronto on Jan. 29. In a win over New York on Jan. 22, Haliburton had 16 points and four blocks, the most blocks for any rookie this season.

The 6-5 guard currently ranks sixth amongst all rookies in scoring (10.7), tied for eighth in rebounds (3.8), second in assists (5.4), seventh in field goal percentage (.465), fifth in three-point field goal percentage (.409), and fifth in steals (1.1) per game.

Haliburton is the seventh Kings player to earn Rookie of the Month honors and the first since teammate Buddy Hield won the award in March of 2017.
The Kings have won four of their last five games and are playing some pretty solid basketball right now. Sacramento's success will only improve Tyrese Haliburton's Rookie of the Year chances, and one of the many reasons Hali is such an exciting prospect is that he can contribute in other ways when his shot isn't falling. His defense and creativity has been there all season, and once his shot returns to form, I expect more Rookie of the Month honors to follow.