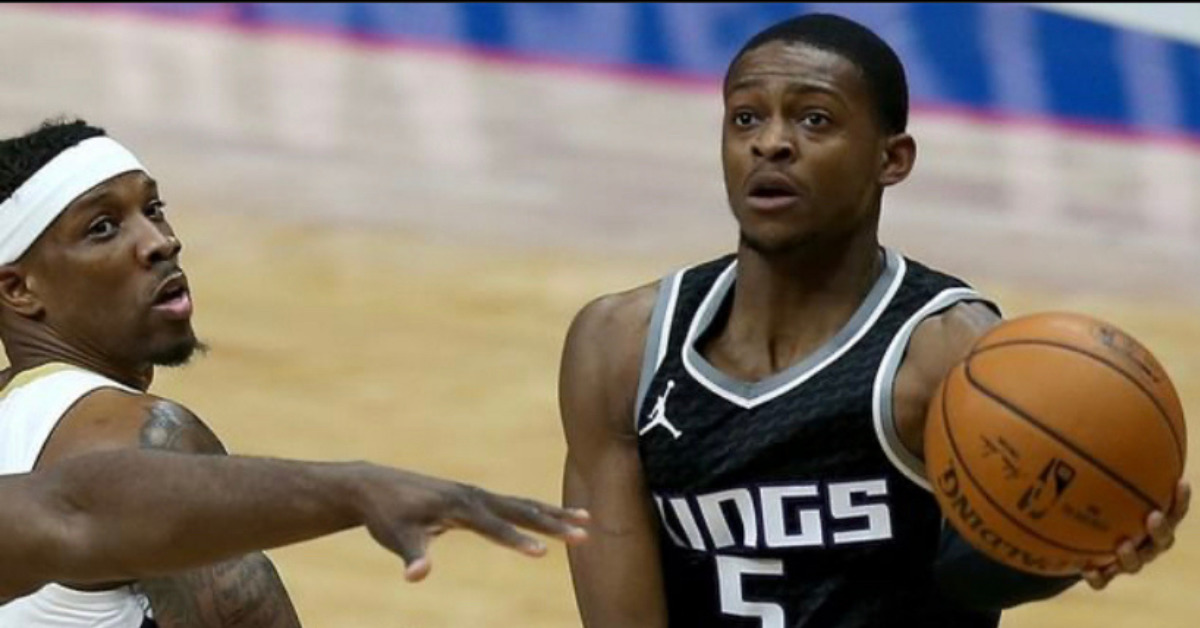 In the NBA, stars can often be the difference between winning and losing and tonight was no different. In a game that looked to be getting out of hand, Sacramento's star decided enough was enough and took over the game. De'Aaron Fox scored 17 of his game-high 38 points in the fourth quarter alone, and all in a row. From 7:07 till the clock struck 33 seconds left, De'Aaron Fox scored every single point for the Sacramento Kings. He did it with step backs, he did it with threes, he did it with free throws and he did it with spin moves. He did it all.
DE'AARON HIT THE SPIN CYCLE pic.twitter.com/VwY0mt1cCz

— Kings on NBCS (@NBCSKings) February 2, 2021
Sacramento entered the final frame down 7 points after struggling for much of the third quarter. New Orleans came out and hit a three to extend the lead to 10, but the Kings were able to claw back within 2 with 7:59 left.
From that point on, De'Aaron Fox made it clear that he wasn't leaving this game without a W and he put his money where his mouth was. Many times in the past couple years, we've seen Fox play too unselfishly but here he was ready for the moment and put the team on his back. That attitude can only lead to bigger and better things for both Fox and the Kings.
Fox may have closed the game out, but credit should be given to a few other Kings for keeping them in the game in the first place. Harrison Barnes continued his excellent season with a 24 point, 8 rebound and 4 assist performance. It often seems that when the Kings begin to struggle, Harrison is able to stem the tide with his steady play.
Richaun Holmes also had an excellent game with 17 points, 10 rebounds, 6 blocks and 3 assists. After barely being involved in Saturday's loss against the Heat, the Kings seemed to make a point of attacking the smaller Pelicans, who were absent the services of starting center Steven Adams.
Marvin Bagley III was also having a decent game with 10 points, 4 rebounds and 1 assist in 21 minutes, but was ejected early in the 3rd quarter after expressing frustration on a questionable foul call. Both of Bagley's technicals seemed to be unearned, and it would not surprise me in the slightest if one or both are rescinded by the NBA tomorrow. It was an inauspicious exit for Bagley, who has been playing much better of late on both ends of the floor.
In Sacramento's first matchup with the Pelicans, Zion Williamson had his way with the Kings, getting to the paint at will and only missing 2 shots the entire game. The Kings did a much better job this time, holding Zion to just 17 points. Brandon Ingram also struggled, scoring 20 points but doing so on an abysmal 6 of 20 from the field. Sacramento's defense was particularly good in the fourth quarter, where they held New Orleans to just 15 points overall.
The Kings finish their road trip 3-1, just one possession away from a flawless trip. After a disastrous homestand in which the Kings were giving up a record amount of points, Sacramento's defense has tightened up. Hopefully they can carry that over throughout the rest of the season. Sacramento returns home to face the Boston Celtics on Wednesday.
Random Observations
Buddy Buckets has become Buddy Chuck-its. Buddy was 4-16 from the field tonight, and 15 of those attempts were beyond the arc. The quality of his attempts have dropped drastically in the last two years.
Tyrese Haliburton has definitely become a focal point of opposing scouting reports during this road trip. His scoring and shooting efficiency have dropped dramatically and teams are no longer leaving him open and daring him to create his own shot. The great thing about Tyrese is that he still manages to find a way to contribute if he isn't scoring. Tonight he managed to grab a career-high (and team-leading) 11 rebounds to go with 6 assists and a steal.
Corey Joseph played 14 minutes and scored 3 points to go with 1 rebound and an assist. Corey plays with a lot of effort, but the production just isn't there.
Sacramento's passes were particularly sloppy in this game, especially in the first half where there was a stretch where New Orleans seemingly intercepted or deflected five straight possessions. 20 turnovers is too much and the Kings need to do a better job of taking care of the ball.
Fox has struggled with his free throws all year, and was particularly frustrated with himself after going just 3-8 from the line in the loss to Miami, but tonight he was 7-7.