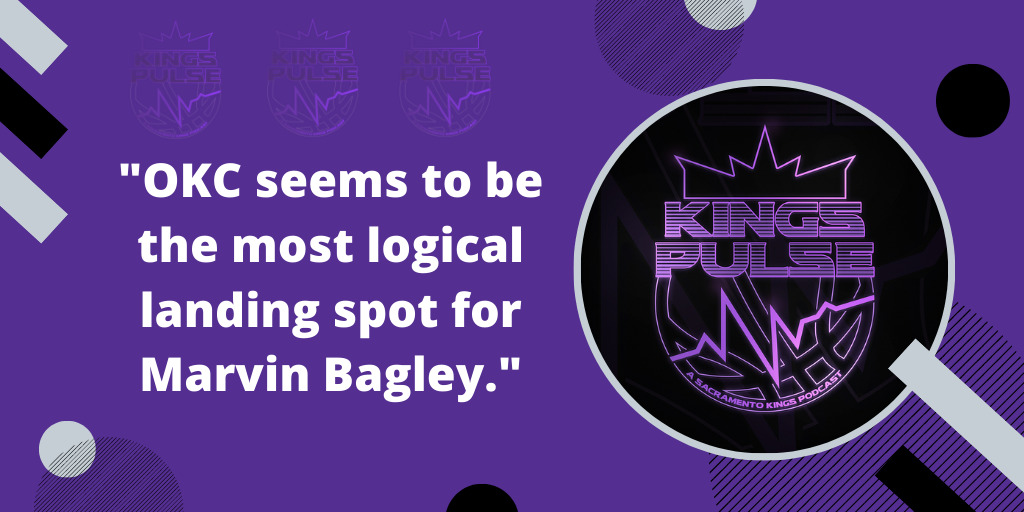 I don't think a Marvin Bagley trade this offseason would come as a surprise to anyone in Sacramento. His dad has made comments on social media, Bagley has never denied wanting out in the media, and most recently the former 2nd overall pick liked a tweet paired suggesting he needed out of Sacramento. All of that, combined with the Kings likely needing to clear cap space in order to re-sign Richaun Holmes, is a formula for ending up on the trade block.
Of all the teams with notable cap space, which includes New York, San Antonio, Oklahoma City and Dallas, the Thunder feel like a match for eating Bagley's salary while taking a swing on his still very real upside at 22-years-old.
Jacob Kniffen (@JacobKniffen), host of the Uncontested Oklahoma City podcast of the Blue Wire podcast network, joined the show today to provide the Thunder's point of view.
He mentioned how Sam Presti will need to accumulate some of these assets down the line and in the immediate future. The Thunder are the owners of picks 6, 16, 18, 34, 36, and 55 in the 2021 NBA Draft with no real shot of adding six new players to the roster next season.
Some of those picks could be included in a deal for Marvin Bagley, as could a young player such as Kenrich Williams, Isaiah Roby, or Darius Bazley. Kings' fans should not get their hopes up when it comes to Lugentz Dort or Aleksej Pokusevski (sorry, Will).
Jacob also mentioned how he thinks Oklahoma City would be willing to trades pick 16 and 18 to the Sacramento Kings to move up to pick 9. I give my thoughts on this potential deal when it comes to the likely available prospects.
In this episode we also discuss:
What prospects the Thunder will likely consider at pick 6
How good will OKC be next season? Competing for the play-in?
Could the Kings dump Buddy Hield into OKC's space?
How much the Kings would be able to offer Holmes if they dumped Bagley
Let us know what sort of trades you would look to make with the Oklahoma City Thunder this offseason!
The Kings Pulse Podcast is available on all major listening platforms.