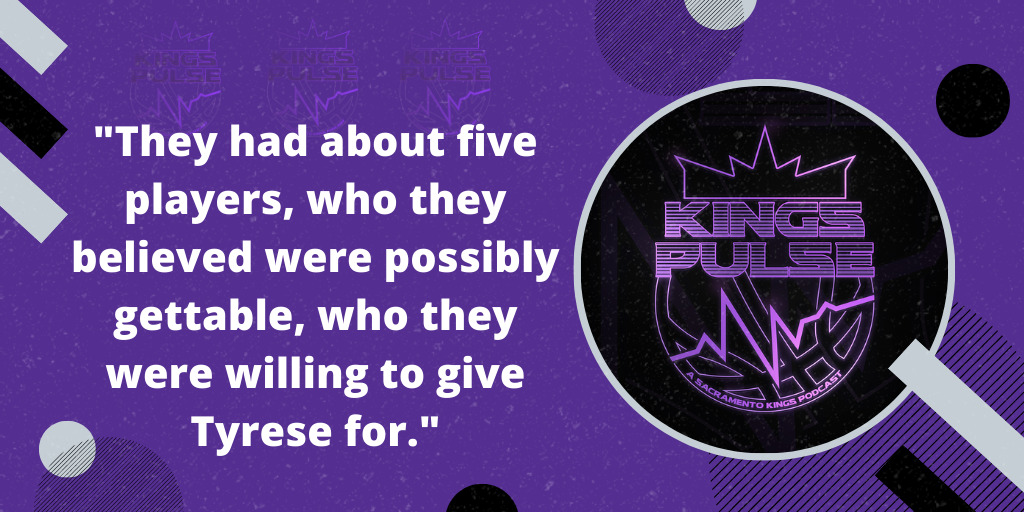 On this episode, I was lucky enough to be joined by Sam Amick, senior NBA writer for The Athletic, who is someone that I'm sure most Sacramento Kings' fans are pretty familiar with.
Sam shared a lot of insight on this past trade deadline, the looming offseason, and more from Sacramento's perspective.
We started the conversation by talking about the Kings trading Tyrese Haliburton, Buddy Hield, and Tristan Thompson for Domantas Sabonis, Justin Holiday, and Jeremy Lamb. Sam gave his opinion on so many members of the media and league seeming to freak out about them moving Haliburton.
Sam also shared his understanding of the reporting that other teams around the league did not know Haliburton was available. In fact, Sam told me on this episode that the Kings had about five players that they believed were possibly gettable that they would have been willing to move Tyrese for. You can hear that clip in the Twitter preview below.
🚨 NEW EPISODE 🚨

🔘Special Guest: @sam_amick
🔘There were about 5 players SAC would've traded Haliburton for
🔘What could DiVincenzo make in RFA?
🔘Potential trade candidates in this upcoming offseason
🔘The coaching landscape and Alvin Gentry's futurehttps://t.co/8d791r64BO pic.twitter.com/duLnUAzn5q

— Kings Pulse (@Kings_Pulse) February 24, 2022
There are plenty of gems and insights from Sam Amick, as there always is with his work, in this Kings Pulse podcast episode.
We also touch on the leaguewide value of Harrison Barnes and Richaun Holmes. I asked Sam what players he expects to be available this coming offseason. Some of the names were carryovers from the previous deadline and there are new mentions as well.
The coaching landscape is also something we spent a notable amount of time diving into. Sam shared his thoughts/read on Alvin Gentry's future as head coach of the Sacramento, along with some of the potential other candidates for when the time comes.
Also, is there possibly a world where Gentry returns as an assistant? Thoughts on Doug Christie garnering serious consideration when Luke Walton was let go?
And there's plenty more of insight from Sam Amick in this episode. It was great to have him join me and next up is Episode 300! Man I refuse to believe I've actually done that many episodes already.
But, expect more and more KP episodes to roll in as the Sacramento Kings play through their final 22 games of the 2021-22 NBA regular season with the play-in circled as the goal.
Subscribe: iTunes | Spotify | YouTube