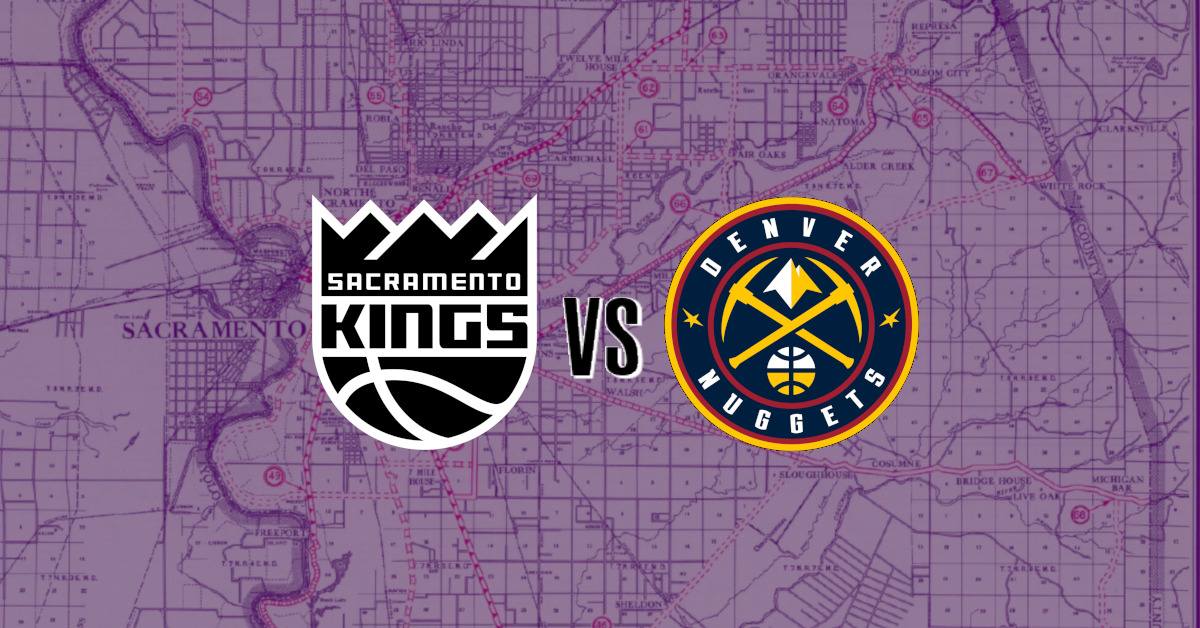 Man this week of not having to commiserate about the Sacramento Kings really flew by quick didn't it? One second I'm not watching the Sacramento Kings Social Responsibility Coordinator in the Celebrity All-Star Game and the next thing you know it's Tuesday night and I'm YouTubing highlights of the All-Star Game on the off-chance that I need to reference something that happened in it! A bit of a long shot if you ask me - not as long as that shot Steph Curry hit with 7:33 to go in the third.... but close!
Alas, the break is over and our watch has begun again, with hope and optimism on the rebound and Indiana receding more from our collective minds everyday. The Kings are home and chomping at the bit to get after a injury riddled, still far better Nuggets squad and prove that with twenty games and change to play, this reoriented Kings squad can be the team many of us thought they were at the beginning of this season. The tank dreams of many are confined to playing out solely on 2k and in the daydreams of true sickos like me, play-in hopes hanging by wing and a prayer. Kangz season is in its final stretch and I'm ready for whatever comes next.
Let's talk Kings basketball!
When: Thursday, February 24th, 7:00 PM PT
Where: Golden 1 Center, Sacramento, CA
TV: NBCSCA - Mark Jones (play-by-play)
Radio: KHTK Sports 1140 AM
For Your Consideration
Battle of the Big Guys: Prior to the All-Star Break, the Nuggets had won five of their last six games and all on the broad shoulders of the derpiest, strangest NBA superstar ever. With Jamal Murray and Michael Porter Jr. still assumed out for the rest of the year, the Nuggets have had to lean all the way into the Joker to make things work and, well, they're sitting in the sixth seed, eight games above the .500 mark. Former Kings coach and current Kings arch-nemesis Mike Malone has got this patchwork quilt flowing, with a team that's in 13th in scoring per game at 109.9 and 12th in opponents scoring at 107.8... they're winning games, playing well on both sides of the ball and doing so while relying on good but unremarkable vets like Monte Morris, Jeff Green, Will Barton and unproven guys like Bones Hyland and Facundo Campazzo. Yes, yes, Aaron Gordon was a great get for them last year and Austin Rivers should 100% be mentioned as well. I'll even mention that the DeMarcus Cousins experiment has gone well enough that he's being signed for the rest of the season (although he won't be signed in time for this game) - I'm glad the guy has found a little-more-than-temporary footing in the league for the moment. But this team, the reason they can lose two high quality starters and keep ticking, every single bit of the gameplan, runs on the star-power of Nikola Jokic.
The man, in my eyes, is the guy to beat for the MVP award. Every single night he makes the insane look pedestrian and eye popping stats feel blasé. Feel free to check my math here but as far as I can tell, Jokic is the first and only player in history of the league to average a statline of at least 26 points, 13 rebounds and 7 assist for a season and he's sitting on a 26 points, 13.8 rebounds and 7.9 assists average so far this season. He's clutch, he's having the greatest season in PER history apparently (not a perfect metric, I've heeeard) and the Nuggets are winning squarely on the back of his play. The play of the Nuggets revolves around him to the degree that without him on the floor, the Nuggets are currently get outscored by 10.6 points per 100 possessions - equivalent to a team hunting the #1 pick in this year's draft. This isn't to take away from the job Malone has done building a system around him or to slander Tim Connelly who has found these complimentary pieces that work. They've kept a capsizing boat afloat and humming through some incredibly choppy waters and should be commended for it. Jokic is a freak of nature and they've treated him accordingly.
On the other side of this thing is newly acquired Domantas Sabonis, described by many as a Jokic-lite, a player who can have the offense run and centered through him. How much Alvin Gentry re-centers his game plan to go through Domas will be one of the truly fascinating parts of this final twenty games of the season. Gentry's creativity will be on full display for this run of games and tonight's game against the true god of passing bigs should be an interesting comparison between Sabonis and the much bigger, much more heralded Jokic. With a new coaching hire looming on the the horizon for the Kings, this Nuggets team could certainly be looked at as a bit of a blueprint for how the Kings will need to build in order to have sustained success, and what kind of coach should be the one piloting them. Sure Fox is better than any complimentary player that's currently on the active roster for the Nuggets, but how those pieces are utilized and optimized could be the difference between lotto odds and four games on national TV in the spring for the Kings next season - something ownership and management are desperate to acquire. Obviously, Mike Malone isn't going anywhere this off-season and if he did it wouldn't be ANYWHERE near Sacramento, but if we've got imagination enough to squint and see Sabonis as Jokic and even Fox as Murray-esque, we should also consider looking over at the Kings bench, and any others that pique our interests for a staff that might resemble what Malone has built in Denver.
This should be a really fun game tonight, if for no other reason than the Kings have had some time to gel now and the Nuggets have an amazing player and really good coach. Fingers crossed here.
Prediction
Mike Malone misses us as much as we miss him. He wrote us letters all these years, but we didn't get them because Vivek's been intercepting them at the mailbox and keeping them under his bed in a shoebox wrapped with ribbon. Too much time has passed now: we've aged, grown hard with this pain too greatly embedded in our hearts by the pressure of these years of silence. But, there's a beat tonight, a single moment in an infinite river of time, where he looks at us and us at him... and we share in the remembrance of love and the warmth of said memories.
The moment passes, a horn sounds or a player cuts between our gaze and we leave, separate forever, together forever in memory alone.
Kings: 122, Nuggets: 117