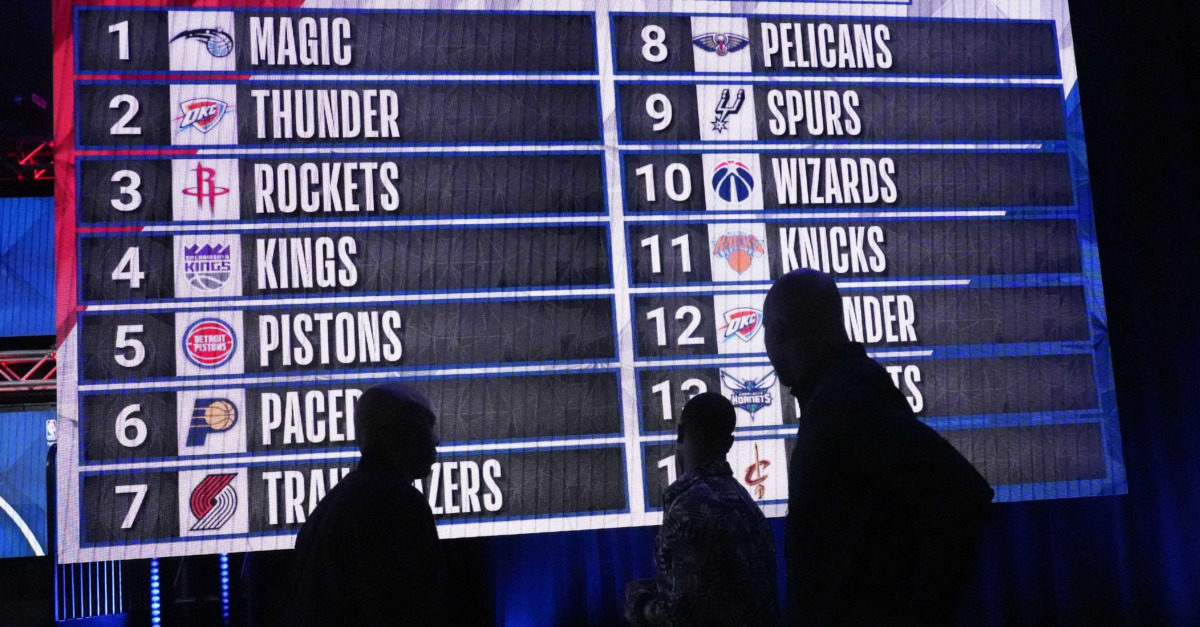 The 2022 NBA Draft is finally here! While the Orlando Magic, Oklahoma City Thunder, and Houston Rockets hold the first three picks, it's our own Sacramento Kings who may truly kick off the draft. Most prognosticators rank Jabari Smith Jr., Chet Holmgren, Paolo Banchero, and Jaden Ivey in some order as the top 4 picks, but does Monte McNair agree? Will the Kings stay pat at 4 if Ivey is left on the board? Will they trade down, trade up, trade out? Will they shock us all and draft someone other than Ivey or Keegan Murray at #4? McNair has surprised us before, and has a history of keeping his draft secrets close to the vest. I have no earthly idea what Monte McNair will do when the Kings are on the clock, and I think that this year, that's the best way to approach the draft.
In my opinion, there are four top tier prospects in this class, and since the Kings sit at #4, I believe their pick should be simple enough. They shouldn't overthink team fit and needs as opposed to talent. While Smith Jr. and Holmgren are both strong two-way fits for the Kings, Banchero and Ivey are less so on defense. Meanwhile, guys like Dyson Daniels, Jeremey Sochan, and especially Murray, are strong prospects who both fit the Kings needs now and have a ton of room to grow. Fit limitations—especially when you're playing in basketball hell—may not be so simple to overcome as they would for most other non-Kangz rebuilding squads. That said, I truly believe the top four prospects all have star upside, and the Kings should swing for stars when they have the opportunity to do so.
The 2022 draft may lack a traditional automatic #1 overall pick, but the talent from spots 1 through 4, and then from 5 through the end of the lottery, seems as deep with NBA talent as any recent draft class outside of 2018. While I've been fairly concrete in my top 5 for a month now, I'll admit that the rest of the lottery was much harder to rank this year than most years. It feels almost an insult to rank one of the top four prospects at #4, and any of the other lottery-level talents at #14 or lower. And should the Kings trade back from pick #4, I could see a real case for Monte to aim for pretty much anyone in the top 14 of my big board.
Below are my Top 20 KingsCentric rankings. Note that if a player's name is in purple, you can follow that link to a full player profile. Thanks for reading!
Tier 1

1. Jabari Smith Jr., Forward, Auburn, 19 years old, 6'10
Smith is an absolutely elite deep shooter and tough shot maker who backs it up with tenacious, physical defense. Shot 42% from three on a poorly-spaced Auburn team, and showed he could knock down shots off the catch, off the dribble, and off of movement. At 6'10 and with a 7'1 wingspan, his turnaround shot and quick catch-and-shoot release gives him an incredibly safe offensive floor, and what he did at Auburn can translate immediately to the next level. He's got some clear weaknesses on offense; a lack of burst, touch, and coordination on drives and around the basket limits his three-level scoring, and he must improve his handle and playmaking instincts. But he's the best shooting big prospect I've scouted, and backs it up by being an excellent, switchable defender, especially on the perimeter. While I wouldn't draft him #1 for every team, I think he's the best talent and the best fit for the Kings, and that the Kings are the best fit in the top 4 for Smith as well.
2. Chet Holmgren, Big, Gonzaga, 20 years old, 7'1
One of the most unique prospects in recent years, Holmgrem has the highest two-way upside in the draft class and would be a great fit next to fellow Gonzaga Bulldog Domantas Sabonis. Holmgren is a dynamic rim protector, a promising scorer both around the basket and on the perimeter, and an all-around high-instinct, high-motor player. And despite being 7'1 with a 7'5 wingspan, he's got coordination and fluidity that no player at that size should have. The concerns about his game all come back to his size—at just 195 lbs last year, players at every position will go at him again and again in the paint until he proves he can do something about it. But despite those concerns, he's as physical and competitive as any young player, and any smart team should love to get him into their defense (and their physical development system).
3. Paolo Banchero, Big, Duke, 19 years old, 6'10
Banchero has the best chance of the class to be a good team's leading scorer while also being their primary playmaker; and at 6'10, 250 lbs, with his level of explosiveness and power, he can be a nightmare matchup from day one. He can score at the basket with good footwork and touch at the rim. He's a deadly pull-up shooter in the midrange, and can take the ball from the perimeter to the basket with a fluidity man wings lack. And he's one of the better playmaking big men to come out of college in a while. His deep shot and defensive intensity are both question marks, and ones that would certainly be more concerning in Sacramento than other spots. But he's the most complete offensive prospect in the class, and combined with Sabonis and De'Aaron Fox, the trio might make this the best playmaking squad the Kings have seen in decades.
4. Jaden Ivey, Combo Guard, Purdue, 20 years old, 6'4
Ivey's combination of on- and off-ball scoring ability, offensive tenacity, and combination of top-end speed, explosiveness, and quickness give him star upside, regardless of where he ends up drafted. His defensive focus and consistency absolutely need to improve, especially if he comes to Sacramento. He's a complex defensive fit with Fox, and I think it's reasonable to worry that fit concerns may not be so simple to overcome in Sacramento as other more patient, stable organizations. But in some ways, the offensive concerns are overblown; he's not a pure point guard, shouldn't be played like one, and thrived in many ways off of the ball at Purdue. He'll be best next to a primary initiator, and a smart coaching staff will find plenty of ways for him to thrive on both ends of the court. If the draft goes as expected for the first three picks, he's my pick for the Kings.
Tier 2
5. Keegan Murray, Forward, Iowa, 21 years old, 6'8
Keegan's two-way production and composure at Iowa, as the leading scorer and best defender on a Big 10 title team, is impossible to ignore. His deep shot, offensive versatility, and solid defensive range and switchability would undoubtedly help the Kings or any lottery team on both ends of the court. If he shows drastic improvements and willingness to shoot off of the dribble (paired with his current catch-and-shoot success), he could shake off many creation concerns I and some other evaluators have for him. I don't project him as a franchise altering talent; until he shows his pull-up shot can be a full-time weapon or improves his first-step and predictability on drives, I struggle to see how he'll consistently get his own shot, which is not a concern I have for others in this range. He has clear limitations on both ends of the ball, but he's utterly Kangz-proof and a lock to be a strong two-way contributor. He'd be a fan favorite in Sacramento from the moment he steps on the court.
6. AJ Griffin, Forward, Duke, 18 years old, 6'6
Griffin is one of the best shooters in this and any draft class, and can instantly be a team's best catch-and-shoot player while also offering real promise off of the dribble. Unfortunately, he also needs to improve as a defender as much as anyone in the draft. Griffin is one of the classes' youngest players and missed some key developmental time due to COVID lockdowns and injuries (no injuries during the season at Duke, thankfully), and if his future team helps him round out his offense, improve his defensive instincts, and balance his strength gain with some flexibility, he could be the classes' surprise star.
7. Bennedict Mathurin, Wing, Arizona, 20 years old, 6'6
Mathurin showcased his scoring talents all season long for Arizona as the Pac-12 player of the year. He has a smooth deep shot off of the catch and off of movement (37% this season on 6.1 attempts per game, 38% in his two years in Tuscon), and is explosive at the basket with excellent touch (60% at the rim in the half-court). He has the tools to be an excellent off-ball scorer at the NBA level, showed strong improvements as a playmaker late in the season, and is a midrange or runner shot away from being a truly promising three-level shotmaker. He's explosive, quick, and has good size for a wing player, although he was one of the most inconsistent defenders in the lottery. If Mike Brown can get him to focus on defense, Mathurin could be an ideal wing next to Fox/Davion Mitchell.
8. Tari Eason, Forward, LSU, 21 years old, 6'8
I'm all in on Eason's two-way upside. His aggressiveness, defensive instincts, and combination of power, explosiveness, and force made him my second favorite defensive prospect in the class (behind Holmgren). He has the potential to be an excellent, switchable defender at the next level, and averaged 3.2 steals and 1.8 blocks per 40 minutes this season. He's also shown massive improvement on his shot this season, shooting 36% from three and 80% from the line on promising volume, but he needs to prove that growth is real and not a flash in the pan. He absolutely needs to improve his passing vision and willingness, especially as he transitions into an off-ball scoring role. His aggressiveness is also a double-edge sword, and he needs to improve his decision-making on both ends, lest either his future coach or fouls nail him to the bench.
9. Dyson Daniels, Guard/Wing, GLeague Ignite, 19 years old, 6'7.5
A truly excellent defender who can guard multiple positions while also providing a lot of versatility and upside on offense. He's as locked-in on the defensive end as you could ask from a prospect, and with his size, length, quickness, and switchability, he matched up against a ton of promising G League wings, guards, and forwards. He's also an excellent playmaker, and averaged 4.5 assists per game even while playing with multiple other ballhandlers and initiators. His deep shot is a bit of a question, finishing at just 30% from three over the season, but he showed real improvement later in the season and his mechanics seem fairly consistent. If he can be an efficient shooter, I think he can be a role playing star—a connector who doesn't need the ball in his hands all the time to make a good team better on both ends.
10. Jeremy Sochan, Forward, Baylor, 19 years old, 6'9
Sochan's defensive versatility and tenacity are exceptional at his age, and at 6'9 he somehow has quickness, agility, and on-ball defensive instincts that many guards and wings would envy. The transition from college to the pros is never quick for defenders, especially one like Sochan where you're hoping/expecting him to defend across positions, but that doesn't take anything away from his potential. On offense, he flashes upside across the board, especially as a playfinisher AND playmaker (1.8 assists per game undersell his passing instincts). He needs to prove that his shooting form can be efficient, as he shot just 29% from deep last season.
Sochan is very much a project player on both ends of the court; his full two-way impact is a few years away, and requires that he ends up on a great developmental squad. But it says something that the Baylor Bears, who had a ton of returning talent from their NCAA Championship team, played the 18-year-old Sochan big time minutes last year. He's an ideal long-term gamble for any patient team.
11. Shaedon Sharpe, Wing, DNP-Kentucky, 19 years old, 6'5.25
The ultimate lottery ticket, a draft gambler's dream prospect; Sharpe's physical tools, his elite athleticism and quickness, and his pull-up shot and effortless dunking ability make him look like a future scoring star. There are very few players at his age with his quick pull-up shot, and none of them have his balance and athleticism to go with it. But so much of his game is up in the air, without a season of NCAA or GLeague tape to confirm it; how solid is his deep shot over a full season? How is his defensive approach and awareness outside of high school? Is his handle strong enough to get him buckets in the half court? How will he handle physical defenders in big-game moments?
NBA squads have way more evidence to answer these questions than us armchair scouts, but Sharpe is too risky a pick in my book for the Kings. If Monte McNair disagrees, though, and drafts Sharpe with everything on the line this upcoming season, it will say a lot about his confidence in Shadeon's potential stardom.
12. Jalen Duren, Big, Memphis, 18 years old, 6'11
The youngest player in the draft looks anything but young; at 6'11 with a 7'5 wingspan and strength and explosiveness well beyond his years, Duren can be an incredible rim protector, pick-and-roll threat, and play finisher fairly quickly. He also showed some upside switching onto smaller players, although I think his defensive range may be a touch overstated. Regardless, it feels absolutely irresponsible to have Duren this low; if he develops an outside shot (he shot 62.5% from the free throw line, and 8 of 22 on half-court jumpers), he could be a dang good two-way fit with Sabonis and make this ranking look ridiculous.
13. Johnny Davis, Guard, Wisconsin, 20 years old, 6'5.75
Johnny Davis was one of the better players in college basketball through most of the season, and led Wisconsin in points, field goals, rebounds, and steals. He showcased exceptional tough shot-making skills, and was able to score in the mid-range off of the pull-up and thrive in the pick-and-roll. That said, it was also clear by the end of the season that he was wearing down from having to be the Badger's only real creator. His offensive role in the NBA may not be the same as it was in college, but he was also as locked-in on defense as you could ask from a dude with his offensive responsibilities. He needs to prove he can be consistent from three (30.9% on the season, 22% in February and 20% in March).
14. Malaki Branham, Wing, Ohio State, 19 years old, 6'5.5
We round out the lottery with another promising shooter with upside as a three level scorer. Braham was truly efficient for the Buckeyes off the catch, off the dribble, and out of the pick-and-roll. While his final three point numbers (41.6% on 89 attempts) aren't as high volume as I'd like, his smooth release and quick elevation on his shot makes you want to bet on his mechanics. As our buddy SPTSJUNKIE put it in his annual draft model guide, Branham plays bigger (and a tad slower, more methodical) than his 6'5.5 size may indicate, and he has the tools to be a strong wing defender. But he needs to show up on defense a ton more than he did at Ohio State.
Tier 3
15. Ochai Agbaji, Wing, Kansas, 22 years old, 6'5
Agbaji's growth as a shooter and defensive tenacity makes him an ideal selection for a team needing a 3-and-D wing. He was a leader of the national championship Kansas squad. Shot 40.7% from deep on 6.5 attempts from three this season, and is especially dangerous off the catch (42.1%, 89th percentile). I'm not confident he'll ever create for himself at a high level, but as long as he's paired with primary initiators and isn't asked to run an offense, he's fully ready to be a knock-down off-ball shooter.
16. Ousmane Dieng, Forward, New Zealand Breakers (NBL), 19 years old, 6'10
The Frenchman had a slow start to the season in New Zealand but capped it off with a strong finish, averaging 13.3 points and 4 rebounds a game on 48% shooting and 36% from deep in their final 14 games. A promising defender with good length, Dieng defended guards, wings, and some forwards in the NBL and showed the physicality needed to play in a grown mans' league. That one-on-one defensive range will shrink somewhat in the NBA, but he's also a dedicated help defender. Showed real flashes of strong passing vision, and is fluid with the ball in his hands on the perimeter. His swing skill is his deep shot, especially off the catch; shot just 27% from deep on the season and 66.7% from the line. Needs the shot to be real in order to unlock his long-term two-way versatility.
17. Mark Williams, Center, Duke, 20 years old, 7'2
Williams was the savior of Duke's defense and one of the most natural rim protectors you'll find, swatting 4.8 blocks per 40 minutes. The Blue Devils, including Banchero, absolutely relied on Williams to fix their mistakes on defense. He also proved an ideal offensive fit with Paolo as a rim runner, vertical spacer, and playfinisher around the basket. While you wouldn't want to have him defend guards or wings in space, it is impressive how quick he can get up and down the court given his size. Sadly, lacks any semblance of a deep shot or regular passing instincts at this stage.
18. E.J. Liddell, Big, Ohio State, 21 years old, 6'7
A smart, high-instinct defender who plays bigger than his 6'7 height might indicate. Laterally quick and smart enough to handle many collegiate wings and guards, and never backed down from dudes bigger than him (watch Ohio State/Duke to see how he handled Paolo Banchero). Showed real improvement as a shooter this season (37.4% on 3.8 attempts a game, 76.5% from the free throw line), and has the two-way versatility to make him a strong role player at the next level. Won't be a big-time creator, but every team needs what he can bring to the court. Biggest red flag—his awful taste in Marvel movies.
19. Jalen Williams, Guard/Wing, Santa Clara, 21 years old, 6'6
Williams elevated every part of his game this season, averaging 18 points, 4.4 rebounds, 4.2 assists, and 1.2 steals on 51.3% shooting, nearly 40% from deep, and 60% at the rim in the halfcourt. He's an excellent pick-and-roll ballhandler and scorer, and showcases real shiftiness and creativity when attacking downhill. He's also a solid, switchable on-ball defender who didn't let the fact that he carried the team on offense stop him from competing on the other end. Every team should love to snag a 6'6 wing with his combination of dribble/pass/shoot skills.
20. TyTy Washington Jr., Initiator, Kentucky, 20 years old, 6'3
Washington showed all-around promise at Kentucky. He's clearly a high-instinct playmaker, especially in the half-court, and his 3.9 assists per game don't do this justice (he was also playing more as a combo guard alongside Sahvir Wheeler). He's a pomising shooter from two levels (especially with his floater shot), but saw his overall shooting numbers and 3 point efficiency tank mid-season as he dealt with an ankle injury. He's got somewhat limited quickness and explosiveness; he was locked in on defense but often got beat by small guards. I'm nt sure he has the toolset to reliably create his own shot, which could limit him as a primary initiator. At worst, a strong bench playmaker or a solid starter if surrounded by strong scoring talent.
The Next Tier
The following players are ones I didn't get a chance to do a proper deep dive into this year, but who (according to experts and our friend Brett Huff's stellar Consensus Big Board rankings) are in the consensus conversation for 1st round/early 2nd round selections.
Jaden Hardy, Guard, G League Ignite, 19 years old, 6'4
Dalen Terry, Guard/Wing, Arizona, 19 years old, 6'7
Blake Wesley, Guard, Notre Dame, 19 years old, 6'4
Jake LaRavia, Forward, Wake Forest, 20 years old, 6'8
Nikola Jovic, Forward, Mega Basket (Adriatic League, Serbia), 19 years old, 6'11
MarJon Beauchamp, Wing, G League Ignite, 20 years old, 6'6
Kennedy Chandler, Guard, Tennessee, 19 years old, 6'0
Bryce McGowens, Wing, Nebraska, 19 years old, 6'7
Kendall Brown, Forward, Baylor, 19 years old, 6'8
Walker Kessler, Center, Auburn, 20 years old, 7'1
Christian Braun, Wing, Kansas, 21 years old, 6'7
My Favorite 2nd Round Targets: Jaylin Williams, Forward, Arkansas | Trevon Williams, Big, Purdue | Max Christie, Wing, Michigan State | Patrick Baldwin Jr., Forward, Milwaukee | Hyunjung Lee, Wing, Davidson