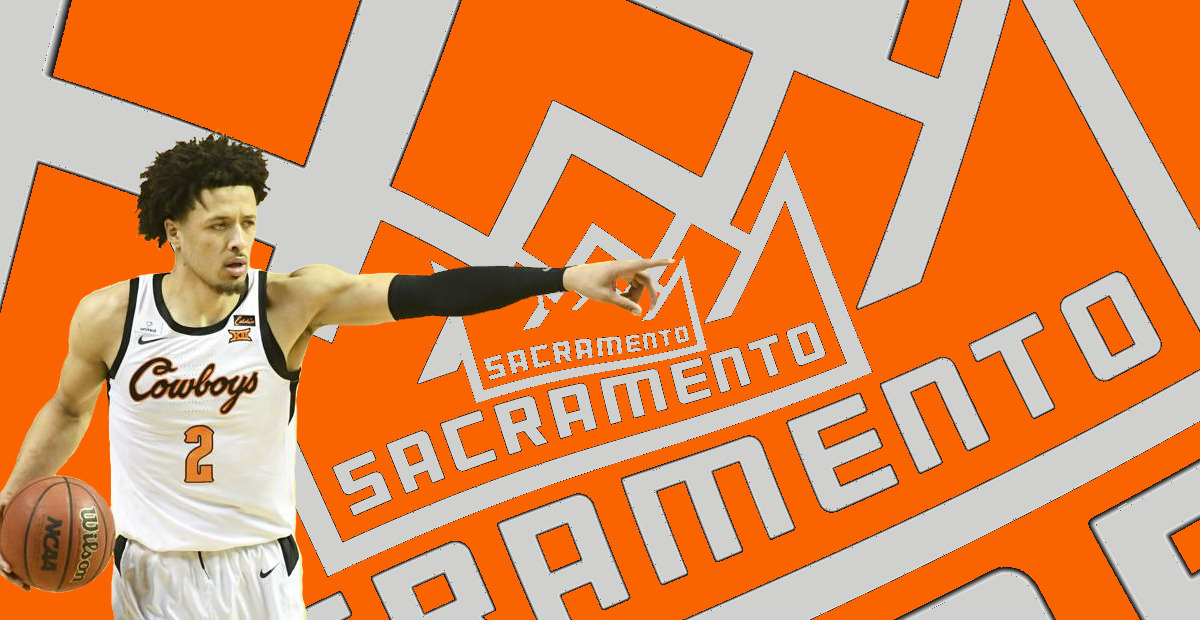 Welcome to the best time of the sports year! If you're just tuning in to the college basketball season, I've got great news for you - a whole bunch of the top 2021 NBA Draft prospects are playing in the NCAA Tournament this year. According to the composite Big Board our buddy Brett Huff runs, 18 of the top 30 consensus players are tipping off on Friday or Saturday, so there will be plenty of chances to watch future NBA players.
But before we get into the top players, let's take a moment and appreciate all the NCAA players who kept this sport going this crazy, crazy year. While the players we're going to be discussing today will all play professional basketball in one league or another, a majority of the players who participated in college basketball this year won't. And unlike most years€"where it's only moderately difficult to enjoy a billion-dollar sports league that doesn't directly pay the players for the entertainment they provide or even let them receive pay for the use of their name and likeness€"the COVID-19 pandemic made this season even more of a moral conundrum. Hundreds of games were canceled or postponed. Teenagers had to upend their lives to follow safety protocols just to play the dang game. The Stanford Cardinal, a preseason sleeper in the Pac-12, opted to play their games in Santa Cruz and live out of a hotel in response to Santa Clara County's ban on contact sports. And the Kansas Jayhawks and Virginia Cavaliers - both ranked squads who made the NCAA Tournament - had to pull out of their conference tournaments due to positive COVID tests within their programs.
I'll take nothing away from the young men and women who chose to play in any collegiate sport this year, but it's really easy for me as an Armchair Scout to whisper €œthere shouldn't be any unpaid sports happening this year€ and then fully enjoy watching Cade Cunningham, Evan Mobley, and Jalen Suggs dominate. This is a top heavy draft class to be sure, but those three (as well as Jalen Green and Jonathan Kuminga of the GLeague Ignite program) combine to make this one of the most exciting, top heavy NBA Draft classes in recent memory. So cheers to all the players, coaches, and support staff who helped make this season possible - now pay your players, god damnit.
Now that the Madness is upon us, join the 1st Annual Kings Herald Bracket Challenge on ESPN! - (The password is ZeroPicksGiven).
Here are some NBA prospects to keep your eye on during the tournament run, roughly ranked according to my ever-changing Kings-Centric Big Board. As we get further into the Madness, I'll dive into more prospects, so if I haven't covered your draft sleeper, leave a comment! All stats come from Synergy Sports, sports-reference.com, Tankathon.com, or hoop-math.com.
Cade Cunningham
Forward/Supercomputer Playing Basketball, Oklahoma State, 6'8, 220 lbs, 19 Years Old at Draft (YOAD)
Next Game: Friday, March 19 vs. Liberty, 3:25 p.m., TBS
In case you haven't heard, Cade Cunningham is pretty freaking good - per 40 minutes, he's averaging 20.2 points, 6.3 rebounds,3.6 assists, and 1.4 steals while shooting 45% from the field, 41% from deep (2.2 made threes a game), and 85% from the line. He's basically a supercomputer stuffed into a Cowboys jersey, and can do pretty much anything on the basketball court; he's an insane, instinctual passer, shoots 64% around the rim in the half-court, and has become a knock-down sniper from deep.
There's been a lot of chatter lately about his turnover numbers, and while 4.2 a game would be a concern for any initiator, it ignores his role as the one-and-only-full-stop engine on an otherwise cellar dwelling Big 12 team. The Cowboys are a scrappy, high-motor squad that has fully accepted Cunningham as the star they all orbit€¦ a good outcome, because they otherwise lack surefire-NBA-calibur players at the moment (although Kalib Boone might have a case in a few years). And yet, Oklahoma State is 9-5 against currently ranked teams, and Cade averaged 23, 7, 3, and 46% shooting in those games. And anyone worried if Cade has the chops to be a top option in the NBA needs to watch him handle Big 12 defenses that were FULLY locked on him - opponents regularly triple-team him, but he keeps finding ways to get around them. He can absolutely become a leading scorer in the NBA.
Don't be surprised when Cade drops 40 on Liberty in the 1st round. If we're lucky, we might get a Oklahoma State/Tennessee matchup in the 2nd round - watching Cunningham vs. Keon Johnson, Jaden Springer, and WorldEnder Yves Pons will be an Armchair Scout's heaven.
Cunningham is a basketball demigod waiting to be unleashed by NBA teammates and spacing; given his instincts, unique combination of skills, and combination of size and versatility, he should be at the top of every team's draft board. He's the 1st pick in an excellent, top-heavy draft class that has at least four guys I'd have taken #1 last season.
Evan Mobley
Big, USC, 7'0, 210 lbs, 20 Years Old at Draft (YOAD)
Next Game: Saturday, March 20 vs. winner of Wichita State/Drake, 1:30 p.m., TNT
Mobley has all the skills, physical tools, and basketball awareness to become a star big man in the modern NBA. He's averaging 16.8 points, 8.6 rebounds, 2.2 assists, 3.0 steals, and 58% from the field for the Trojans this season, and flashes everything squads want for a new-age big; he's versatile in the paint, a damn great playmaker for his position, and he can cover ground insanely quick for his size. Once Mobley gets into an NBA weightroom and bulks up, there's a real chance he becomes a true, hyper-switchable defensive anchor at the next level.
I'm in awe of this insane defense from Evan Mobley.

How did he get this block from where he was before for ing the kick to the corner... pic.twitter.com/7frk7JyLDN

— Aram Cannuscio (@AC__Hoops) March 13, 2021
His efficiency as a shooter has varied over the course of the season (he's currently at 31.4% from deep and 69.5% from the line), but his stroke is smooth, his release point high, and it's clear he knows it's an area of focus going forward. His insane 7'5 wingspan slows down his shot, but also keeps it out of the range of defenders; he's in the 88th percentile for shots off the dribble this year (27 attempts) and 68th percentile in jump shots in the halfcourt (78 attempts).
The major criticism all season of Mobley's game has been his low shot volume; while USC is an alright offensive squad, it's insane that Evan has only averaged 10.4 field goal attempts per game this season. Can he be an offensive focus and leading scorer of an NBA team in a few years? Absolutely - everything he does on offense is scalable, and a smart NBA coach can unlock so many offensive options through Mobley. His run in the Pac-12 Tournament backs up that optimism; against Utah and Colorado, he had 26 points, 9 rebounds, and 5 assists in both games. He has to know the Trojan's only hope in the NCAA Tournament is for him to start staring on offense.
Jalen Suggs
Guard, Gonzaga, 6'4, 205 lbs, 19 YOAD
Next Game: Saturday, March 20 vs. winner of Norfolk State/Appalachian State, 6:20 p.m., TBS
Jalen Suggs is the best Gonzaga prospect ever, playing on the best Gonzaga team ever, and is the biggest reason why I'm picking the Bulldogs to win the Championship (a sentence I hoped I'd never have to write). Suggs is averaging 14.3 points, 4.5 assists, 5.5 rebounds, and 2.0 steals a contest while shooting 51% from the field and 35% from deep. He's crafty with the basketball, tosses some absolute DIMES, and can get hot from deep in a heartbeat. His skillset is tailor made to be a lead guard at the next level€¦ although with his 6'4 size and total willingness to do whatever necessary to fit in with a hyper-deep Gonzaga team, I'm convinced that he could learn to play on an NBA squad that already has primary initiators in place...
JALEN SUGGS.

CLUTCH 🔥🔥 pic.twitter.com/i1QpVO35sx

— SportsCenter (@SportsCenter) March 10, 2021
If you like watching fun basketball, make sure you watch a Gonzaga game or two over the tournament. Given the Zag's title-favorite status, it's fair to say that Suggs may be the Tournament's most important player (although there is a case that sharpshooter senior Corey Kispert, a lottery-talent to many draft experts, is the real Gonzaga MVP).
Moses Moody
Wing, Arkansas, 6'6, 205 lbs, 19 YOAD
Next Game: Friday, March 19 vs. Colgate, 9:45 a.m., truTV
Arkansas is a gritty, physical, high-scoring squad (coached by our old friend Eric Musselman), and Moses Moody makes it all work for the Razorbacks. He's averaging 17.4 points, 5.9 rebounds, 1.8 assists, and 1.1 steals per game while shooting 44% from the field, 38% from deep (with 2 made 3s a game), and 82% from the line (5.9 FTA per game); with an insane 7'1 wingspan and strong instincts on both end, he's the classes' top 3-and-D prospect outside of the top tier of players.
While Moody is somewhat of a streaky scorer (he went on a big cold streak to open Conference play), he's such a well-rounded player that he always finds ways to contribute even when his shot isn't falling. And since the beginning of February, he's been on fire - 18.8 points, 6.6 rebounds, 42% from deep, and 84% from the line. If Arkansas keeps the offense going through him, he has a chance to be a March Madness star - but that's no sure thing, considering he had 20 points in the first few minutes of the SEC Conference semifinal loss to LSU, only for Mussleman to run almost nothing through him the rest of the half.
Make sure you watch the Razorbacks this March: their opening game against Colgate, the number two scoring squad in the nation, is my absolute favorite game in the 1st round. In my opinion, outside of the top 5 players in this draft class, Moody has the best combination of high floor and high ceiling.
James Bouknight
Wing, UConn, 6'5, 190 lbs, 20 YOAD
Next Game: Saturday, March 20 vs. Maryland, 4:10 p.m., CBS
Bouknight is a scoring dynamo, capable of lighting it up from all three levels and throwing down vicious dunks on unsuspecting defenders. The springy sophomore averaged 19 points, 5.7 rebounds, and 1.9 assists (albeit with a 0.6/1 assist-turnover ratio) per game this season, and shot 45% from the field, 30% from deep, and 81% from the line. He's got insane athleticism and body control that let's him play far above his 6'5 size.
While the Huskies are a 7th seed, they'd likely be higher if Bouknight had been healthy all year; when he missed time due to an elbow injury, UConn was just 4-4, but when James played, they were 11-3. The Huskies are my sleeper pick for a surprising Final Four spot€¦ Bouknight's Big East tournament run wasn't the stuff of legends (he averaged just 12 points on 32% shooting), but he's capable of going supernova at any moment. He's got all the tools needed to become a March legend.
Scottie Barnes
Forward, Florida State, 6'9, 225 lbs, 19 YOAD
Next Game: Saturday, March 20 vs. UNC Greensboro, 9:45 a.m., truTV
Scottie Barnes is one heck of a confusing player; if you made a basketball player in the laboratory to test my draft preferences, you couldn't have come up with a more complex prospect. He's a 6'9 tank with insane defensive versatility, capable of floating on the perimeter with guards and handling his business down low against bigs. He's a damn ball-hawk, snagging an incredible 2.4 steals per 40 minutes, and despite going maximum effort at all times, he's yet to foul out of a game this season. He could very likely be a defensive culture setter for a young squad from day one.
On offense, he's played as a jumbo initiator for Florida State this year, averaging 6.8 assists per 40 minutes. Synergy notes that when you consider both his individual points and assists in the halfcourt, his points per possession would rank in the 93rd percentile across all collegiate players. But his offensive value outside of his playmaking is more of a question mark, and he needs to continue to develop as a shooter (just 29% from downtown, and 33% overall on catch-and-shoot shots) and prove he can score in the halfcourt. Fortunately, he's been on hot streak to enter the tournament; in his last three games, he's averaging 16.3 points per game on 70% shooting. If he can keep it up and help lead the Seminoles to a few wins, there are some sweet potential Sweet 16 matchups against either Michigan, LSU, or St. Bonaventure.
Franz Wagner
Forward, Michigan, 6'8, 205 lbs, 19 YOAD
Next Game: Saturday, March 20 vs. winner of Mount St. Mary's/Texas Southern, 12:00 p.m., CBS
Wagner is a jack-of-all-trade, secret-master-of-them-all type player whose versatility and instincts will make him a quick fit in the NBA next season; 12.8 points, 6.2 rebounds, 2.9 assists, 1.4 steals, 1.1 blocks, and 49% shooting from the floor and 38% from deep. He's not a high-volume scorer (and will need to carry a bigger workload in the tournament, as Isaiah Livers is out with a foot injury), but he's got a big bag of tricks and everything in his game seems immediately scalable at the next level.
If you want a full breakdown of Wagner's NBA ceiling, I implore you to check out Jake Rosen's fantastic article. Here's hoping we get Scottie Barnes vs. Franz Wagner in the Sweet 16!
Other Potential 1st Round Prospects to Watch:
Keon Johnson, Wing, Tennessee, 6'5, 186 lbs, 19 YOAD (Friday, March 19 vs. Oregon State, 1:30 p.m., TNT)
Jaden Springer, Combo Guard, Tennessee, 6'4, 205 lbs, 18 YOAD (Friday, March 19 vs. Oregon State, 1:30 p.m., TNT)
Corey Kispert, Wing, Gonzaga, 6'7, 220 lbs, 22 YOAD (Saturday, March 20 vs. winner of Norfolk State/Appalachian State, 6:20 p.m., TBS)
Kai Jones, Big, Texas, 6'11, 220 lbs, 20 YOAD (Saturday, March 20 vs. Abilene Christian, 6:50 p.m., truTV)
Greg Brown, Power Forward, Texas, 6'9, 205 lbs, 19 YOAD (Saturday, March 20 vs. Abilene Christian, 6:50 p.m., truTV)
Ayo Dosunmu, Wing, Illinois, 6'6, 200 lbs, 21 YOAD (Friday, March 19 vs. Drexel, 10:15 a.m., TBS)
Cam Thomas, Off-Ball Guard, LSU, 6'4, 210 lbs, 19 YOAD (Saturday, March 20 vs. St. Bonaventure, 10:45 a.m., TNT)
Day'Ron Sharpe, Center, North Carolina, 6'11, 265 lbs, 19 YOAD (Friday, March 19 vs. Wisconsin, 4:10 p.m., CBS)
Jared Butler, Guard, Baylor, 6'3, 190 lbs, 21 YOAD (Friday, March 19 vs. Hartford, 12:20 p.m., truTV)
Davion Mitchell, Guard, Baylor, 6'2, 205 lbs, 22 YOAD (Friday, March 19 vs. Hartford, 12:20 p.m., truTV)
Chris Duarte, Wing, Oregon, 6'6, 190 lbs, 24 YOAD (Saturday, March 20 vs. VCU, 6:57 p.m., TNT)
Terrence Shannon Jr., Wing, Texas Tech, 6'6, 210 lbs, 20 YOAD (Friday, March 19 vs. Utah State, 10:45 a.m., TNT)
Nah'Shon Hyland, Guard, VCU, 6'3, 170 lbs, 20 YOAD (Saturday, March 20 vs. Oregon, 6:57 p.m., TNT)
Miles McBride, Guard, West Virginia, 6'2, 200 lbs, 20 YOAD (Friday, March 19 vs. Morehead State, 6:50 p.m., truTV)
Tre Mann, Guard, Florida, 6'5, 190 lbs, 20 YOAD (Friday, March 19 vs. Virginia Tech, 9:15 a.m., CBS)
Aaron Henry, Wing, Michigan State, 6'6, 210 lbs, 21 YOAD (Saturday, March 20 vs. BYU, 6:40 p.m., CBS)