Reviewing Zach Lowe's proposed Kings lineup
Lowe proposes an interesting lineup that he wants to see in Orlando.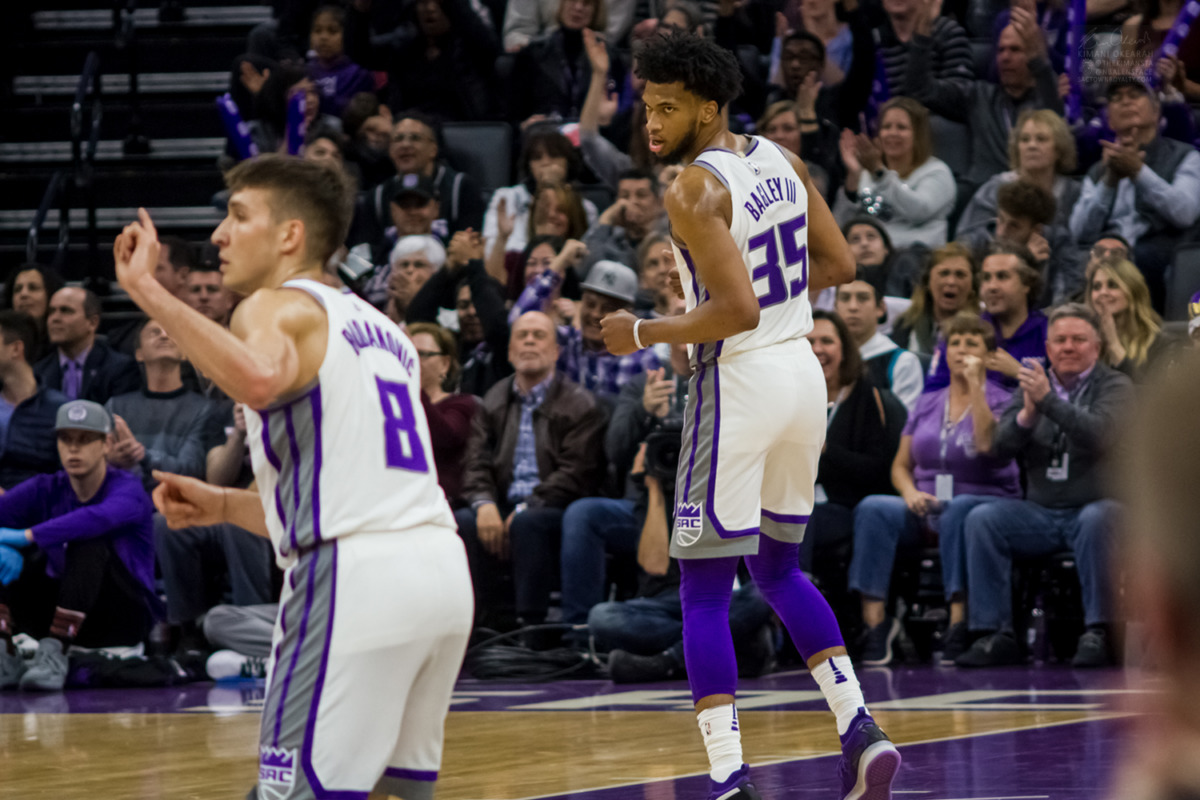 In a recent article on ESPN, Zach Lowe wrote about 13 fascinating lineups to watch when the NBA restarts in Orlando. The Sacramento Kings received a mention under the "bonus lineups" section and the combination he chose makes sense, but it comes with drawbacks.
Lowe wants to see a lineup featuring: De'Aaron Fox, Buddy Hield, Bogdan Bogdanovic, Harrison Barnes and Marvin Bagley.
As good as this lineup sounds on paper, there's currently uncertainty surrounding multiple players here, but the first four players are all something that our own Tim Maxwell dug deep into.
Fox is the obvious choice at point guard. You can't have a "fascinating" lineup without your star electrifying point guard leading the way. However, Fox is dealing with a left ankle sprain and though Luke Walton described the sprain as "mild-to-moderate", it's still not specific enough to know when he'll be back and if he'll be 100% right away.
Buddy Hield is back in full practice with the team and him partnering with Bogi in the starting lineup is an aspect of the lineup I have no issue with. The Kings need more minutes with these two playing together, though defense is a bit sacrificed.
Harrison Barnes at the four is something we should see many times in Orlando but he still isn't practicing with the team yet. Barnes should be okay missing the scrimmage games, but he's still in NBA coronavirus protocol and hasn't been cleared yet. Barnes isn't a terrific defender, but the Kings desperately need him available because the wing depth becomes extremely shallow if he's unavailable. If you want to play small ball, Barnes is your guy at the four.
Bagley over Richaun Holmes, who has been the usual starting center, does come as a surprise given the trajectory of each this season. Holmes has continually improved his game to insert himself as a vital piece to this core. Injuries have caused Bagley to play just 13 games this season.
Bagley still needs to prove he can play center in today's game. Putting on 10 pounds and getting the center reps at practice are steps in the right direction, but the scrimmage games should tell us more about his status. The opening day against the San Antonio Spurs could be a prominent time to play Bagley at center with the Spurs' frontcourt depth already thin.

This lineup featured three times this season, and the Kings were 0-3 in those games. Small sample sizes play a major role in that number, however. The injuries that Bagley and Fox have suffered play a role in the average of 1.3 minutes played in those games. The group shot 27.3% on 3.7 attempts, too.
There's definitely potential in this lineup. All five players are key guys the Kings ideally want to keep around, but the success and reality of this lineup is contingent on the situations of Fox and Barnes. But if all players are healthy and ready to go, it's worth giving a shot. You're sacrificing rim protection and wing defense among other things, but this lineup could be "The Future of Sacramento" lineup, if you will. The Kings need to play with pace on offense to improve their chances and there's no shortage of that here.
This lineup may not win you games right away and there will be growing pains to learn from, but I'm intrigued on the potential of these five guys playing together. I wouldn't be surprised if we see it on multiple occasions in Orlando.