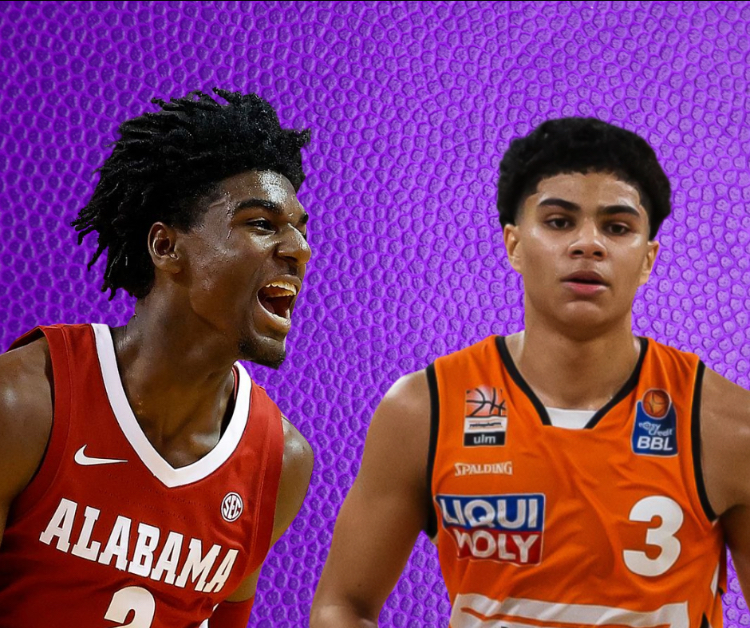 With the NBA draft rapidly approaching and the unconfirmed rumor mill heating up, the Sacramento Kings have recently been linked to a couple of lottery point guards, a bit of a surprise with De'Aaron Fox on the roster. On Thursday morning, Marc Berman of the New York Post reported that the Kings are "very interested" in Alabama point guard Kira Lewis Jr., while Bleacher Report's Jonathan Wasserman shared that Sacramento has also shown interest in international prospect Killian Hayes.
Those tidbits offer an interesting debate for a team like the Kings. If a point guard or combo guard is the best player available, should they ignore potential fit issues with purported franchise cornerstone De'Aaron Fox? Monte McNair was a part of a two-headed guard monster in Houston, while the Portland Trail Blazers and the Oklahoma City Thunder have also enjoyed success with a similar dual-guard concept. A franchise bereft of young talent should perhaps worry about ceiling now and fit later.
If the Kings are looking at that sort of plan, three guards stand out in the lottery. While Killian Hayes will almost certainly be off of the board unless Sacramento moves up, the previously mentioned Kira Lewis Jr. will likely be available at number 12, as well as Kentucky's Tyrese Maxey and possibly UNC's Cole Anthony. Each of these guards offers their own major strengths and major weaknesses.
Lewis Jr. was arguably the fastest player in college basketball last year, and his elite speed would be fascinating next to De'Aaron Fox. A fast break run by that duo would be almost indefensible, but the Alabama stud is also on the short and skinny side, measuring in at 6'3" and 160 pounds. There's no realistic path toward him defending opposing shooting guards in the next few years, meaning Fox and Lewis Jr. would either need an elite perimeter defender to help make up for their struggles on that end of the floor, or Lewis Jr. would have to spend most of his time backing Fox up, rather than playing next to him. Drafting Lewis Jr. would be a huge roll of the dice in favor of outscoring every opponent every night.
Tyrese Maxey is probably the best defender of any of the guards available in the lottery, but his shot is also the most questionable. Despite putting up solid three-point shooting numbers in high school, Maxey only nailed 29% of his attempts from deep in his single season at Kentucky. With Fox's outside accuracy severely regressing in 2019-2020, the pair might find clogged defensive lanes at all times when playing together, as opposing teams would have no need to step out and challenge three-point attempts. The Kings would be gambling on Maxey's defensive potential and ability to attack the rim in the half-court to outweigh his lack of an outside shot, at least until he or Fox could prove themselves as shooters. He represents perhaps the most balanced, two-way available in the late lotto.
Cole Anthony is a player who most thought would be a lock for a top-5 pick when the collegiate season started last fall, but his personal and team's yearlong struggles saw his draft stock plummet continuously. Anthony was an inefficient, high-volume scorer throughout his time at UNC, but his ceiling is likely higher than that of Lewis Jr. or Maxey, even though many mock drafts now have him picked after either of those guards. If Anthony is selected by the Kings, they'll be gambling on his potential upside rather than his pure production in college, not a bad strategy for a team desperate for high-level talent.
If you had to draft a point guard with the 12th overall pick, who would you prefer the Kings take: Kira Lewis Jr., the smaller speedster, Tyrese Maxey, the defensive-minded combo guard, or Cole Anthony, the falling knife with loads of potential?